Renal function after nephron-sparing surgery versus radical nephrectomy in localized renal cell carcinoma (T1)
Keywords:
Renal function, radical nephrectomy, partial nephrectomy, renal cell carcinoma
Abstract
Objective:  To evaluate renal function (GFR) after radical nephrectomy compared to partial nephrectomy in stage T1 renal cell carcinoma patients between 2005
and 2015.
Material and Method:  Retrospective chart review of 409 patients who were diagnosed with renal cell carcinoma (T1) and treated with radical nephrectomy
(RN) or partial nephrectomy (PN) between 2005 and 2015 (RN=136, PN=92); 228 patients with pathologically confirmed pT1 remained for analysis and were then
evaluated for their estimated glomerular filtration rate (eGFR) after the surgery.
Results:  There were a total of 228 (149 males and 79 females) T1 RCC patients; 136 patients were T1a with RN (57.8%) and 92 with PN (42.2%). Median follow-up
was 58 months and 35 months for the RN and PN groups. From the analysis, postoperative eGFR of the RN group was decreased from 77.49 to 59.61 ml/min/1.73
m2 and the PN group was decreased from 78.85 to 69.9 ml/min/1.73 m2. The comparative eGFR between the 2 groups at 1 month had a significant difference
(p-value<0.05). eGFR at 3 months (50.24 in RN vs 64.67 in PN), 6 months (47.98 vs 64.51), 3 years (48.79 vs 67.22) and 5 years (52.63 vs 73.59) were also significantly altered between the 2 groups. The tumor recurrence rate was not significantly different between RN and PN.
Conclusion:  We found that patients treated with PN had superior post-operative renal function compared with RN. However, there was no difference in the tumor recurrence rate between the 2 groups after a follow-up of 10 years.
Downloads
Download data is not yet available.
References
Ljungberg B, Campbell SC, Choi HY, Jacqmin D, Lee JE, Weikert S, et al. The epidemiology of renal cell carcinoma. Eur Urol 2011;60:615-21.
Ferlay J, Shin HR, Bray F, Forman D, Mathers C, Parkin DM. Estimates of worldwide burden of cancer in 2008: GLOBOCAN 2008. Int J Cancer 2010;127:2893-917.
Fergany AF, Hafez KS, Novick AC. Long-term results of nephron sparing surgery for localized renal cell carcinoma: 10-year followup. J Urol 2000;163:442-5.
Becker F, Siemer S, Humke U, Hack M, Ziegler M, Stockle M. Elective nephron sparing surgery should become standard treatment for small unilateral renal cell carcinoma: Long-term survival data of 216 patients. Eur Urol 2006;49:308-13.
McKiernan J, Simmons R, Katz J, Russo P. Natural history of chronic renal insufficiency after partial and radical nephrectomy. Urology 59:816-20.
Tanaka N, Fujimoto K, Tani M, Yoshii M, Yoshida K, Hirao Y, et al. Prediction of postoperative renal function by preoperative serum creatinine level and three-dimensional diagnostic image reconstruction in patients with renal cell carcinoma. Urology 2004;64:904-8.
Scosyrev E, Messing EM, Sylvester R, Campbell S, Van Poppel H. Renal function after nephronsparing surgery versus radical nephrectomy: results from EORTC randomized trial 30904. Eur Urol 2014;65:372-7.
Luciani LG, Cestari R, Tallarigo C. Incidental renal cell carcinoma-age and stage characterization and clinical implications: study of 1092 patients (1982-1997). Urology 2000;56:58-62.
Jeon HG, Choo SH, Sung HH, Jeong BC, Seo SI, Jeon SS, et al. Small tumour size is associated with new-onset chronic kidney disease after radical nephrectomy in patients with renal cell carcinoma. Eur J Cancer 2014;50:64-9.
Znaor A, Lortet-Tieulent J, Laversanne M, Jemal A, Bray F. International variations and trends in renal cell carcinoma incidence and mortality. Eur Urol 2015;67:519-30.
Steinbach F, Stockle M, Muller SC, Thuroff JW, Melchior SW, Stein R, et al. Conservative surgery of renal cell tumors in 140 patients: 21 years of experience. J Urol 1992;148:24-9; discussion 9-30.
Pierorazio PM, Johnson MH, Patel HD, Sozio SM, Sharma R, Iyoha E, et al. Management of Renal Masses and Localized Renal Cancer: Systematic Review and Meta-Analysis. J Urol 2016;196:989-99.
Van Poppel H, Da Pozzo L, Albrecht W, Matveev V, Bono A, Borkowski A, et al. A prospective, randomised EORTC intergroup phase 3 study comparing the oncologic outcome of elective nephron-sparing surgery and radical nephrectomy for low-stage renal cell carcinoma. Eur Urol 2011;59:543-52.
Miller DC, Hollingsworth JM, Hafez KS, Daignault S, Hollenbeck BK. Partial nephrectomy for small renal masses: an emerging quality of care concern? J Urol 2006;175(3 Pt 1):853-7;discussion 8.
Nuttall M, Cathcart P, van der Meulen J, Gillatt D, McIntosh G, Emberton M. A description of radical nephrectomy practice and outcomes in England: 1995-2002. BJU international 2005;96:58-61.
Miyamoto K, Inoue S, Kajiwara M, Teishima J, Matsubara A. Comparison of renal function after partial nephrectomy and radical nephrectomy for renal cell carcinoma. Urol Int 2012;89:227-32.
Sharma N, O'Hara J, Novick AC, Lieber M, Remer EM, Herts BR. Correlation between loss of renal function and loss of renal volume after partial nephrectomy for tumor in a solitary kidney.J Urol 2008;179:1284-8.
Kumar BV, Mohan T. Retrospective Comparison of Estimated GFR using 2006 MDRD, 2009 CKDEPI and Cockcroft-Gault with 24 Hour Urine Creatinine Clearance. Journal of clinical and diagnostic research: JCDR. 2017;11:Bc09-bc12.
Lane BR, Campbell SC, Gill IS. 10-year oncologic outcomes after laparoscopic and open partial nephrectomy. J Urol 2013;190:44-9.
Matsushita K, Mahmoodi BK, Woodward M, Emberson JR, Jafar TH, Jee SH, et al. Comparison of risk prediction using the CKD-EPI equation and the MDRD study equation for estimated glomerular filtration rate. JAMA 2012;307:1941-51.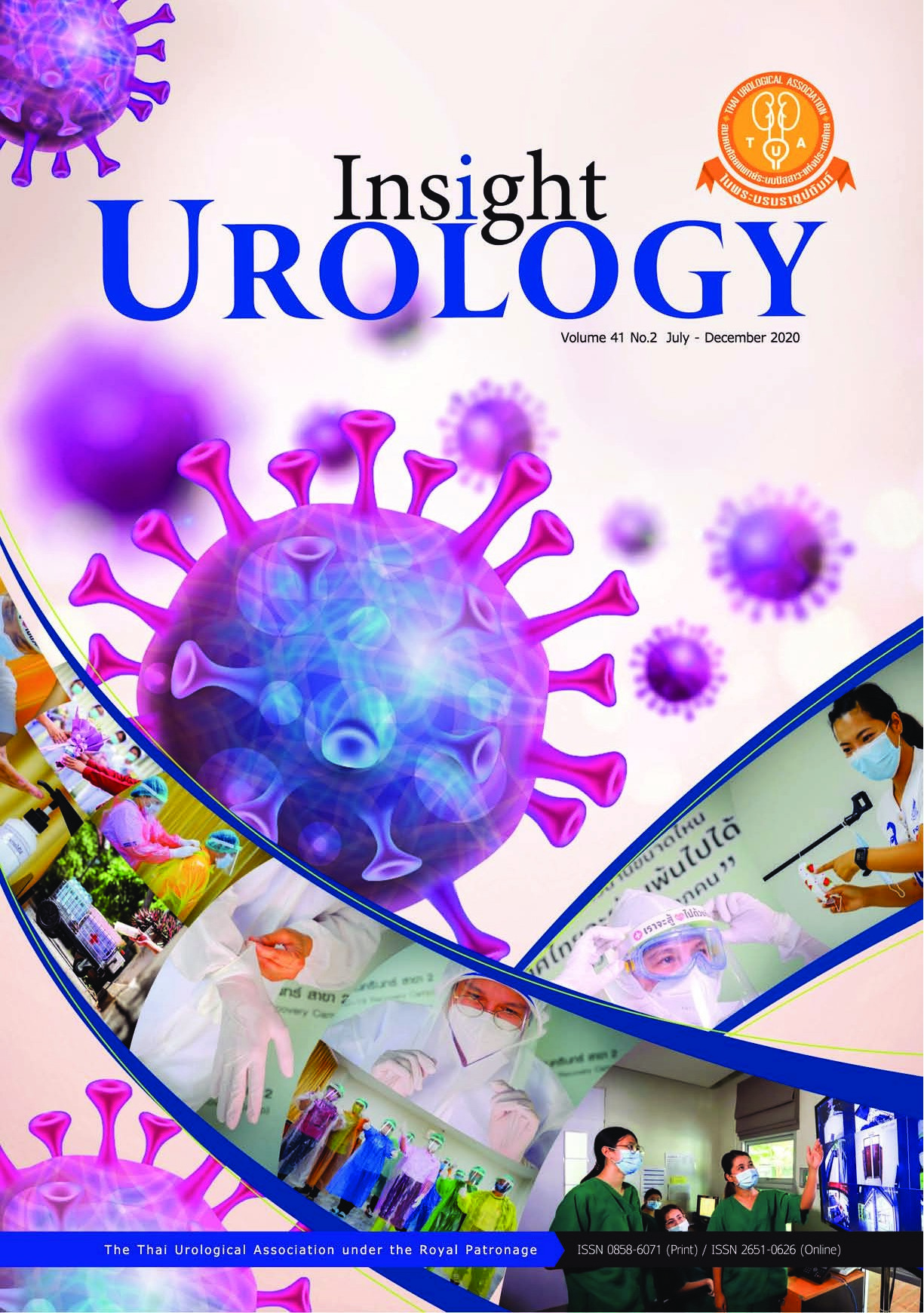 Downloads
How to Cite
Jitpraphai, S., Naulyong, C., Taweemonkongsap, T., Srinualnud, S., Amornwechsugich, T., Leewansangtone, S., Chaiyaprasithi, B., Chotikawanich, E., Phinthusophon, K., Suk-ouichai, C., Woranisaragul, V., & Leelahawong, P. (2020). Renal function after nephron-sparing surgery versus radical nephrectomy in localized renal cell carcinoma (T1). Insight Urology, 41(2), 1–8. Retrieved from https://he02.tci-thaijo.org/index.php/TJU/article/view/247831