Prophylactic ureteric catheterization before pelvic surgery in Rajavithi Hospital
Keywords:
Ureteric catheterization, pelvic surgery
Abstract
Objective:  To evaluate the incidence and the correlation between the risk factors of ureteric injury and complications in patients who underwent prophylactic
ureteric catheterization before pelvic surgeries.
Material and Method:  From October 2015 to December 2018, the medical records of 130 patients in Rajavithi Hospital who underwent pelvic surgeries and prophylactic ureteric catheterization were retrospectively reviewed. Information included age, history of previous pelvic surgeries, pelvic radiation, presence of hydronephrosis, pathology, stage of cancer, injury of ureters, and complications.
Results:  Incidence of ureteric injury was 4.6% (n=6). The significant risk of injury was location of the tumor at the ovary (p=0.034); borderline significant risk was
malignant pathology (p=0.057). After the procedure, 16.2% (n=21) of the patients had gross hematuria and 14.6% (n=19) of the patients had a urinary tract infection. Average time of catheterization was 20.95 minutes. Significant risk of gross hematuria was older age (p<0.001) and malignant pathology (p=0.006).
Conclusion:  From this study, ureteric injury may be significantly higher in cases of malignancy at the ovary and may not prevent injury in high-risk patients.
Ureteric catheterization should be carefully considered in elderly patients because of the higher rate of complications. 
Downloads
Download data is not yet available.
References
Dowling RA, Corriere JN, Sandler CM. Iatrogenic ureteral injury. J Urol 1986;135:912-5.
Fry DE, Milholen L, Harbrecht PJ. Iatrogenic ureteral injury: options in management. Arch Surg 1983;118:454-7.
Koukouras D, Petsas T, Liatsikos E, Kallidonis P, Sdralis EK, Adonakis G, et al. Percutaneous minimally invasive managementofiatrogenic ureteral injuries. J Endourol 2010;24:1921-7.
Liatsikos EN, Karnabatidis D, Katsanos K, Kraniotis P, KagadisGC, Constantinides C, et al. Ureteral injuries during gynecologic surgery: treatment with a minimally invasive approach. J Endourol 2006;20:1062-7.
Dorairajan G, Rani PR, Habeebullah S, Dorairajan LN. Urological injuries during hysterectomies: A 6-years review. J Obstet Gynaecol Res 2004;30:430-5.
Yossepowitch O, Baniel J, Livne PM. Urological injuries during cesarean section: Intraoperative diagnosis and management. J Urol 2004;172:196-9.
Kyzer S, Gordon PH. The prophylactic use of ureteral catheters during colorectal operations. Am surg 1994;60:212-9.
Leff EI, Groff W, Rubin RJ, Eisenstat TE, Salvati EP. Use of ureteral catheters in colonic and rectal surgery. Dis Colon Rectum 1982;25:457-60.
Bothwell WN, Bleicher RJ, Dent TL. Prophylactic ureteral catheterization in colon surgery: a five-year review. Dis Colon Rectum 1994;37:330-4.
Kuno K, Menzin A, Kauder HH, Sison C, Gal D. Prophylactic ureteral catheterization gynecologic surgery. Urology 1998;52:1004-8.
Park JH. Ureteral Injury in Gynecologic Surgery: A 5-Year Review in A Community Hospital. Korean J Urol 2012;53:120-5.
Andersen P. Iatrogenic ureteral injury in colorectal cancer surgery: a nationwide study comparing laparoscopic and open approaches. Surg Endosc 015;29:1406-12.
Chahin F, Dwivedi AJ, Paramesh A, Chau W, Agrawal S, Chahin C, et al. The Implications of Lighted Ureteral Stenting in Laparoscopic Colectomy. JSLS 2002;6:49-52.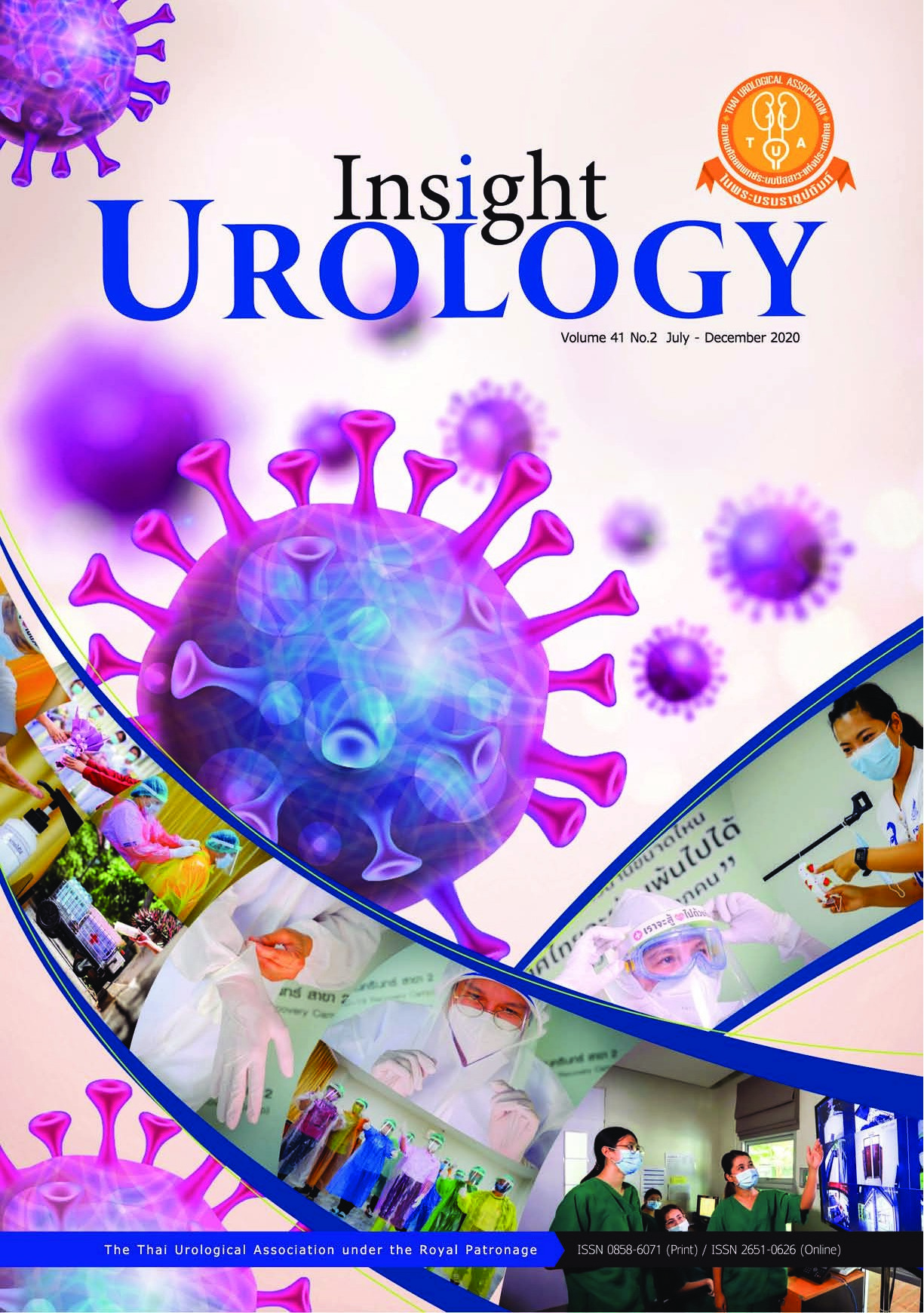 Downloads
How to Cite
Jindawat, J., Gosrisirikul, C., Choonhaklai, V., Chittchang, V., Pumpaisanchai, S., Wongwattanasatien, N., Thaidumrong, T., Sindhubodee, S., & Huabkong, M. (2020). Prophylactic ureteric catheterization before pelvic surgery in Rajavithi Hospital. Insight Urology, 41(2), 68–74. Retrieved from https://he02.tci-thaijo.org/index.php/TJU/article/view/247856