Fully perfused laparoscopic partial nephrectomy: surgical technique and outcomes
Keywords:
Full perfusion, partial nephrectomy, laparoscopic surgery
Abstract
Objective:  To present a surgical technique and outcome of fully perfused laparoscopic partial nephrectomy (LPN).
Material and Method:  Fifteen patients underwent fully perfused LPN between January 2014 and January 2018 for renal masses. We studied a subgroup of
patients who underwent fully perfused LPN (non-clamp). Our technique was utilized for exophytic, non-hilar masses that had a diameter of less than 2 cm.
We developed our technique to avoid ischemia reperfusion renal injury while minimizing bleeding.
Results:  We reviewed 15 cases of fully perfused LPN. Utilizing a non-clamp procedure resulted in an average blood loss of 100 ml, 2 days of hospital stay,
and minimal change in serum creatinine.
Conclusion:  Fully perfused LPN is a feasible procedure for the treatment of renal masses. Benefits of this procedure are its minimal invasiveness and prevention
of ischemic reperfusion kidney injury.
Downloads
Download data is not yet available.
References
Roger CG, Singh A, Blatt AM, Linehan WM, Pinto PA. Robotic partial nephrectomy for complex renal tumors: Surgical technique. Eur Urol 2008;53:514-21.
Godoy G, Ramanathan V, Kanofsky JA, O'Malley RL, Tareen BU, Taneja SS, et al. Effect of warm ischemic time during laparoscopic partial nephrectomy on early postoperative glomerular filtration rate. J Urol 2009;181:2438-43.
Patel AR, Eggener ASE. Warm ischemic less than 30 min is not necessarily safe during partial nephrectomy: Every minute matters. Urol Oncol 2011;29:826-8.
Turna B, Frota R, Kamoi K, Lin YC, Aron M, Desai MM, et al. Risk factor analysis of postoperative complications in laparoscopic partial nephrectomy. J Urol 2008;179:1289-94.
Gill IS, Patil MB, Abreu AL, Ng C, Cai J, Berger A, et al. Zero ischemia anatomical partial nephrectomy: A novel approach. J Urol 2012;187:807-14.
Patil MB, Lee DJ, Gill IS. Eliminating global renal ischemia during partial nephrectomy: An anatomical approach, Curr Opin Urol 2012;22:83-7.
Thompson RH, Lane BR, Lohse CM, Leibovich BC, Fergany A, Frank I, et al. Comparison of warm ischemia versus no ischemia during partial nephrectomy on a solitary kidney. Eur Urol 2010;58:331-6.
Klingler DW, Hemstreet GP, Balaji KC. Feasibility of robotic radical nephrectomy-initial results of single-institution pilot study. Urology 2005;65:1086-9.
Roger CG, Metwalli A, Blatt AM, Bratslavsky G, Menon M, Linehan WM, et al. Robotic partial nephrectomy for renal hilar tumors: A multiinstitutional analysis. J Urol 2008;180:2353-6.
Abaza R, Picard J. A novel technique for laparoscopic or robotic partial nephrectomy: Feasibility study. J Endourol 2008;22:1715-9.
Rais-Bahrami S, George AK, Herati AS, Srinivasan AK, Richstone L, Kavoussi LR. Offclamp versus complete hilar control laparoscopic partial nephrectomy: omparison by clinical stage. BJU Int 2012;109:1376-81.
Tanagho YS, Bhayani SB, Sandhu GS, Vaughn NP, Nepalese KG, Figenshau RS. Renal functional and Perioperative outcomes of off-clamp versus clamped robot-assisted partial nephrectomy: Matched cohort study. Urology 2012;80:838-43.
George AK, Herati AS, Srinivasan AK, Rais-Bahrami S, Waingankar N, Sadek MA, et al. Perioperative outcomes of off-clamp vs complete hilar control laparoscopic partial nephrectomy. BJU Int 2013;111:E235-41.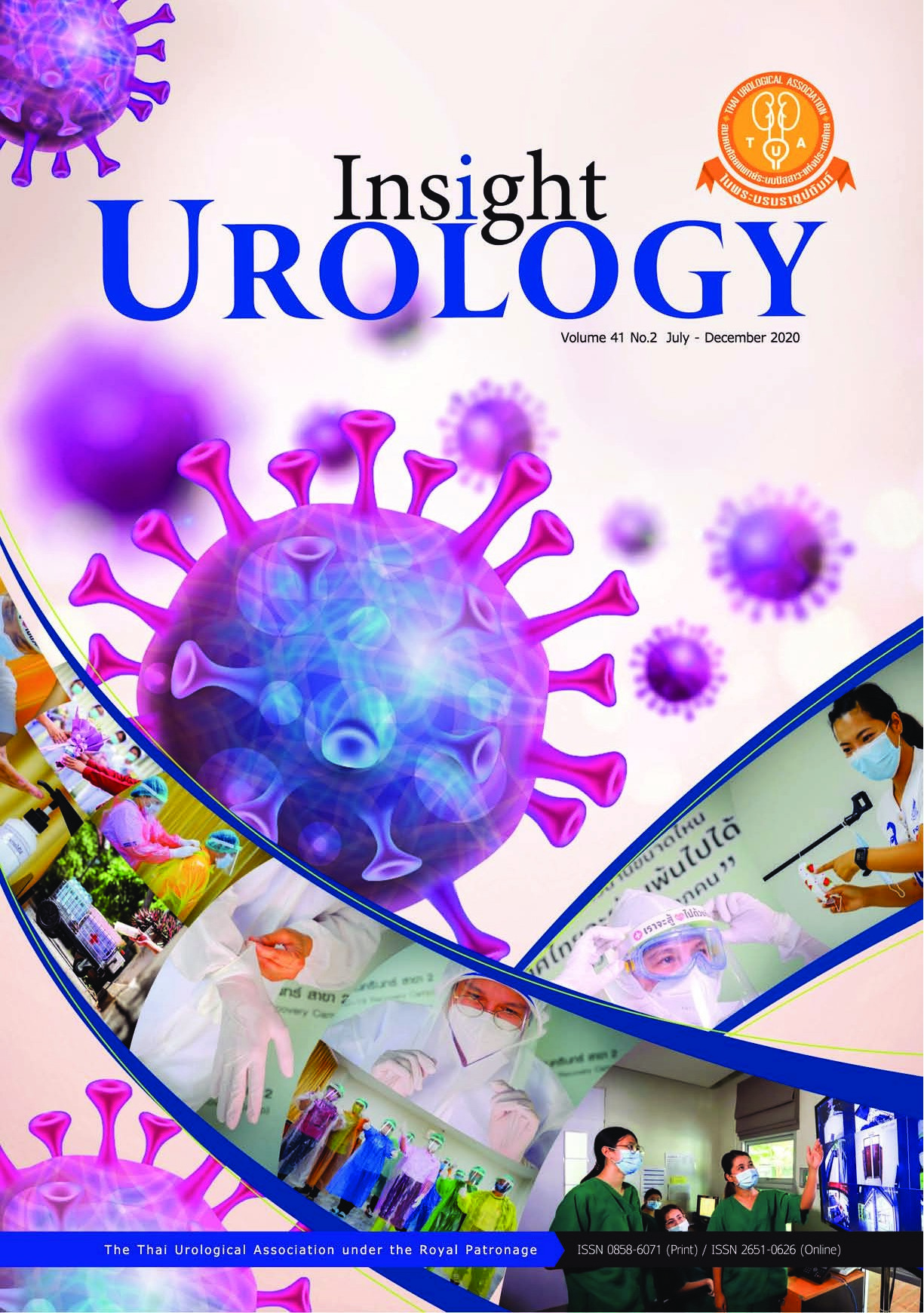 Downloads
How to Cite
Siriboonrid, S., Binsri, N., Karnchanatarayont, S., & Reungpoca, P. (2020). Fully perfused laparoscopic partial nephrectomy: surgical technique and outcomes. Insight Urology, 41(2), 81–87. Retrieved from https://he02.tci-thaijo.org/index.php/TJU/article/view/247862