Factors affecting the durability of flexible ureteroscopes: An academic center review
Keywords:
Flexible ureteroscopes, durability, URF-V, holmium laser
Abstract
Objective:  To analyze the factors which affect the durability of the flexible ureteroscope and the causes of scope damage in a single academic center.
Material and Method:  Between March 2014 and August 2017, 479 flexible ureteroscopic procedures, using 6 flexible ureteroscopes (Olympus model URF-V),
were systematically reviewed. Data including indication for procedures, auxiliary device usage, the characteristics of scope damage, and the number of times a
scope was used before requiring major repair were gathered. Fisher exact test and Chi-square test were used to evaluate the factors which caused the damage.
Results:  The major flexible ureteroscopic procedure performed was treatment of renal calculi (81%). The most common auxiliary device used was the Holmium laser (70%). The most common cause of damage requiring repair was working channel leakage (93%). The factor that affected the durability of flexible ureteroscopes was the size of laser fiber. Utilizing laser fiber 200 nm decreased scope damage significantly compared to various other sizes (p-value=0.002 and p-value<0.001). However, the usage of nitinol basket and ureteral access sheath did not affect the durability of flexible ureteroscopes.
Conclusion:  Large laser fibers are a risk factor for flexible ureteroscope damage. Utilizing small laser fibers during flexible ureteroscopy can decrease scope damage significantly 
Downloads
Download data is not yet available.
References
Basillote JB, Lee DI, Eichel L, Clayman RV. Ureteroscopes: flexible, rigid, and semirigid. Urol Clin North Am 2004;31:21-32.
Roupret M, Bubjuk M, Comperat E, ZigeunEr R, Sylvester RJ, Burger M, et al. European Association of Urology guidelines on upper urinary tract urothelial carcinoma: 2017 update. Eur Urol 2018;73:111-22.
Assimos D, Krambeck A, Miller NL, Monga M, Murad MH, Nelson CP, et al. Surgical Management of Stones. AUA/Endourology Society Guideline 2016. J Urol 2016;196:1153-60.
Landman J, Lee DI, Lee C, Monga M. Evaluation of overall costs of currently available small flexible ureteroscopes. Urology 2003;62:218-22.
Afane JS, Olweny EO, Bercowsky E, Sunsaram CP, Dunn MD, Shalhav AL, et al. Flexible ureteroscopes: a single center evaluation of the durability and function of the new endoscopes smaller than 9Fr. J Urol 2000;164:1164-8.
Pietrow PK, Auge BK, Delvecchio FC, Silverstein AD, Weizer AZ, Albala DM, et al. Techniques to maximize flexible ureteroscope longevity. Urology 2002;60:784-8.
Shah K, Monga M, Knudsen Bl. Prospective Randomized Trial Comparing 2 Flexible Digital Ureteroscopes: ACMI/Olympus Invisio DUR-D and Olympus URF-V. Urology 2015;85:1267-71.
Karaolides T, Bach C, Kachrilas S, Goyal A, Masood J, Buchholz N. Improving the durability of digital flexible ureteroscopes. Urology 2013;81:717-22.
Sung JC, Springhart WP, Marguet CG, L'Esperance JO, Tan YH, Albala DM, et al. Location and etiology of flexible and semirigid ureteroscope damage. Urology 2005;66:958-63.
Carey RI, Gomez CS, Maurici G, Lynne CM, Leveillee RJ, Bird VG. Frequency of ureteroscope damage seen at a tertiary care center. J Urol 2006;176:607-10; discussion 610.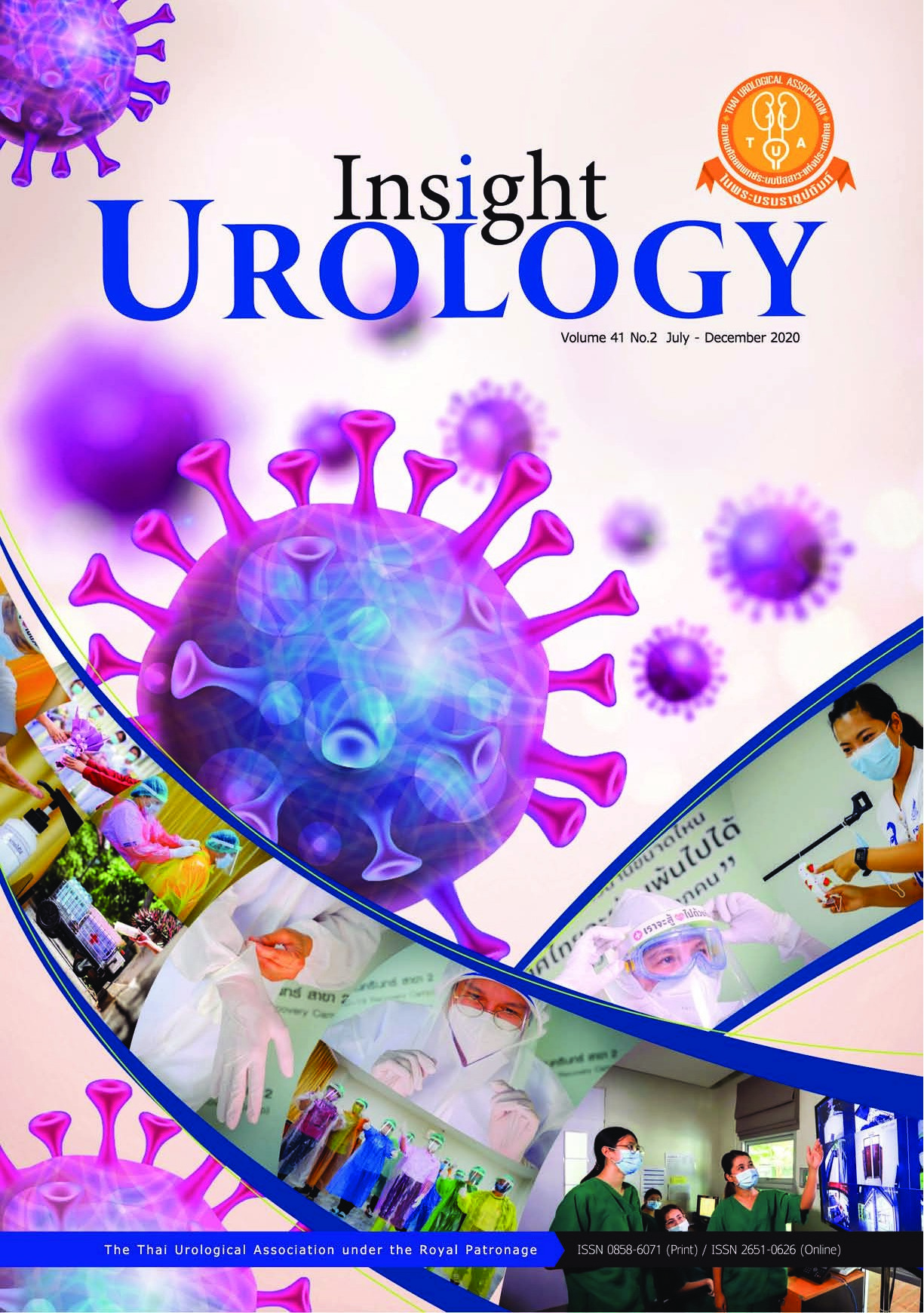 Downloads
How to Cite
Hongviboonvate, N., Jitprapai, S., Mankongsrisuk, T., Taweemonkongsap, T., Woranisarakul, V., & Naulyong, C. (2020). Factors affecting the durability of flexible ureteroscopes: An academic center review. Insight Urology, 41(2), 88–94. Retrieved from https://he02.tci-thaijo.org/index.php/TJU/article/view/247865