Long term complications associated with the ureteric stump in patients with double collecting system who underwent upper pole heminephrectomy
Keywords:
Double collecting system, duplex kidney, heminephrectomy, ureteric stump
Abstract
Objective: To assess the long-term ureteric-stump outcomes and complications among patients who had undergone upper-pole heminephrectomies of double collecting systems.
Materials and Methods: The medical records of patients who had undergone upper-pole heminephrectomies for non-functioning upper moiety between January 2007 and December 2018 were retrospectively reviewed. Data regarding clinical presentations, age during surgery, operative details, and complications were recorded.
Results: Ten patients were included in the study, nine were children and one was an adult. Double collecting systems with ureteroceles were found in four patients, ectopic ureters being found in six. Nine patients had undergone open heminephrectomies, whereas one patient had undergone robot-assisted surgery. Median age at heminephrectomy was one year old (range: 0.58 to 74 years). Median follow-up time was 81.1 months (range: 40.6 to 140.1 months). Median length of hospital stay was seven days (range: 5 to 22 days). Three patients (30%) had stump complications, including stump abscess in one patient, persistent vaginal discharge in another, and a prolapsed ureterocele in the third. Additional interventions were required in two patients, comprising percutaneous drainage of a stump abscess and the excision of a prolapsed ureterocele.
Conclusions: Our study found three-cases of long-term complications, with only a single patient requiring distal ureteric stump excision. These findings were similar to another study which also showed that the majority of patients did not require stump excision. Other complications were minor and could be treated by local anesthetic intervention for stump abscess and oral antibiotic for UTI. Therefore, upper pole heminephrectomy with subtotal ureterectomy was the appropriate option for in-patients with double collecting system and non-functioning upper moiety.
Downloads
Download data is not yet available.
References
Vates TS, Bukowski T, Triest J, Freedman A, Smith C, Perlmutter A, et al. Is there a best alternative to treating the obstructed upper pole? J Urol 1996;156: 744-6.
Jednak R, Kryger JV, Barthold JS, González R. A simplified technique of upper pole heminephrectomy for duplex kidney. J Urol 2000;164:1326-8.
Chacko JK, Koyle MA, Mingin GC, Furness PD, 3rd. Ipsilateral ureteroureterostomy in the surgical management of the severely dilated ureter in ureteral duplication. J Urol 2007;178:1689-92.
De Caluwe D, Chertin B, Puri P. Fate of the retained ureteral stump after upper pole heminephrectomy in duplex kidneys. J Urol 2002;168:679-80.
Belman AB, Filmer RB, King LR. Surgical management of duplication of the collecting system. J Urol 1974;112:316-21.
Persad R, Kamineni S, Mouriquand PD. Recurrent symptoms of urinary tract infection in eight patients with refluxing ureteric stumps. British J Urol 1994; 74:720-2.
Romao RL, Figueroa V, Salle JL, Koyle MA, Bägli DJ, Lorenzo AJ. Laparoscopic ureteral ligation (clip- ping): a novel, simple procedure for pediatric urinary incontinence due to ectopic ureters associated with non-functioning upper pole renal moieties. J Pediatr Urol 2014;10:1089-94.
Androulakakis PA, Stephanidis A, Antoniou A, Christophoridis C. Outcome of the distal ureteric stump after (hemi)nephrectomy and subtotal ure- terectomy for reflux or obstruction. BJU Int 2001; 88:586-9.
Cain MP, Pope JC, Casale AJ, Adams MC, Keating MA, Rink RC. Natural history of refluxing distal ureteral stumps after nephrectomy and partial ureterectomy for vesicoureteral reflux. J Urol 1998; 160:1026-7.
Plaire JC, Pope JCt, Kropp BP, Adams MC, Keating MA, Rink RC, et al. Management of ectopic ureters: experience with the upper tract approach. J Urol 1997;158:1245-7.
Malik RD, Pariser JJ, Gundeti MS. Outcomes in pediatric robot-assisted laparoscopic heminephrectomy compared with contemporary open and laparoscopic series. J Endourol 2015;29:1346-52.
You D, Bang JK, Shim M, Ryu DS, Kim KS. Analysis of the late outcome of laparoscopic heminephrectomy in children with duplex kidneys. BJU Int 2010; 106:250-4.
Jitkarnka U, Tonvichien L. The outcome of uretero- cele management at Queen Sirikit National Institue of Child Health. Thai J Urol 2005;26:12-8.
Olsen LH, Jørgensen TM. Robotically assisted retroperitoneoscopic heminephrectomy in children: initial clinical results. J Pediatr Urol 2005;1:101-4.
Escolino M, Riccipetitoni G, Yamataka A, Mushtaq I, Miyano G, Caione P, et al. Retroperitoneoscopic partial nephrectomy in children: a multicentric international comparative study between lateral versus prone approach. Surg Endos 2019;33:832-9.
Singhal S, Yadav B, Bayne C, Vellody R. Percutaneous transgluteal ureteral stump access: a novel approach to hybrid management of ureteral stump syndrome. Urology 2020;138:156-9.
Pereira J, Reis A, Castro R. [Ureteral stump empyema after heminephrectomy]. Acta medica portuguesa 2014;27:404.
Dénes FT, Danilovic A, Srougi M. Outcome of laparoscopic upper-pole nephrectomy in children with duplex systems. J Endourol 2007;21:162-8.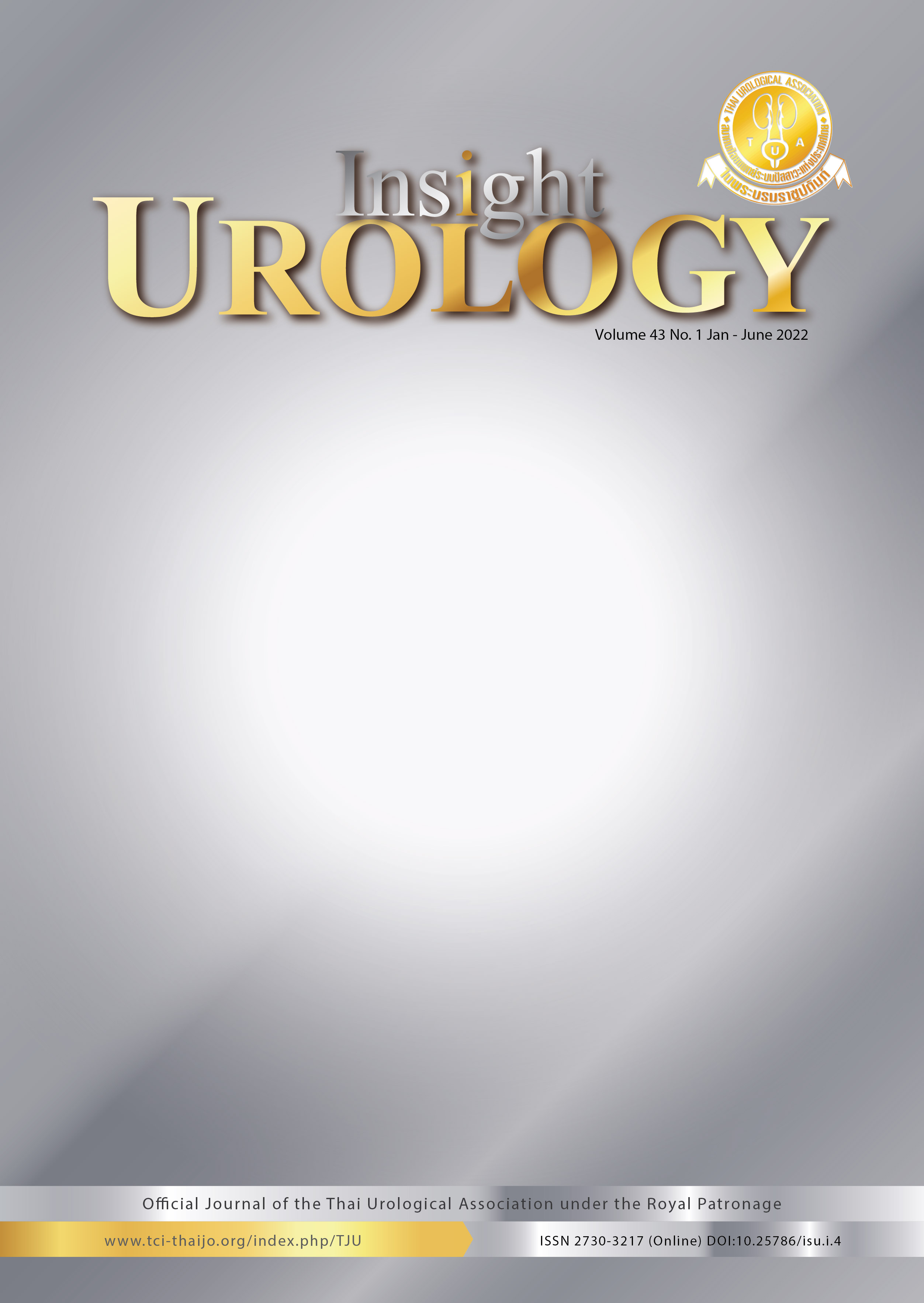 Downloads
How to Cite
Soisrithong, C. ., Ratanapornsompong, W., Sirisreetreerux, P. ., & Viseshsindh, W. (2022). Long term complications associated with the ureteric stump in patients with double collecting system who underwent upper pole heminephrectomy. Insight Urology, 43(1), 58–63. https://doi.org/10.52786/isu.a.49
License
Copyright (c) 2022 Insight Urology
This work is licensed under a Creative Commons Attribution-NonCommercial-NoDerivatives 4.0 International License.