Short Urethral Catheter Traction Time after TUR-P: Does its effect outcome?
Keywords:
short, urethral, traction time, TUR-P
Abstract
Problem: Various techniques of urethral catheter traction after Transurethral Prostatectomy (TUR-P) were written on various literatures. Prolonged traction prevented bleeding but it may cause discomfort and pressure necrosis. In Campbellûs urology 9th edition suggested traction time for 7 minutes and we changed our technique to short traction time.
Objective: To study the prevalence of bleeding after short urethral catheter traction time after TUR-P.
Patients and methods: We retrospectively studied data from medical record during May 2008-January 2009, 25 patients age 57-93 years (mean 72.8 years) underwent TUR-P and urethral catheter traction 7-10 minutes. After the operation, all patients had continuous bladder irrigation. Data collection included indications for surgery, operative time, resected prostatic tissue, blood transfusion and postoperative bleeding.
Result: Major Indication was urinary retention 56% (14 cases). The mean operative time was 67 minutes (25-125) and the mean resected prostatic tissue was 17 grams. (1.5-75). Two cases (8%) needed intraoperative blood transfusion. None had active bleeding that need re-traction or electrocoagulation. Two cases (8%) had clot retention and needed manual bladder irrigation.
Conclusion: Short urethral catheter traction times (7-10 minutes) after TUR-P was good technique even in large prostate glands and prevented patient discomfort.
Downloads
Download data is not yet available.
References
Fitzpatrick JM. Minimally invasive and endoscopic management of benign prostatic hyperplasia. In: Wein AJ, Kavoussi LR, Novick AC, Partin AW, Peters CA, ed. Campbellûs urology. 9 ed. Philadelphia: Saunders 2007: p.2803-44.
Holtgrewe HL, Valk WL. Factors influencing the mortality and morbidity of transurethral prostatectomy: a study of 2,015 cases. J Urol. 1962; 87: 450-9.
Borboroglu PG, Kane CJ, Ward JF, Roberts JL, Sands JP. Immediate and postoperative complications of transurethral prostatectomy in the 1990s. J Urol. 1999; 162(4): 1307-10.
Mebust WK, Holtgrewe HL, Cockett AT, Peters PC. Transurethral prostatectomy: immediate and postoperative complications. A cooperative study of 13 participating institutions evaluating 3,885 patients. J Urol. 1989; 141(2): 243-7.
Melchior J, Valk WL, Foret JD, Mebust WK. Transurethral prostatectomy: computerized analysis of 2,223 consecutive cases. J Urol. 1974; 112(5): 634-42.
Holtgrewe HL. Transurethral prostatectomy. Urol Clin North Am. 1995; 22(2): 357-68.
Mebust WK. Transurethral prostatectomy. In: Marshall FF, ed. Operative urology. Philadelphia: WB Saunders 1991: p.298-304.
Walker EM, Bera S, Faiz M. Does catheter traction reduce post-transurethral resection of the prostate blood loss? Br J Urol. 1995; 75(5): 614-7.
Santarosa RP, Te AE, Kaplan SA. Transurethral resection of the prostate. In: Krane RJ, Siroky MB, Fitzpatrick JM, ed. Operative urology. Surgical skills Pensnylvania Churchill Livingstone 2000: page 247-54.
Schiff JD, Te AE. Electrosurgery of the Prostate. Improvements in TUR-P Treatments and Outcomes. In: Smith AD , Badlani G, Bagley D,Clayman RV, Docimo SG, Jordan GH, et al, ed. SMITHûS Textbook of ENDOUROLOGY. 2 ed. London: BC Decker Inc Hamilton 2006: p.645-52.
Blandy J.P. Transurethral resection of the Prostate gland. Operative urology. Melbourne Blackwell scientific publications 1978: 142-56.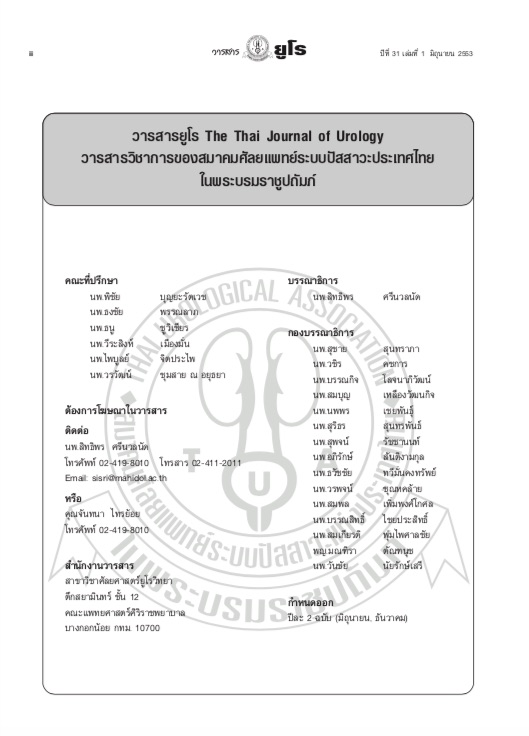 Downloads
How to Cite
Leelamanothum, S., & ChoonhaKlai, V. (2010). Short Urethral Catheter Traction Time after TUR-P: Does its effect outcome?. Insight Urology, 31(1), 21–26. Retrieved from https://he02.tci-thaijo.org/index.php/TJU/article/view/252334