Urethral Traction after Transurethral Resection of the Prostate: Is it necessary?
Keywords:
Transurethral resection of the prostate, Foley catheter traction, Bleeding
Abstract
Objective: To compare clinical outcomes between Foley catheter traction and non traction after transurethral resection of the prostate (TURP).
Materials and Methods: Randomized prospective control trial was performed in the patients who required surgical management for benign prostatic hyperplasia. The study compared between Foley traction and non traction after TURP procedure. Data were collected included in patient characteristics, perioperative, postoperative outcome and complication.
Results: Baseline characteristics of both groups were similar. There were no statistically difference between traction group and non traction group regarding operative time ,weight of prostate resection, perioperative blood loss, rate of blood transfusion, hematocrit decreasing of clot retention, and post operative complication. There were statistically significant decreasing in pain score after operation (2.95 + 0.82 versus 4.95 + 1.3, P <0.05) and shorter length of hospital stay (49.5 + 8.8 versus 60.5 + 18 hours, P <0.05) in non traction group compared to traction group.
Conclusion: Non Foley catheter traction technique after TURP is a safe procedure and it provides less pain and shorter length of hospital stays compared to the Foley catheter traction technique.
Downloads
Download data is not yet available.
References
Fitzpatrick JM. Minimally Invasive and Endoscopic Management of Benign Prostatic Hyperplasia. In: Wein AJ, Kavoussi LR, Novick AC, Partin AW, Peters CA, editors. Campbellûs Urology 9th ed. Philadelphia: WB Saunders; 2007. p. 2803-44.
Melchior J, Valk WL, Foret JD, Mebust WK. Transurethral prostatectomy: computerized analysis of 2,223 consecutive cases. J Urol 1974; 112(5): 634-42.
Walker EM, Bera S, Faiz M. Does catheter traction reduce post-transurethral resection of the prostate blood loss? Br J Urol 1995; 75(5): 614-7.
Berger AP, Wirtenberger W, Bektic J, Steiner H, Spranger R, Bartsch G, et al. Safer transurethral resection of the prostate: coagulating intermittent cutting reduces hemostatic complications. J Urol 2004; 171(1): 289-91.
Yang Y, Hong BF, Fu WJ, Xu Y, Chen YF, Zhang CE. A comparative study on the photoselective vaporization of the prostate and transurethral electrovaporization resection of prostate for the treatment of benign prostatic hyperplasia. Zhonghua Wai Ke Za Zhi 2007; 45(14): 951-3.
Ho HS, Cheng CW. Bipolar transurethral resection of prostate: a new reference standard? Curr Opin Urol 2008; 18(1): 50-5.
Donohue JF, Sharma H, Abraham R, Natalwala S, Thomas DR, Foster MC. Transurethral prostate resection and bleeding: a randomized, placebo controlled trial of role of finasteride for decreasing operative blood loss. J Urol 2002; 168(5): 2024-6.
Donohue JF, Hayne D, Karnik U, Thomas DR, Foster MC. Randomized, placebo-controlled trial showing that finasteride reduces prostatic vascularity rapidly within 2 weeks. BJU Int 2005; 96(9): 1319-22.
Martov AG, Ergakov DV. The experience in dutasteride use before transurethral prostatic resection for large adenoma. Urologiia 2008; 46(4): 8-50, 2.
RP S, AE T, SA K. Transurethral urethral resection of the prostate. In: Krane RJ, Siroky MB, Fitzpatrick JM, editors. Operative urology: Surgical skills Pensnylvania Churchill Livingstone; 2000. p. 417.
Schiff JD TA. Electrosurgery of the prostate: Improvement in TUR-P Treatments and Outcomes. In: Smith AD BG, Bagley D,Clayman RV, Docimo SG, Jordan GH, et al ed, editor. Smithûs textbook of Endourology. 2nd ed. London: BC Decker Inc Hamilton 2006. p. 645-52.
Leelamanothum S CV. Short urethral catheter time after TURP:Doses its effect outcome? Thai J Urol 2010; 31(1): 22-6.
Ekengren J, Hahn RG. Blood loss during transurethral resection of the prostate as measured by the HemoCue photometer. Scand
J Urol Nephrol 1993; 27(4): 501-7.
Ungjaroenwathana W, Bunyaratavej C, Tosukhowong P, Dissayabutra T. Estimation of blood loss in transurethral resection of prostate (TUR-P) by urine-strip. J Med Assoc Thai 2007; 90(11): 2409-15.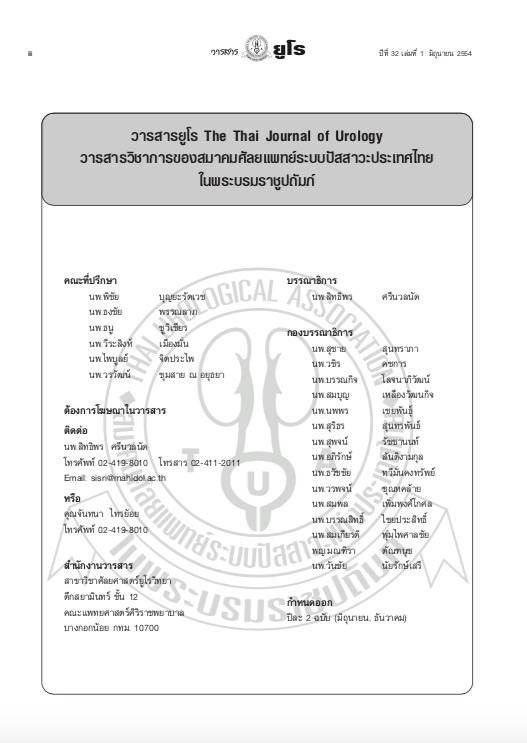 Downloads
How to Cite
Wiengpon, K., Leenanupunth, C., Kongchareonsombat, W., Visedshsindh, W., Nilskulwat, S., & Kijvikai, K. (2011). Urethral Traction after Transurethral Resection of the Prostate: Is it necessary?. Insight Urology, 32(1), 40–46. Retrieved from https://he02.tci-thaijo.org/index.php/TJU/article/view/252446