Efficacy and Safety of Radiation free Percutaneous Nephrolithotomy in Kidney Position
Keywords:
Percutaneous nephrolithotomy, radiation free, ultrasound guidance, flank or kidney position
Abstract
Objective: To evaluate the efficacy of clinical result and safety of ultrasound guidance Percutaneous Nephro- lithotomy (PCNL) in Kidney position.
Method: A total of 122 renal stone patients undergone ultrasound guidance PCNL in kidney or flank position between January 2010 - March 2011 in Khonkaen Hospital, were prospectively observed. Stone size, opera- tive time, and length of stay were recorded. Stone free rate, blood transfusion, and postoperative complica- tions were evaluated.
Results: The pelvocaliceal system could be successfully approached in 119 patients (97.5%). Stone free rate was 82.4%. The mean length of stay was 6.8 days. The mean total operative time was 68.2 minutes. Five patients needed blood transfusion. Postoperative febrile urinary tract infection was found 5 cases, 1 case was presented with septic shock. Minor tear of renal pelvis was found 2 cases. The pleural or visceral organ injury was not found in this study.
Conclusions: Ultrasound guidance PCNL in kidney position provided satisfactory result. Its efficacy and safety were comparable to standard PCNL. The operative teams were radiation-free exposed in this tech- nique.
Downloads
Download data is not yet available.
References
Fernstrom I, Johansson B. Percutaneous pyelolithotomy: a new extraction technique. Scand J Urol Nephrol 1976; 10:2579
Segura JW, Patterson DE, LeRoy A. Percutaneous removal of kidney stones: review of 1,000 cases. JUrol 1985; 134:1077-81.
Clayman R, Castaneda-Zuniga W. Dilatation of the nephrostomy tract. In: Techniques in endourology: a guide to the percutaneous removal of renal and ureteral stones. Dallas (TX): Heritage Press; 1985. p107-30.
Abbas Basiri, Mehrdad Mohammadi Sichani. X-ray free percutaneous nephrolithotomy in supine position with ultrasound guidance. World J Urol 2010; 28:239-44.
Leslie A. Deane, Ralph V. Clayman. Advance in Percutaneous Nephrolithotomy: Urologic Clinics of North America 2007; 34: 383-95.
Ng M-T, Sun W-H, Cheng C-W, Chan ES. Supine position is safe and effective for percutaneous nephrolithotomy. J Endourol 2004; 18(5):469-74.
C. Charles Wen, Stephen Y. Nakada. Treatment Selection and Outcomes: Renal Calculi. Urologic Clinics of North America 2007; 34:409-19.
Denstedt JC, Razvi HA, Dushinski J, et al. Percutaneous treatment of large and staghorn renal calculi. J Endourol 1996; 10:s140.
Lojanapiwat B. Percutaneous Nephrolithotomy(PCNL) in Kidneys with Fusion and Rotation Anomalies. J Med Assoc Thai 2005; 88(10):1426-9.
Weerasawin T. Efficacy and Safety of Tubeless Percutaneous Nephrolithotomy in Selected Thai Patients. Lampang Med J 2009; 30(3):115-21.
Gupta N, Ost MC, Shah JB. Percutaneous Management of the Upper Urinary Tract. In: Wein AJ, Kavoussi LR, Novick AC. et al editor. Cambell-Walsh Urology 9th ed. Philadelphia: Saunders, 2007: 1526-63.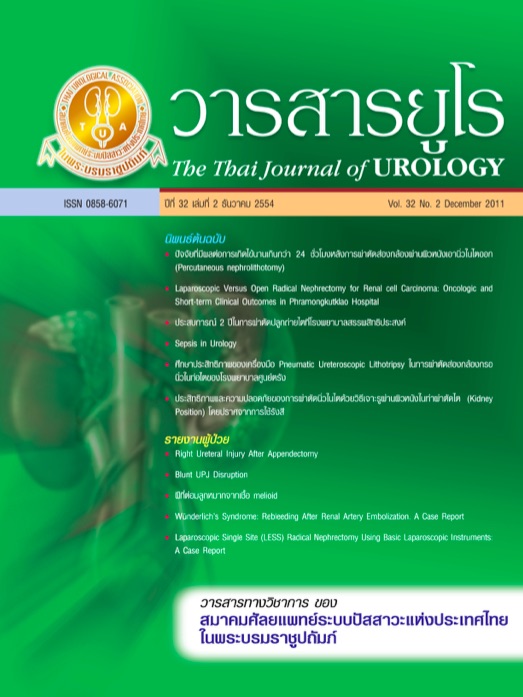 Downloads
How to Cite
Pimratana, C. (2011). Efficacy and Safety of Radiation free Percutaneous Nephrolithotomy in Kidney Position. Insight Urology, 32(2), 90–94. Retrieved from https://he02.tci-thaijo.org/index.php/TJU/article/view/252867