Cystolithotripsy Versus Cystolithotomy For Vesicle Calculi Greater than 2.5 cm
Keywords:
Cystolithotripsy, Cystolithotomy, Vesicle Calculi
Abstract
Patients with vesical calculi (VC) greater than 2.5 cm. in Trang hospital were treated by cystolithotomy (30 cases, 2003-2004) and cystolithotripsy (36 cases, 2005-2007)
Cystolithotomy was done by conventional method. Cystolithotripsy was done through a 26-30 F. Amplatz sheath and was applied transurethra. Fragmentation and removal were performed with a 24 F. rigid nephroscope and the Pneumatic Swiss lithoclast. Urethral catheters were placed postoperatively in all patients. All patients were cleared of stone burden with a single procedure, and there was no major complications. The operative time was 32 mins for cystolithotomy and 35 mins for cystolithotripsy. The hospital stay was 7.71 vs 1.89 day, the analgesic use 2 vs 0.25 dose, infection 4 vs 0 case and the cost of hospital stay is 16,192 vs 12,615 baht respectively. Cystolithotripsy is an effective and safe technique for treating large vesical calculi, it is minimally invasive, short hospital stay and cost effectively.
Downloads
Download data is not yet available.
References
Chaimuangraj S, Leungwattanakij S, Gojaseni P. The current therapy of urinary calculi in Thailand. J Med Assoc Thai 2000; 83(7): 701-7.
Unakul S. Urinary stone in Thailand, a statistical survey, Siriraj Hospital Gaz 1961; 13: 199-214.
Halstead Sb, Valyasevi A. Studies of bladder stone disease in Thailand III; Epidemiologic studies in Ubol province, Am J Clin Nutr 1967; 20: 1329-39.
Sofer M, Kaver I, Greenstein A, Bar Yosef Y, Mabjeesh NJ, Chen J, et al. Refinement in treatment of large bladder calculi: Simultaneous percutaneous Suprapubic and Transurethral cystolithotripsy. Urology 2004; 64(4): 651-4.
Zhaowu Z, Xiwen, Fenling Z. Experience with electrohydraulic shockwave lithotripsy in the treatment of vesical calculi. BJU 1988; 61: 498-9.
Tzortsis V. Aravantainos E. Karatzas A. Mitsogiannis IC. Moutzouris G, Melekos MD. Percutaneous suprapubic cystolitthotripsy under local anesthesia. Urololy 2006; 68(1): 38-41.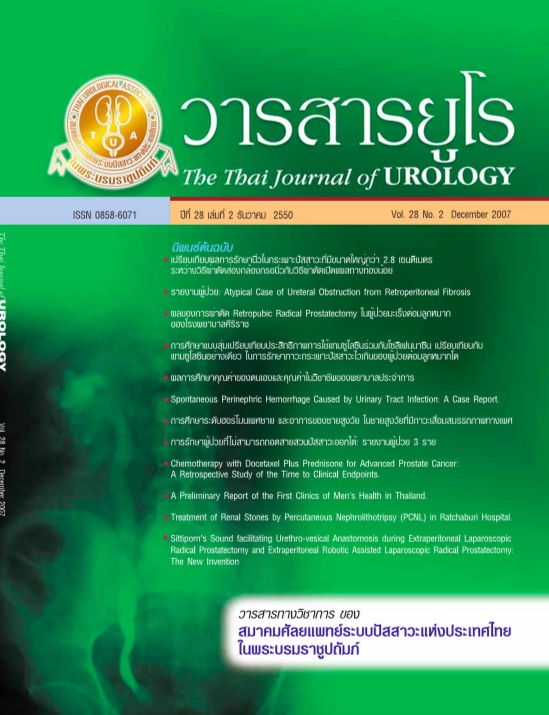 Downloads
How to Cite
Theerakitpaisal, S. (2007). Cystolithotripsy Versus Cystolithotomy For Vesicle Calculi Greater than 2.5 cm. Insight Urology, 28(2), 75–80. Retrieved from https://he02.tci-thaijo.org/index.php/TJU/article/view/253158