Treatment of Renal Stones by Percutaneous Nephrolithotripsy (PCNL) in Ratchaburi Hospital
Keywords:
Percutaneous nephrolithotripsy (PCNL)
Abstract
The purpose of this study is to evaluate the safety and effectiveness for the removal of renal stones by percutaneous nephrolithotripsy (PCNL) in Ratchaburi Hospital.
Between June 2001 and December 2007, 154 renal stone patients were treated by 168 PCNLs at Ratchaburi Hospital. The mean age was 48.29 years (7-73). 57 small renal calculi (33.9%), 53 medium renal calculi (31.5%) and 50 large renal calculi (29.7%) were included in this study. The average posto- perative stay was 7.64 days. Complications included 3 urosepsis (1.92%), 3 pleural cavity perforation (1.92%), 2 perforations peritoneal cavity (1.28%) and 21 patients (13.46%) required blood transfusions. There were 17 cases (10.88%) required additional treatments in ESWL for 14 patients (8.96%), open nephrolithotomy in one patient (0.64%) and 3 patients needed ureteroscopy (1.92%).
The stone-free rate on discharge was 79.29% and increased to 85.28% at one year post PCNL. In our experience, PCNL is safe, effective and successful method in treatment of renal calculi with smaller operative wound, short hospital stay, with acceptable complications and would be the standard procedure in the treatment of large renal calculi.
Downloads
Download data is not yet available.
References
Segura JW, Patterson DE, LeRoy AJ, Williams HJ Jr, Barrett DM, Benson RC Jr, et al. Percutaneous removal of kidney stones: review of 1,000 cases. J Urol 1985; 134: 1077-81.
Gupta M, Ost MC, Shah JB, McDougall EM, Smith AD, et al, editors. Campbellûs Urology. 9th rd. Philladelphia: W.B. Saunders: 2007: 1526-63.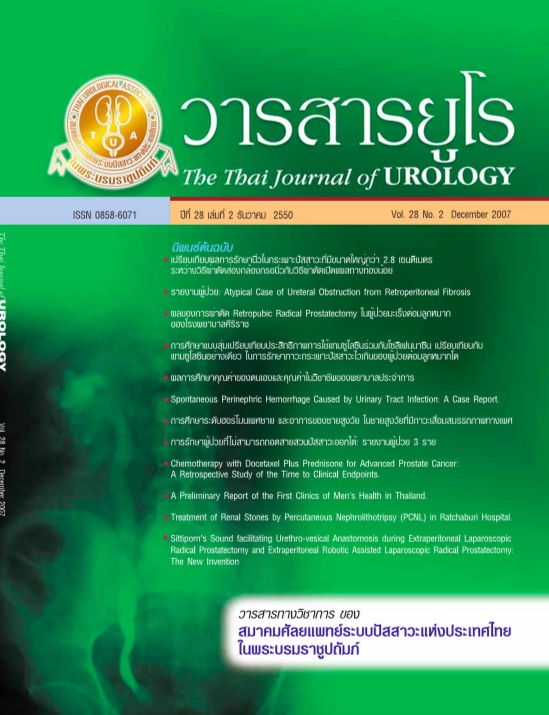 Downloads
How to Cite
Prachapinyo, T. (2007). Treatment of Renal Stones by Percutaneous Nephrolithotripsy (PCNL) in Ratchaburi Hospital. Insight Urology, 28(2), 144–149. Retrieved from https://he02.tci-thaijo.org/index.php/TJU/article/view/253224