Management of symptomatic renal angiomyolipoma: a review of 7 cases
Keywords:
Management, symptomatic, renal angiomyolipoma
Abstract
Introduction: Angiomyolipoma (AML) is a benign renal tumor that occasionally requires intervention. Diagnosis and treatment of 7 cases were discussed.
Patients and method: A total of 7 cases with diagnosis of symptomatic angiomyolipoma at Maharaj- nakorn chiangmai hospital from January 2004 to May 2005 were reviewed. Of 7 cases, 6 were female (86%). The mean age was 31.6 yrs (range 22-60 yrs). Clinical symptoms were dominated by palpable mass and flank pain (71%). The diagnosis of every cases was established by CT scan. The tumor size was 15.0 cm. in average (range 8.5-28 cm.). The treatment was consisted of elective partial nephrectomy in 3 cases, emer- gency total nephrectomy in 1 case and emergency renal embolization in 3 cases.
Result: All cases had no post operative or post embolization serious complication, and no dialysis was required. In the follow-up period, all three cases in partial nephrectomy group had no related symptom and no residual tumor in follow-up CT scan. All cases that had embolized kidney had only mild flank pain post renal embolization and the tumor size of 2 cases was decreased by follow-up CT scan.
Conclusion: The management of angiomyolipoma should be aimed at parenchyma preservation which can be effectively accomplished by limited surgery (partial nephrectomy) or preferably by embolization. Partial nephrectomy or renal embolizations are effective in symptomatic angiomyolipoma, but elective partial nephrectomy post embolization or second embolization may be required.
Downloads
Download data is not yet available.
References
Andrew C. Norvick, Steven C. Campbell. Renal tumor. In: Patrick C. walsh, eds. Campbell's Urology 8th ed Saunders, 2002;2681-3.
Khan AN, Colm B, Sumari Mc, Brendan C, Nigel T, Khalid M. Angiomiolipoma, Kidney. In: Richard T, Bernard DC, Arnold CF, eds. eMedicine, 2002; June 21.
Kessler OJ, Gillon G, Neuman M, Engelstein D, Winkler H, Baniel J. Management of renal angiomyolipoma: analysis of 15 cases. Eur Urol. 1998; 33(6): 572-5.
Kehagias D, Mourikis D, Kousaris M, Chatziioannou A, Vlahos L. Management of renal angiomyolipoma by selective arterial embolization. Urol Int. 1998; 60(2): 113-7.
Koike H, Muller SC, Hohenfellner R. Management of renal angiomyolipoma: a report of 14 cases and review of the literature. Is nonsurgical treatment adequate for this tumor?. Eur Urol. 1994; 25(3): 183-8.
De Luca S, Terrone C, Rossetti SR. Management of renal angiomyolipoma: a report of 53 cases. BJU Int. 1999; 83(3): 215-8.
Fazeli-Matin S, Norvick AC. Nephron-sparing surgery for renal angiomyolipoma. Urology. 1998; 52(4): 577-83.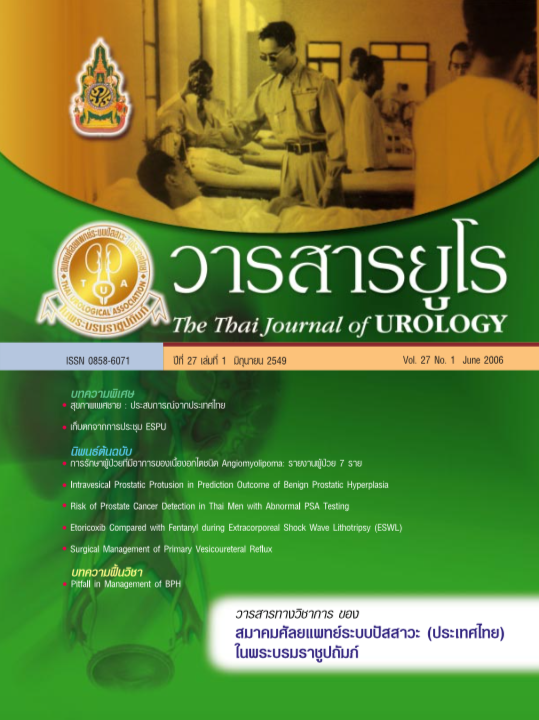 Downloads
How to Cite
Insuan, P., Sripralakrit, S., Lojanapiwat, B., Siriwanitchai, C., Insuan, W., & Sukhamwang, N. (2006). Management of symptomatic renal angiomyolipoma: a review of 7 cases. Insight Urology, 27(1), 12–20. Retrieved from https://he02.tci-thaijo.org/index.php/TJU/article/view/253739