Risk of Prostate Cancer Detection in Thai Men with Abnormal PSA Testing
Keywords:
Risk, Prostate Cancer, Detection, Abnormal PSA Testing
Abstract
This study determined the risks of prostate cancer detection in Thai men by PSA level. The study included 662 Thai men with abnormal PSA or abnormal DRE or both and their prostate glands were biopsied by transrectal ultrasound (TRUSBx) from 1999 to 2003. The risk of positive biopsy according to the PSA levels of 0-4 ng/ml, 4.1-10.0 ng/ml, 10.1-20.0 ng/ml, 20.1-50 ng/ml, 50.1-100 ng/ml and more than 100 ng/ml were 6.5%, 12.5%, 21.2%, 38.9%, 60% and 96.4%, respectively. Since high detection rate of prostate cancer was correlated with high PSA but pros- tate cancer may present in Thai men with normal PSA, thus PSA testing alone is not a best test for diagnosis of prostate cancer. If abnormal DRE or abnormal PSA or both was detected in a patient, TRUSBx should be performed and interpretation of the risk for prostate cancer for Thai men should use data in Thai men.
Downloads
Download data is not yet available.
References
Thompson IM, Pauler DK, Goodman PJ, et al. Prevalence of prostate cancer among men with a prostate-specific antigen level < 4.0 ng per Milliliter. N Engl J Med 2004; 350(22): 2239-46.
Catalona WJ, Richie JP, Ahmann FR, et al. Comparison of digital rectal examination and serum prostate specific antigen in the early detection of prostate cancer: results of a multicenter clinical trial of 6,630 men. J Urol. 1994; 151(5): 1283-90.
Parkin DM, Whelan SL, Ferlay J, Storm H. Cancer incidence in five continents. Volumes VIII. 2002.
Ku JH. Race-specific reference ranges of serum prostate-specific antigen levels in countries with a low incidence of prostate cancer. BJU International 2006; 97(1): 69-72.
Stone A, Ratnasinghe LD, et al. CYP3A43 Pro(340)Ala polymorphism and prostate cancer risk in African Americans and Caucasians. Cancer Epidemiology, Biomarkers & Prevention 2005; 14(5): 1257-61.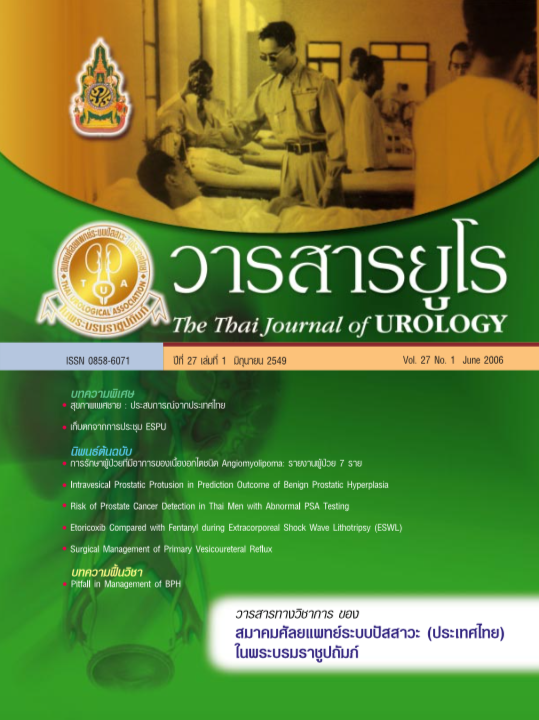 Downloads
How to Cite
Sangprachathanarak, P., Leewansangtong, S., Ratanarapee, S., Tantiwong, A., Nualyong, C., Taweemankongsap, T., Amornvessukit, T., & Soontrapa, S. (2006). Risk of Prostate Cancer Detection in Thai Men with Abnormal PSA Testing. Insight Urology, 27(1), 26–29. Retrieved from https://he02.tci-thaijo.org/index.php/TJU/article/view/253745