Surgical Management of Primary Vesicoureteral Reflux
Keywords:
Surgical Management, Primary Vesicoureteral Reflux
Abstract
Objective: To collect and evaluate result of surgical management of severe primary vesicoureteral reflux (VUR) in pediatric patients at Prapokklao Hospital, Chantaburi.
Material and method: Collection of pediatric patients with severe grade of primary vesicoureteral reflux at surgical department between 2000-2005 were reviewed. Age, sex, type of VUR, presenting symptoms, radiologic finding and operative techniques were reviewed.
Results: There were 22 cases, 14 girls and 8 boys with primary, severe grade VUR. Thirteen cases had unilateral VUR and 9 cases had bilateral VUR. Presenting symptoms were recurrent UTI (100%), urosepsis (9%), abnormal urination (23%), palpable kidney (4%), failure to thrive (4%). Surgical procedures in unilateral VUR were Politano-Lead better ureteroneocystostomy 3 cases, Glenn-Anderson reimplantation 10 cases. In cases of bilateral VUR, Cohen-cross trigone reimplantation were used in 9 cases. Primary VUR with megaureter were found in 3 cases, tapering of lower end ureter with reimplantation were performed in 2 cases and in 1 case tapering of the whole ureter with reimplantation was performed.
Conclusion: In severe grade VUR (gr.V) and bilateral VUR, surgical reimplantation of ureters were considered. The results were excellent and complication was minor.
Downloads
Download data is not yet available.
References
Cooper CS, Austin JC. Vesicoureteral reflux : Who benefits from surgery?. Urol Clinn.am 31(2004): 535-41.
Elder JS, Peters CA, Arant BS Jr, Ewalt DH, Hawtrey CE, Hurwitzrs E. Pedriatic vesicoureteral reflux guidelines panel summary report on the management of primary vesicoureteral reflux in children. J Urol 1991; 157: 1846-51.
Politano VA, Lead better WF. An operative techique for the correction of vesicoureteral reflux. J Urol 1958; 79: 932-41.
Glen JF, Anderson EE. Distal tunnel ureteral reimplantation. J Urol 1967; 97: 623-6.
Cohen SJ., Ehrlich RM. Success of the transvesical advancement technique for vesicoureteral reflux. J Urol 1982; 128: 554-7.
Diamond DA, Rabinowitz R, Hoenig D, Caldamone AA. The mechanism of new onset contralateral reflux following unilateral ureteroneocystostomy. J Urol 1996; 156: 665-7.
Hoenig DM, Diamond DA, Rasinowitz R, Caldamone AA. Contralateral reflux after unilateral reimplatation. J Urol 1996; 156: 196-7.
Atala A, Kavoussi LR, Goldstein DS, Retink AB, Peters CA. Laparoscopic correction of vesicoureteral reflux. J Urol 1993; 150: 748-51.
Puri P, Granata C. Multicenter survey of endoscopic treatment of vesicoureteral reflux using polytetrafluroethylene. J Urol 1998; 160: 1007-11.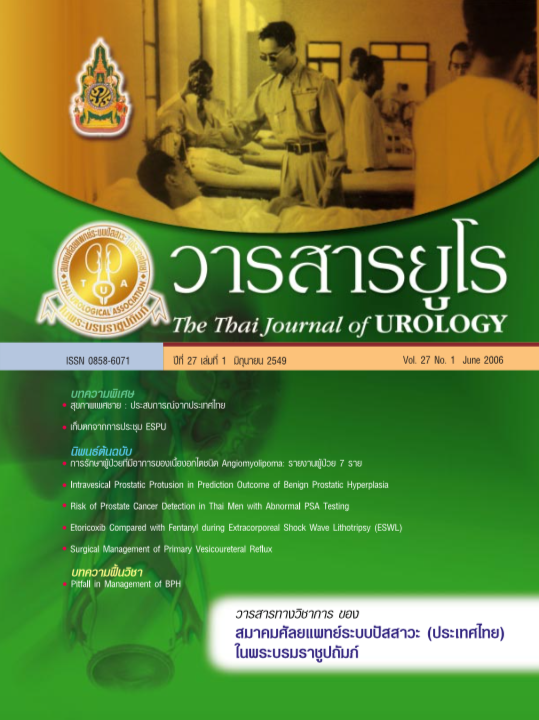 Downloads
How to Cite
Harithaithaworn, S. (2006). Surgical Management of Primary Vesicoureteral Reflux. Insight Urology, 27(1), 30–40. Retrieved from https://he02.tci-thaijo.org/index.php/TJU/article/view/253751