Management of extracranial carotid artery stenosis
Extracranial carotid artery stenosis
Premkamol Patraithikul

Department of Surgery, Faculty of Medicine, Thammasat University ,Thammasat University Hospital, Pathum Thani, Thailand

Saritphat Orrapin

Department of Surgery, Faculty of Medicine, Thammasat University ,Thammasat University Hospital, Pathum Thani, Thailand
Keywords:
atherosclerosis, carotid artery stenosis, carotid endarterectomy, carotid stenting
Abstract
Extracranial carotid artery stenosis is an important cause of ischemic stroke. It is the second leading cause of death in the world, accounting for 9.5 percent of all causes of death. It has a high mortality rate of 15 percent and leads to 15-20 percent of disability. The main factor is atherosclerosis-induced stenosis from the deposition of fibrofatty plaques in the artery walls. Distal embolization of atherosclerotic plaque to intracerebral arteries and low flow state due to proximal stenosis are main pathophysiology of ischemic stroke in patients with carotid artery stenosis. Diagnosis of such disease consists of non-invasive vascular lab to invasive test. Treatment of carotid artery included best medical treatment, revascularization by open surgery and endovascular intervention.
Currently, there are both randomized control trials and meta-analysis report on the diagnostic study, medical and operative treatment using new technology. The updated patient care guidelines on management during preoperative, perioperative and intraoperative period leading to better treatment results.
This article compiles and summarizes guidelines and research for physicians, surgeons and radiologist who are involved in the treatment of patients with carotid artery disease at different levels. Keeping up-to-date management of disease is very important for the treatment effect.
Downloads
Download data is not yet available.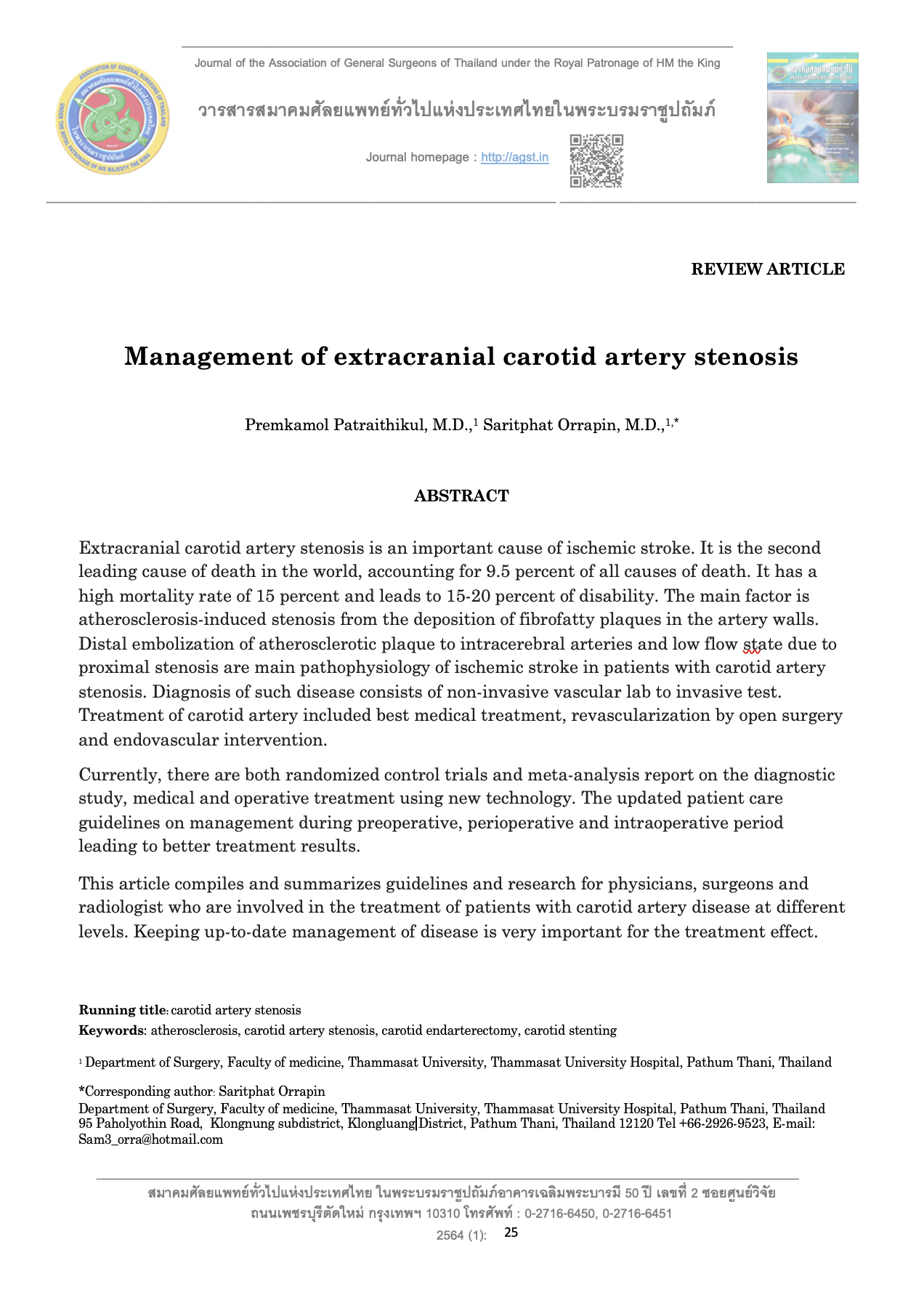 How to Cite
Patraithikul, P., & Saritphat Orrapin, S. (2021). Management of extracranial carotid artery stenosis: Extracranial carotid artery stenosis. Journal of the Association of General Surgeons of Thailand under the Royal of Patronage of HM the King , 6(1), 24-51. Retrieved from https://he02.tci-thaijo.org/index.php/agstjournal/article/view/251379
Section
Review article (literature review or systematic review)