แนวทางเวชปฏิบัติในการดูแลรักษาผู้ป่วยโรคอ้วนด้วยการผ่าตัดแห่งประเทศไทย พ.ศ. 2564
Ajjana Techagumpuch

Department of Surgery, Faculty of Medicine, Thammasat University Hospital

Setthasir Pantanakul

Department of Surgery, Bhumibol Adulyadej Hospital, Royal Thai Airforce, Thailand

Pawan Chansaenroj

Somdet Phra Pin Klao Hospital

Narong Boonyagard

Klang Hospital, Bangkok Metropolitan Administration

Jakrapan Wittayapairoch

Faculty of Medicine, Khon Kaen University

Thakoon Poonthananiwatkul

Bangkok Hospital, Phuket

Pakkavuth Chanswangphuvana

Department of Surgery, Faculty of Medicine, Thammasat university, Thailand

Kanokkarn Tepmalai

Faculty of Medicine, Chiang Mai University, Thailand

Voraboot Taweerutchana

Faculty of Medicine Siriraj Hospital, Mahidol University, Thailand

Suriya Punchai

Faculty of Medicine, Khon Kaen University, Thailand

Kamthorn Yolsuriyanwong

Department of Surgery, Prince of Songkla University

Thun Ingkakul

Phramongkutklao Hospital

Pornthep Prathanvanich

Taksin Hospital, Bangkok Metropolitan Administration, Thailand

Preeda Sumritpradit

Faculty of medicine, Ramathibodi Hospital, Mahidol University

Araya Khaimook

Department of Surgery, Hatyai Hospital

Panot Yimcharoen

Department of Surgery, Bhumibol Adulyadej Hospital, Royal Thai Airforce

Siripong Cheewattanakornkul

Department of Surgery, Prince of Songkla University

Suthep Udomsawaengsup

Faculty of medicine, King Chulalongkorn memorial university, Thailand

Thanyadej Nimmanwudipong

Faculty of Medicine, Siriraj Hospital, Mahidol University

Sutdhachit Linananda

Phramongkutklao Hospital, Thailand
Keywords:
Bariatric surgery, Obesity, Metabolic Surgery, Clinical Practice Guideline, Weight loss surgery
Abstract
Background and objective: The prevalence of obesity is increasing in Thailand. The Thai Society for Metabolic and Bariatric Surgery newly developed the first Thailand guidelines for Bariatric surgery as the gold standard treatment of morbid obesity.
Materials and Methods:  In purpose of enhancing the quality of care in obesity treatment through metabolic and bariatric surgery, this statement would provide suggestions for managements that are derived from available knowledge, peer-reviewed scientific literature, and expert opinion. This was accomplished by reviewing currently available literature regarding obesity, obesity treatments, and metabolic surgery from all references published worldwide.
Results: The intent of issuing such a guideline is to provide definite criteria for surgery, pre-operative, and post-operative care, included particular practical points in each step.
Conclusions:  This is the first practice guideline on bariatric surgery to treat an obese patient in Thailand. The guideline would be revised in the future should additional evidence become available and future research is needed to gather more evidence and study clinical outcomes for the development of future practice guidelines.
Downloads
Download data is not yet available.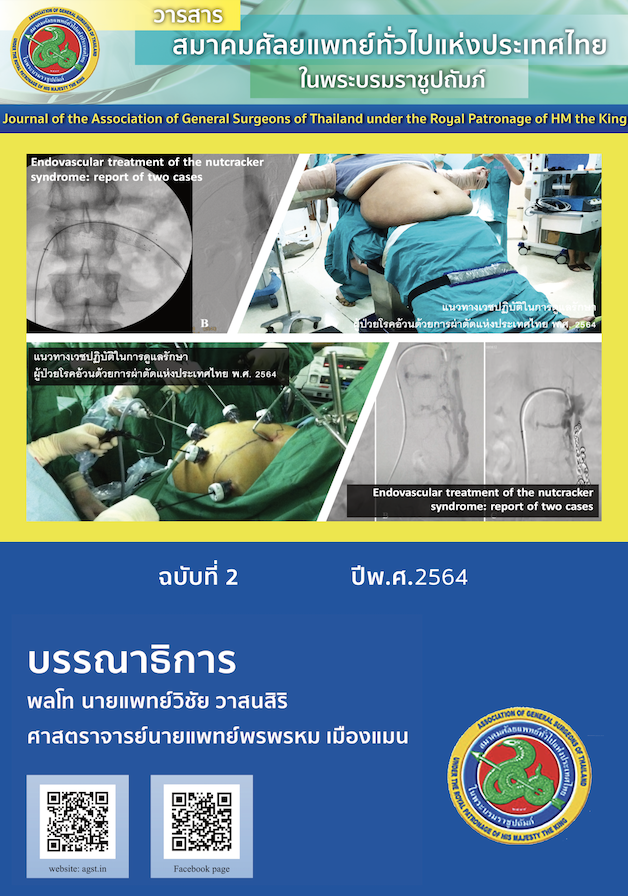 How to Cite
Techagumpuch, A., Pantanakul, S., Chansaenroj, P., Boonyagard, N., Wittayapairoch, J., Poonthananiwatkul, T., Chanswangphuvana, P., Tepmalai, K., Taweerutchana, V., Punchai, S., Yolsuriyanwong, K., Ingkakul, T., Prathanvanich, P., Sumritpradit, P., Khaimook, A., Yimcharoen, P., Cheewattanakornkul, S., Udomsawaengsup, S., Nimmanwudipong, T., & Linananda, S. (2021). แนวทางเวชปฏิบัติในการดูแลรักษาผู้ป่วยโรคอ้วนด้วยการผ่าตัดแห่งประเทศไทย พ.ศ. 2564. Journal of the Association of General Surgeons of Thailand under the Royal of Patronage of HM the King , 6(2), 5-18. Retrieved from https://he02.tci-thaijo.org/index.php/agstjournal/article/view/252056
Section
Review article (literature review or systematic review)