Risk Factors Associated With Preeclamsia In Pregnant Women In Nongkhai Hospital.
Keywords:
Preeclampsia, Risk Factor, Pregnancy Woman
Abstract
Abstract
Objective: To determine the risk factors of preeclampsia in pregnant women giving birth at Nongkhai hospital.
Methods: This was a retrospective case control study. Data were obtained from medical records of 393 pregnant women who delivered at Nongkhai hospital from 1st October 2018 to 30th September 2020. They were divided into two groups, 131 pregnant women with preeclampsia and 262 in the control group.
Results: The risk factor for preeclampsia is having a history of preeclampsia in previous pregnancy (ORs 40.0; 95%CI 4.2-383.9), nulliparity (ORs 6.6; 95% CI 3.4-12.6), history of abortion (ORs 10.6; 95%CI 4.5-25.0), BMI≥25 kg/m2 (ORs 2.3; 95% CI 1.3-4.4), maternal age≥ 35 years (ORs 9.7; 95%
CI 3.6-25.7), hemoglobin at first ANC≥ 13.2 g/dL (ORs 4.5; 95% CI 1.8-10.9), GDM (ORs 21.1; 95% CI 2.1-208.9).
Conclusions: The risk factors for preeclampsia were history of preeclampsia in previous pregnancy, nulliparity, history of abortion, BMI≥25 kg/m2, maternal age≥ 35 years, hemoglobin at first ANC≥ 13.2 g/dL and gestational diabetes these risk factors can be applied to screening pregnant women at risk of preeclampsia. To plan treatment and follow up on appropriate treatment.

Keywords: Preeclampsia, Risk Factor, Pregnancy Woman
Downloads
Download data is not yet available.
References
ACOG practice bulletin. Gestational hypertension and preeclampsia. Number 222, June 2020; 135(6):e237-60.
Sarosh Rana, Elizabeth Lemoine, Joey P. Granger, S. Ananth Karumanch. Preeclampsia pathophysiology, Challenges, and Perspectives. Ahajournals. 29 March 2019;1094-112.
Phanida Luealon, Vorapong Phupong. Risk factors of preeclampsia in Thai women. J Med Assoc Thai 2010;93(6):661-6.
Hailemariam Berhe Kahsay, Fikre Enquselassie Gasheand Wubegzier Mekonnen Ayele. Risk factors for
hypertensive disorders of pregnancy among mothers in Tigray region, Ethiopia: matched case-control study. BMC Pregnancy and Childbirth 2018;18:482-91.
Abadi Kidanemariam Berhe, Abiodun O. Ilesanmi, Christopher O. Aimakhu, Afework Mulugeta. Effect of pregnancy induced hypertension on adverse perinatal outcome in Tigray regional state, Ethiopia: a Prospective Cohort study. BMC pregnancy and Childbirth. 2020;20:7-17.
Kerri-Ann Mckenzie, Helen Trotman. A Retrospective study of neonatal outcome in preeclampsia at the
University Hospital of the west Indies: A resource-limited setting. Journal of Tropical Pediatrics. 2019;65:78-83.
Meghavini R. Parmar, Pradhyuman Vaja. Effect of pregnancy induce hypertension on maternal and perinatal outcome at tertiary care center in Ahmedabad, Gujarat, India. International Journal of Reproductive, Contraception, Obstetrics and Gynecology. October
;6(10):4661-5.
Rattiya Phianpiset, Buraya Phattanachindakun, Dittakarn Boriboonhirusarn. Prevalence, Risk factors, and pregnancy outcomes of early-onset severe preeclampsia among severe preeclamptic women in Siriraj hospital. Thai Journal of Obstetrics and Gynecology. January 2017;25:26-34.
Sorohi Hirpara, Rushi Ghevariya, Paras Ghadia, Trupesh Hada, Niraj Pandit. Study of risk factors for pregnancy induced hypertension. NJIRM. May-June 2017;49-52.
Leta Hinkosa, Almaz Tamene, Negeso Gebeyehu. Risk factors associated with hypertensive disorders in
pregnancy in Nekemte referral hospital, from July 2015 to June 2017, Ethiopia: Case-Control Study. BMC Pregnancy
and Childbirth 2020;20:16-24.
W.K.B.A. Owiredu, L. Ahenkorah, C.A. Turpin, N. Amiduand E.F. Laing. Putative risk factors of pregnancy-induced hypertension among Ghanaian pregnant women. Journal of Medical and Biomedical Sciences (2012);1(3):62-76.
Shabnan ShamimAsim, Humaira Naeem. Pregnancy with Obesity- A Risk Factor for PIH. JLUMHS. September-December 2010;9(3):125-9.
Azar Aghamohammadi, Mandana Zafari, Maryam Tofighi. High maternal hemoglobin concentration in first trimester as risk factor for pregnancy induced hypertension.Caspian J Intern Med 2011;2(1):194-7.
Daniel L. Rolnik, Kypros H. Nicolaides, Liona C. Poon. Prevension of preeclampsia with aspirin. ajog.
February 2022:S1108-19.
Li-Mei Quan, Qiu-LianXu, Gen-Qin zhang, LinLin- wun, Heng Xu. Analysis risk factors of preeclampsia and prediction based on combined biochemical indexes. KJMS. 2018;34:109-12.
Larry Jones, Wisdom Takramah, Wisdom Kudzo Axame, Richard Owusu, Phyllis Atta Parbey, ElvisTarkang, et al. Risk factors associated with pregnancy induced hypertension in the Hohoe Municipality of Ghana. Journal of Preventive Medicine and Healthcare. 18 September 2017;1(3):1011-8.
D.Vinatier, J.C.Monnier. Pre-eclamsia: physiology and immunological aspects. Ruropean Journal of
Obstetrics and Gynecology and Reproductive Biology. 1995;61:85-97.
Caixia Zhuang, Jinsong Gao, Juntao Liu, Xietong Wang, Jing He, Jingxia Sun, et al. Risk factors and potential protective factors of pregnancy induced hypertension in China: A cross-sectional study. J Clin Hypertens. 2019;21:618-23.
Jussara Mayrink, Renato T. Souza, Francisco E. Feitosa, Edilberto A. Rocha Filho, Debora F. Leite, Janete Vettorazzi, et al. Incidence and risk factors for Preeclampsia in a cohort of healthy nulliparous pregnant women: a nested case-control study. Scientific Reports. 2 July 2019;9:9517-26.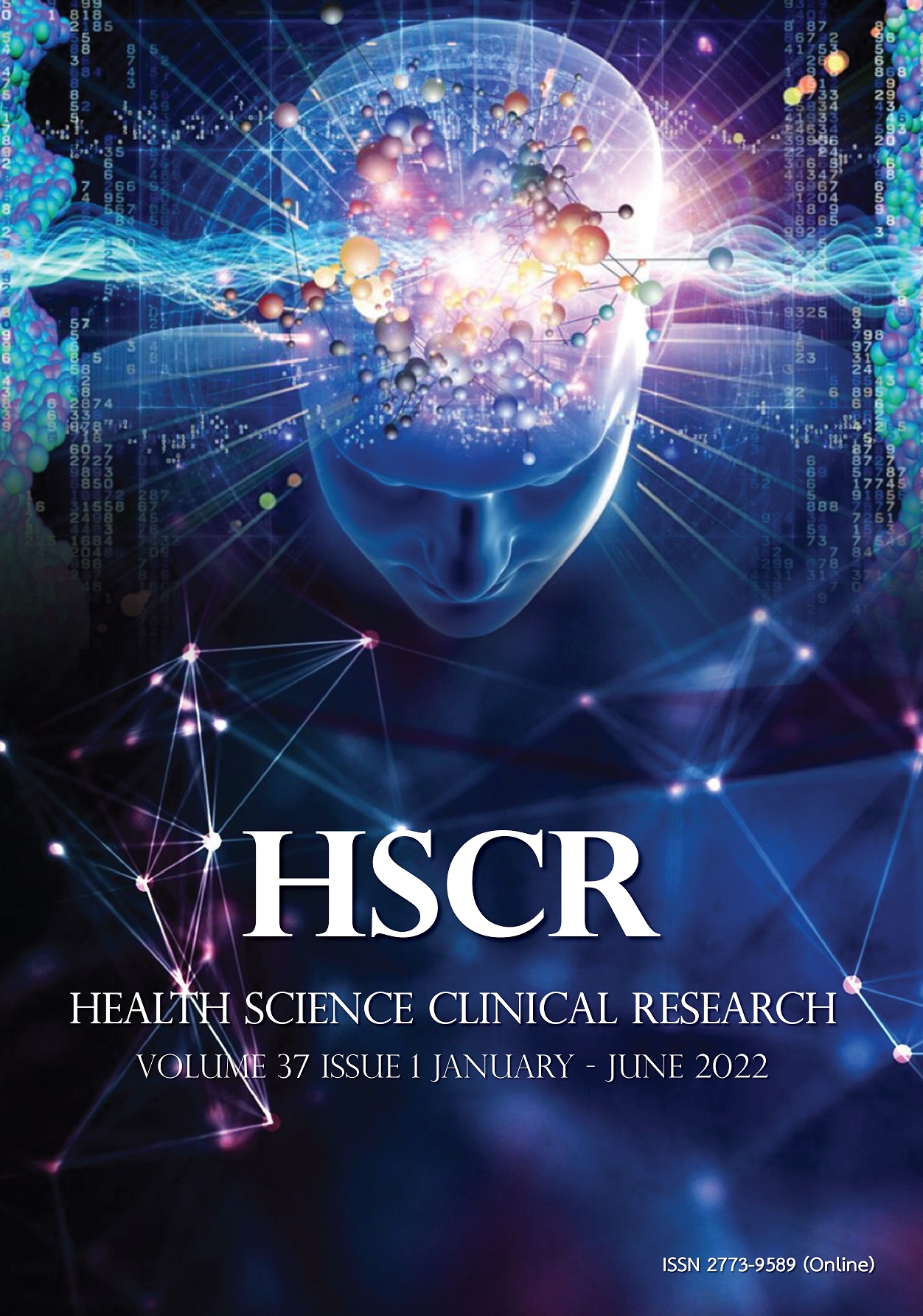 Downloads
How to Cite
1.
Thuakprasert K. Risk Factors Associated With Preeclamsia In Pregnant Women In Nongkhai Hospital. HSCR [Internet]. 2022 Jun. 30 [cited 2023 Dec. 11];37(1):1-9. Available from: https://he02.tci-thaijo.org/index.php/hscr/article/view/256672
Section
Original Articles (นิพนธ์ต้นฉบับ)
License
Copyright (c) 2022 Health Science Clinical Research
This work is licensed under a Creative Commons Attribution-NonCommercial-NoDerivatives 4.0 International License.
The names and email addresses entered in this journal site will be used exclusively for the stated purposes of this journal and will not be made available for any other purpose or to any other party.