Association of Early Onset Neonatal Sepsis (EONS) Within 72 Hours of Maternal Teenage in Uttaradit Hospital
Keywords:
Early onset neonatal sepsis, Maternal teenage
Abstract
ABSTRACT
Objective: To study the association of early onset neonatal sepsis in maternal teenage at Uttaradit Hospital
Methods: Studied 400 mothers of newborns who were admitted to Uttaradit Hospital from 1st January 2017– 9th August 2022. Collecting data from ICD-10, Data was divided into two groups. The first group was mothers of neonates who were diagnosed with early onset neonatal sepsis amount 200 patients, and the second group was mothers of normal neonates amount 200 patients. All data were analyzed by descriptive and inferential study.
Results: Patients who were diagnosed with EONS and had maternal teenage were found to have an increased risk of EONS (AOR=1.69, 95%CI 1.03-2.76, p=0.037 using a univariate logistic regression analysis method) (AOR=1.76, 95%CI 1.01-3.06, p=0.045. using multivariate logistic regression analysis method) with statistical significance (p<0.05).
Conclusions: From the study of the association between the incidence of early onset neonatal sepsis (EONS) and maternal teenage in Uttaradit Hospital. It was found that maternal age, address, premature rupture of membrane (PROM) ≥18 hours and urinary tract infection in the prenatal period. They are risk factors that significantly increased the likelihood of early onset neonatal sepsis compared to normal neonates.
Keywords: Early onset neonatal sepsis, maternal teenage
Downloads
Download data is not yet available.
References
สำนักอนามัยเจริญพันธ์ุ กรมอนามัย. รายงานประจำ ปี 2563 สำ นักอนามัยการเจริญพันธ์ุ [Internet]. [cited 2565 Aug 6]. Available from: https://rh.anamai.moph.go.th/web-upload/7x027006c2abe84e89b5c85b44a692da94/202101/m_news/32053/200929/
file_download/5499b750564075b590cc442f64caae41.pdf
Eliner Y, Gulersen M, Kasar A, Lenchner E, Grünebaum A, Chervenak FA, et al. Maternal and Neonatal Complications in Teen Pregnancies: A Comprehensive Study of 661,062 Patients. J Adolesc Health Off Publ Soc Adolesc Med. 2022 Jun;70(6):922–7.
Murthy S, Godinho MA, Guddattu V, Lewis LES, Nair NS. Risk factors of neonatal sepsis in India: A systematic review and meta-analysis. PLOS ONE. 2019 Apr 25;14(4): e0215683.
Fleischmann C, Reichert F, Cassini A, Horner R, Harder T, Markwart R, et al. Global incidence and mortality of neonatal sepsis: a systematic review and meta-analysis. Arch Dis Child. 2021 Aug;106(8):745–52.
Akbarian-Rad Z, Riahi SM, Abdollahi A, Sabbagh P, Ebrahimpour S, Javanian M, et al. Neonatal sepsis in Iran: A systematic review and meta-analysis on national prevalence and causative pathogens. PLOS ONE. 2020 Jan 24;15(1): e0227570.
Singh M, Alsaleem M, Gray CP. Neonatal Sepsis. In: StatPearls [Internet]. Treasure Island (FL): StatPearls Publishing; 2022 [cited 2022 Aug 11]. Available from: http://www.ncbi.nlm.nih.gov/books/NBK531478/
Araújo BC, Guimarães H. Risk factors for neonatal sepsis: an overview. Journal of Pediatric and Neonatal Individualized Medicine (JPNIM). 2020 Oct 2;9(2): e090206–e090206.
Treffers P. Adolescent Pregnancy (Issues in Adolescent Health and Development). 20 Avenue Appia, 1211 Geneva 27, Switzerland; 2004.
Agnche Z, Yeshita HY, Gonete KA. Neonatal Sepsis and Its Associated Factors Among Neonates Admitted to Neonatal Intensive Care Units in Primary Hospitals in Central Gondar Zone, Northwest Ethiopia, 2019. IDR. 2020 Nov 3; 13:3957–67.
Abebe AM, Fitie GW, Jember DA, Reda MM, Wake GE. Teenage P regnancy and Its Adverse Obstetric and Perinatal Outcomes at Lemlem Karl Hospital, Tigray, Ethiopia, 2018. BioMed Research International. 2020 Jan 20; 2020:1–8.
Alyamani AM, Elewa HA, Newira FA. Maternal and Neonatal Outcome of Teenage Pregnancy at Al-Galaa Maternity Teaching Hospital, Cairo, Egypt. Open Journal of Obstetrics and Gynecology. 2021 May 8;11(5):591–601.
Amabebe E, Anumba DOC. The Vaginal Microenvironment: The Physiologic Role of Lactobacilli. Frontiers in Medicine [Internet]. 2018 [cited 2022 Aug 22];5. Available from: https://www.frontiersin.org/articles/10.3389/fmed.2018.00181
Tita ATN, Andrews WW. Diagnosis and Management of Clinical Chorioamnionitis. Clin Perinatol. 2010 Jun;37(2):339–54.
Kayom VO, Mugalu J, Kakuru A, Kiguli S, Karamagi C. Burden and factors associated with clinical neonatal sepsis in urban Uganda: a community cohort study. BMC Pediatrics. 2018 Nov 13;18(1):355.
Bayih WA, Ayalew MY, Chanie ES, Abate BB, Alemayehu SA, Belay DM, et al. The burden of neonatal sepsis and its association with antenatal urinary tract infection and intra-partum fever among admitted neonates in Ethiopia: A systematic review and meta-analysis. Heliyon. 2021 Feb 1;7(2): e06121.
Nurfianto S, Hadi U, Purnomo W. Relationship Between Maternal Age, Gravida and Gestational Age with Premature Rupture of Membrane in Adolescent Pregnancy. Indian Journal of Forensic Medicine & Toxicology. 2019 Jan 1; 13:756.
Maheshwari MV, Khalid N, Patel PD, Alghareeb R, Hussain A. Maternal and Neonatal Outcomes of Adolescent Pregnancy: A Narrative Review. Cureus[Internet]. 2022 Jun 14 [cited 2022 Aug 15];14(6). Available from:https://www.cureus.com/articles/100936-maternal-and-neonatal-outcomes-of-adolescent-pregnancy-a-narrative-review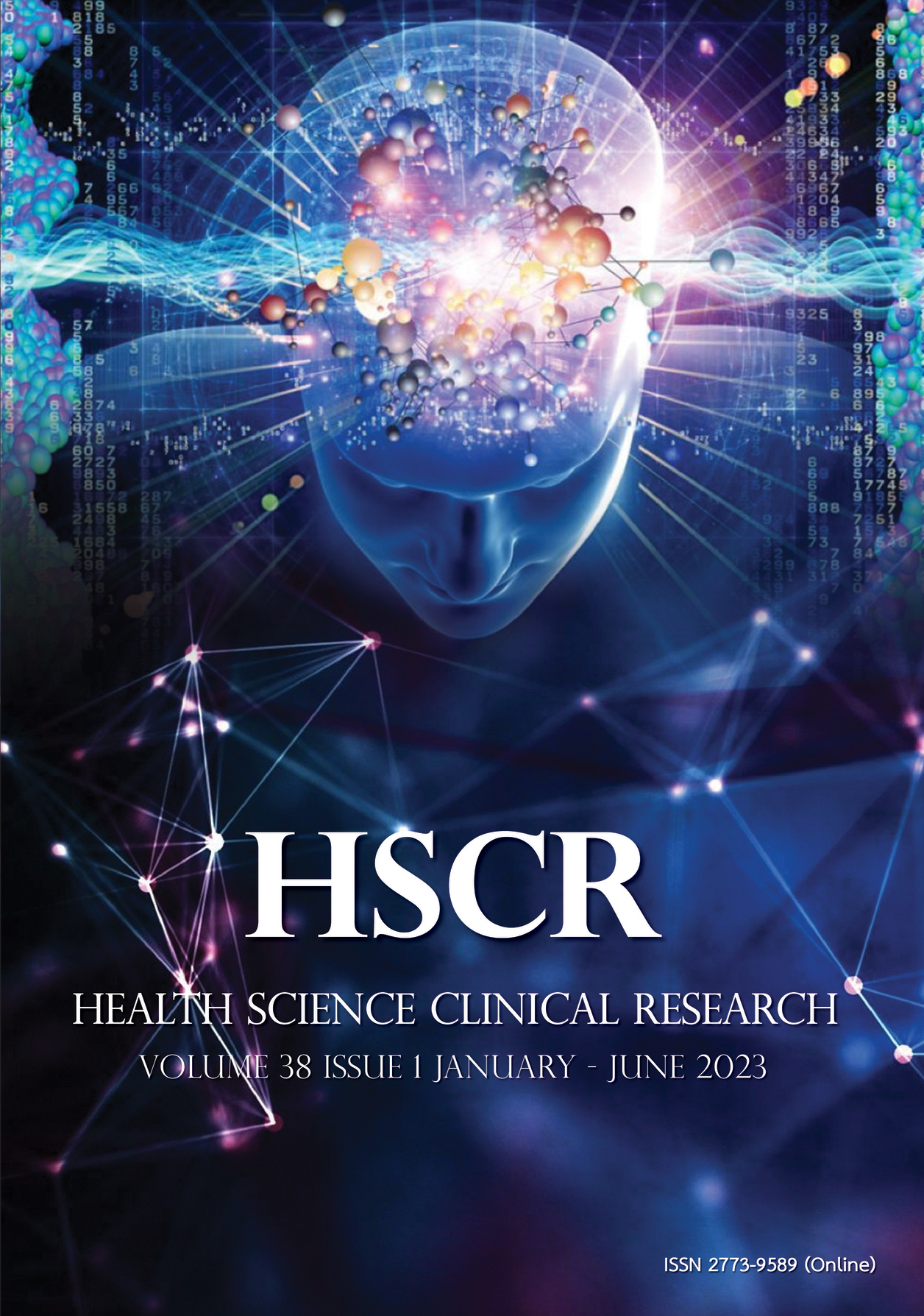 Downloads
How to Cite
1.
Mansumrit T, Thongsri K, Chotecharnont T. Association of Early Onset Neonatal Sepsis (EONS) Within 72 Hours of Maternal Teenage in Uttaradit Hospital . HSCR [Internet]. 2023 Jun. 30 [cited 2023 Dec. 11];38(1):56-69. Available from: https://he02.tci-thaijo.org/index.php/hscr/article/view/261023
Section
Original Articles (นิพนธ์ต้นฉบับ)
License
Copyright (c) 2023 Health Science Clinical Research
This work is licensed under a Creative Commons Attribution-NonCommercial-NoDerivatives 4.0 International License.
The names and email addresses entered in this journal site will be used exclusively for the stated purposes of this journal and will not be made available for any other purpose or to any other party.