Rehabilitation after surgery for hip fracture in older persons: Challenge issue in nursing.
Abstract
Abstract
                    Elderly people are at risk for complications after hip surgery from immobilization. Because the elderly have a physiological change in all the body systems, pre-surgery condition dementia, functional ability, muscle strength, waiting time before surgery, pain, delirium, depression and fear of falling. Recovery after surgery for hip fracture in older persons is a challenging role for nurses to promote functional ability. Early ambulation reduces complications and decreases mortality. Planning for rehabilitation of the elderly is a continuum from the hospital to the home. Nurse is an important person who participates in the rehabilitation process of the elderly. The goal is to enable the elderly to perform daily activities.  Keywords: Rehabilitation/ the elderly/ surgery for hip fracture/ hip fracture
Downloads
Download data is not yet available.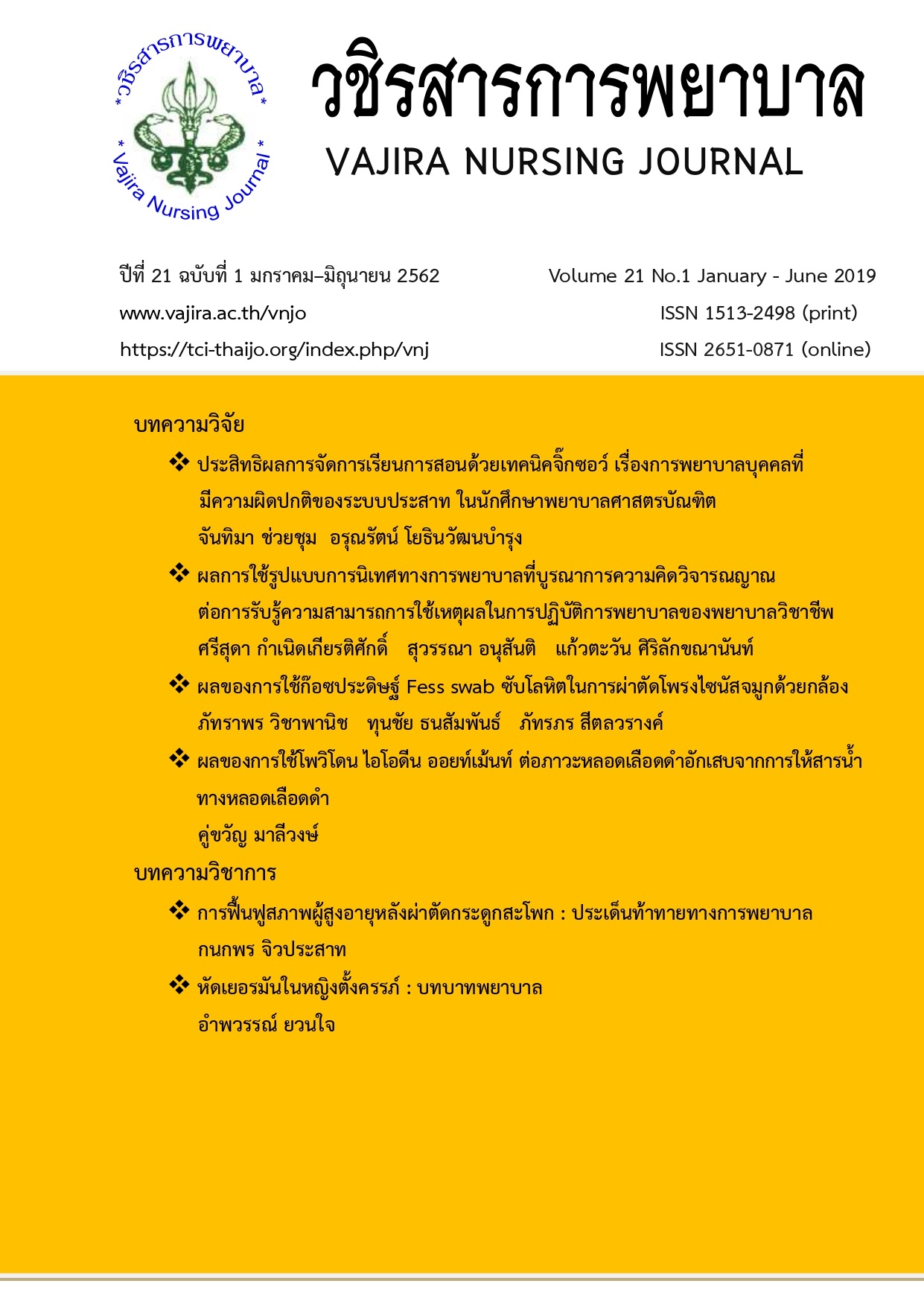 Copyright (c) 2019 Vajira Nursing Journal
This work is licensed under a Creative Commons Attribution-NonCommercial-NoDerivatives 4.0 International License.
เนื้อหาและข้อมูลในบทความที่ลงตีพิมพ์ในวชิรสารการพยาบาลถือเป็นข้อคิดเห็นและความรับผิดชอบของผู้เขียนบทความโดยตรง ซึ่งกองบรรณาธิการไม่จำเป็นต้องเห็นด้วย หรือร่วมรับผิดชอบใด ๆ ทั้งสิ้น
บทความ ข้อมูล เนื้อหา รูปภาพ ฯลฯ ที่ได้รับการตีพิมพ์ในวชิรสารการพยาบาล ถือเป็นลิขสิทธิ์ของวชิรสารการพยาบาล หากบุคคลใดหรือหน่วยงานใดต้องการนำทั้งหมดหรือส่วนหนึ่งส่วนใดไปเผยแพร่ต่อหรือเพื่อกระทำการใด ๆ จะต้องได้รับอนุญาตเป็นลายลักอักษรจากวชิรสารการพยาบาลก่อนเท่านั้น
****ขั้นตอนการ submission อธิบายในคู่มือสำหรับผู้นิพนธ์ (หน้าแรกของ webpage วชิรสารการพยาบาล)****
เอกสารสำหรับการส่งบทความเพื่อตีพิมพ์ (upload ส่งเอกสารทั้งหมดในขั้นตอนถัดไป) ดังนี้
1.ใบส่งบทความตีพิมพ์ (Author Affiliation) ดาวโหลด https://drive.google.com/file/d/0B9V-UdoFoueOSWFuMzgxc1BOY2JnRVdHbXdPRExaVkZuU1Bv/view?usp=sharing
2.บทความวิจัย / บทความวิชาการ (Article Text)
3. ใบรับรองการพิจารณาจริยธรรมการวิจัยในคน (เฉพาะบทความวิจัย)