Clinical Outcomes of AF Patients with Non-Rheumatic Valvular Heart Disease in Thailand
Keywords:
non-rheumatic valvular heart disease, atrial fibrillation, anticoagulant, stroke, bleeding, nonvalvular atrial fibrillation
Abstract
Background : Nonvalvular atrial fibrillation (NVAF) is the most common causes of atrial fibrillation (AF) in clinical practice. Many studies have demonstrated the oral anticoagulant drugs can reduce the risk of thromboembolism, but until now, there have had no clinical outcome trials including anticoagulant drugs in the patients with AF with nonrheumatic valvular heart disease (NRVHD).
Objective : This trial was conducted to determine the clinical outcomes of AF patients with NRVHD compared with NVAF
Methods : This study was a retrospective observational study in patients with AF in Central Chest Institute of Thailand between January 2015 to January 2017. Those were divided into AF patients with NRVHD and patients with NVAF. The primary outcome was the ischemic stroke and secondary outcomes were intracranial hemorrahge, the gastrointestinal bleeding (GIB) or all-cause mortality. The primary and secondary outcomes in this study were analyzed with chi-square test.
Results : A total of 146 AF patients were recruited. There were 40 AF patients in the NRVHD group and 106 patients in the NVAF group .There was ischemic stroke in 3 patients (7.50%) in the NRVHD group and in 10 patients (9.40%) in the NVAF group (RR 0.79: 95% CI, 0.23 to 2.74; p = 0.71). No patient in the NRVHD group (0%) and 4 patients (3.77%) in the NVAF group had the intracranial hemorrhage (RR, 0; p = 0.21). There was gastrointestinal bleeding GIB in 4 patients (10%) in the NRVHD group and 2 patients (1.89%) in the NVAF group (RR 5.3; 95% CI, 1.00 to 27.81; p = 0.02). Eight patients (20.51%) in the NRVHD group and 4 patients (3.77%) in the NVAF group died (RR 5.43; 95% CI, 1.73 to 17.04; p < 0.01).
Conclusions : AF patients with NRVHD had more GIB and death than those with NVAF. The oral anticoagulant drugs were appeared to be the prevention of ischemic stroke in the AF patients with NRVHD comparable to the patients with NVAF. However, the increased risk of GI bleeding and death limited its use in these patients.
Downloads
Download data is not yet available.
References
Cooper NJ, Sutton AJ, Lu G, Khunti K. Mixed comparison of stroke prevention treatments in individuals with nonrheumatic atrial fibrillation. Arch Intern Med 2006; 166:1269-75.
Friberg L, Rosenqvist M, Lip GY. Net clinical benefit of warfarin in patients with atrial fibrillation: a report from the Swedish atrial fibrillation cohort study. Circulation 2012; 125:2298-307.
Kirchhof P, Benussi S, Kotecha D, Ahlsson A, Atar D, Casadei B, et al. 2016 ESC Guidelines for the management of atrial fibrillation developed in collaboration with EACTS. Eur Heart J 2016; 37:2893-962.
Molteni M, Polo Friz H, Primitz L, Marano G, Boracchi P, Cimminiello C. The definition of valvular and non-valvular atrial fibrillation: results of a physicians' survey. Europace 2014; 16:1720–5.
Kernan WN, Ovbiagele B, Black HR, Bravata DM, Chimowitz MI, Ezekowitz MD, et al. Guidelines for the prevention of stroke in patients with stroke and transient ischemic attack: a guideline for healthcare professionals from the American Heart Association/American Stroke Association. Stroke 2014; 45:2160-236.
Sinser DE, Hughes RA, Gress DR, Sheehan MA, Oertel LB, Maraventano SW, et al. The effect of low-dose warfarin on the risk of stroke in patients with non-rheumatic atrial fibrillation, N Engl J Med 1990; 323: 1505-11.
Ezekowitz MD, Bridgers SL, James KE, Carliner NH, Colling CL, Gornick CC et al. Warfarin in the prevention of stroke associated with nonrheumatic atrial fibrillation. Veterans Affairs Stroke Prevention in Nonrheumatic Atrial Fibrillation Investigators. N Engl J Med 1992; 327: 1406-12.
Philippart R, Brunet-Bernard A, Clementy N, Bourguignon T, Mirza A, Babuty D, et al. Prognostic value of CHA2DS2-VASc score in patients with 'non-valvular atrial fibrillation' and valvular heart disease: the Loire Valley Atrial Fibrillation Project. Eur Heart J 2015; 36: 1822–30.
Di Biase L. Use of Direct Oral Anticoagulants in Patients with Atrial Fibrillation and Valvular Heart Lesions. J Am Heart Assoc 2016; 5:e002776.
Breithardt G, Baumgartner H, Berkowitz SD, Hellkamp AS, Piccini JP, Stevens SR, et al. Clinical characteristics and outcomes with rivaroxaban vs. warfarin in patients with non-valvular atrial fibrillation but underlying native mitral and aortic valve disease participating in the ROCKET AF trial. Eur Heart J 2014; 35:3377-85.
Avezum A, Lopes RD, Schulte PJ, Lanas F, Gersh BJ, Hanna M, et al. Apixaban in Comparison With Warfarin in Patients With Atrial Fibrillation and Valvular Heart Disease. Findings From the Apixaban for Reduetion in Stroke and Other Thromboembolic Events in Atrial Fibrillation (APISTOTLE) Trial. Circulation 2015; 132:624-32.
Ezekowitz MD, Nagarakanti R, Noack H, Brueckmann M, Litherland C, Jacobs M, et al. Comparison of Dabigatran and Warfarin in Patients with Atrial Fibrillation and Valvular Heart Disease: The RE-LY Trial (Randomized Evaluation of Long–Term Anticoagulant Therapy). Circulation 2016; 134:589-98.
De Caterina R, Renda G, Carnicelli AP, Nordio F, Trevisan M, Mercuri MF, et al. Valvular Heart Disease Patients on Edoxaban or Warfarin in the ENGAGE AF-TIMI 48 Trial. J Am Coll Cardiol 2017; 69:1372-82.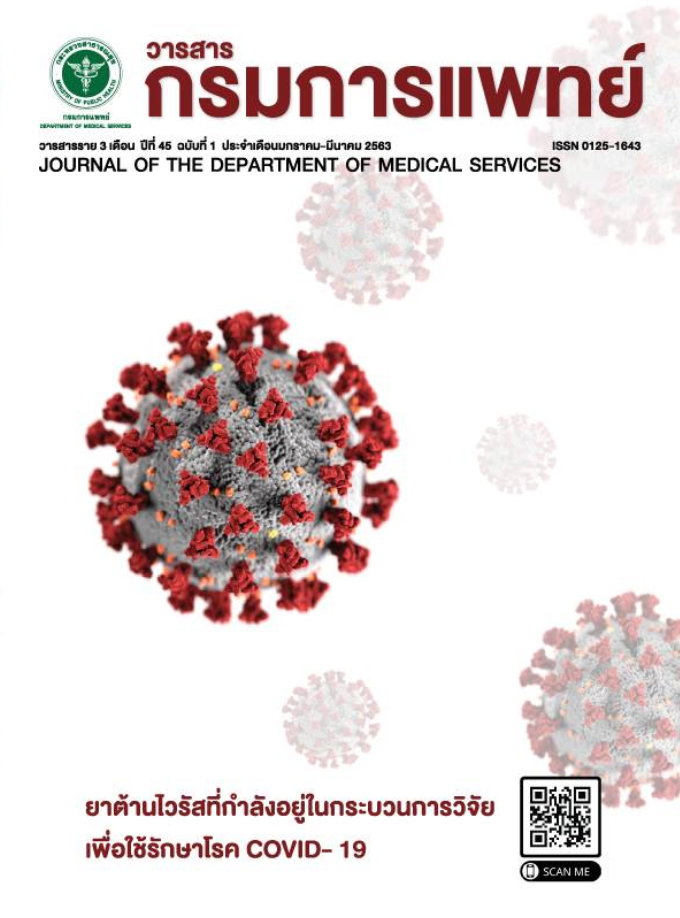 Downloads
How to Cite
1.
Phaisitkriengkrai A, Methavigul K, Hengrussamee K. Clinical Outcomes of AF Patients with Non-Rheumatic Valvular Heart Disease in Thailand. j dept med ser [Internet]. 2020 Mar. 30 [cited 2022 Aug. 15];45(1):29-34. Available from: https://he02.tci-thaijo.org/index.php/JDMS/article/view/244738
License
บทความที่ได้รับการตีพิมพ์เป็นลิขสิทธิ์ของกรมการแพทย์ กระทรวงสาธารณสุข
ข้อความและข้อคิดเห็นต่างๆ เป็นของผู้เขียนบทความ ไม่ใช่ความเห็นของกองบรรณาธิการหรือของวารสารกรมการแพทย์