Outcome of the Subcutaneous Autologous Skull Flap Preservation in Traumatic Head Injury: Comparison between the Early and Late Cranioplasty
Keywords:
Traumatic head injury, Subcutaneous autologous skull flap preservation, Early cranioplasty, Late cranioplasty
Abstract
Background : The autologous skull flap cranioplasty has the potential strong bony fusion, replaced in the original position achieves the best cosmetic and eliminates the problem of rejection. The optimal timing for cranioplasty has remained controversial. The long waiting time for the cranioplasty affects the recovery of the neuronal function.
Method : The retrospective comparative studied in thirty-one patients with traumatic head injury who underwent the subcutaneous autologous preservation and the outcome of the early and late cranioplasty.
Results : The early and late cranioplasty were safe, efficient, feasible technique and no differences between the two groups, but the late cranioplasty loss of bone mass and effect to reconstruction result in improper shape and size.
Conclusion : Cranioplasty should be early performed when the patient is stable and the early cranioplasty is a suitable technique
Downloads
Download data is not yet available.
References
Grant FC, Norcross NC. Repair of Cranial Defects by Cranioplasty. Ann Surg 1939;110:488-512.
Stephens FL, Mossop CM, Bell RS, Tigno T Jr, Rosner MK, Kumar A, et al. Cranioplasty complications following wartime decompressive craniectomy. Neurosurg Focus 2010; 28:E3.
Yamaura A, Makino H. Neurological deficits in the presence of the sinking skin flap following decompressive craniectomy. Neurol Med Chir (Tokyo) 1977;17:43-53.
Romero FR, Zanini MA, Ducati LG, Gabarra RC. Sinking skin flap syndrome with delayed dysautonomic syndrome-An atypical presentation. Int J Surg Case Rep 2013;4:1007-9.
Kreider GN. Repair of Cranial Defect by New Method: Report of Apparently Successful Case. JAMA 1920;74:1024.doi:10.1001/jama.1920. 26210250001013
Elliott H, Scott HJ. The bone-bank in neurosurgery. Br J Surg 1951;39:31-4.
Nakajima T, Someda K, Yamanouchi Y, Matsumura H. Subcutaneous preservation of free skull bone flap taken out in decompressive craniectomy-- a follow-up study. No Shinkei Geka 1977;5:1329-33.
Açikgöz B, Özcan OE, Erbengi A, Bertan V, Ruacan Ş, Açikgöz HG. Histopathologic and microdensitometric analysis of craniotomy bone flaps preserved between abdominal fat and muscle. Surgical Neurology 1986;26:557-61.
Korfali E, Aksoy K. Preservation of craniotomy bone flaps under the scalp. Surgical Neurology 1988;30:269-72.
Fan MC, Wang QL, Sun P, Zhan SH, Guo P, Deng WS, et al. Cryopreservation of Autologous Cranial Bone Flaps for Cranioplasty: A Large Sample Retrospective Study. World Neurosurg 2018;109: e853-e859.
Klinger DR, Madden C, Beshay J, White J, Gambrell K, Rickert K. Autologous and acrylic cranioplasty: a review of 10 years and 258 cases. World Neurosurg 2014;82:e525-30.
Kim JK, Lee SB, Yang SY. Cranioplasty Using Autologous Bone versus Porous Polyethylene versus Custom-Made Titanium Mesh : A Retrospective Review of 108 Patients. J Korean Neurosurg Soc 2018;61:737-46.
Cheng CH, Lee HC, Chen CC, Cho DY, Lin HL. Cryopreservation versus subcutaneous preservation of autologous bone flaps for cranioplasty: comparison of the surgical site infection and bone resorption rates. Clin Neurol Neurosurg 2014;124:85-9.
Osawa M, Hara H, Ichinose Y, Koyama T, Kobayashi S, Sugita Y. Cranioplasty with a frozen and autoclaved bone flap. Acta Neurochirur (Wien) 1990;102:38-41.
Lee CH, Chung YS, Lee SH, Yang HJ, Son YJ. Analysis of the factors influencing bone graft infection after cranioplasty. J Trauma Acute Care Surg 2012;73:255-60.
Morina A, Kelmendi F, Morina Q, Dragusha S, Ahmeti F, Morina D, et al. Cranioplasty with subcutaneously preserved autologous bone grafts in abdominal wall-Experience with 75 cases in a post-war country Kosova. Surg Neurol Int 2011;2:72.
Tsukagoshi T, Satoh K, Hosaka Y. Cranioplasty with neovascularized autogenous calvarial bone. Plast Reconstr Surg 1998;102:2114-8.
Cho TG, Kang SH, Cho YJ, Choi HJ, Jeon JP, Yang JS. Osteoblast and Bacterial Culture from Cryopreserved Skull Flap after Craniectomy: Laboratory Study. J Korean Neurosurg Soc 2017;60:397-403.
De Cola MC, Corallo F, Pria D, Lo Buono V, Calabrò RS. Timing for cranioplasty to improve neurological outcome: A systematic review. Brain Behav 2018;8:e01106-e.
Piitulainen JM, Kauko T, Aitasalo KM, Vuorinen V, Vallittu PK, Posti JP. Outcomes of cranioplasty with synthetic materials and autologous bone grafts. World Neurosurg 2015;83:708-14.
El Ghoul W, Harrisson S, Belli A. Autologous cranioplasty following decompressive craniectomy in the trauma setting. Br J Neurosurg 2015;29:64-9.
Zheng F, Xu H, von Spreckelsen N, Stavrinou P, Timmer M, Goldbrunner R, et al. Early or late cranioplasty following decompressive craniotomy for traumatic brain injury: A systematic review and meta-analysis. J Int Med Res 2018;46:2503-12.
Joaquim A, Mattos J, Chaddad F, Lopes A, de Oliveira E. Bone flap management in neurosurgery. Revista Neurociencias 2009;17.
Baldo S, Tacconi L. Effectiveness and safety of subcutaneous abdominal preservation of autologous bone flap after decompressive craniectomy: a prospective pilot study. World Neurosurg 2010;73:552-6.
Chestnut RM, Ghajar J, Maas A, Marion DW, Franco S, Teasdale G, et al. Part 2: Early indicators of prognosis in severe traumatic brain injury. J Neurotrauma 2000;17:555-627.
Schuss P, Vatter H, Oszvald A, Marquardt G, Imohl L, Seifert V, et al. Bone flap resorption: risk factors for the development of a long-term complication following cranioplasty after decompressive craniectomy. J Neurotrauma 2013;30:91-5.
Aydin S, Kucukyuruk B, Abuzayed B, Aydin S, Sanus GZ. Cranioplasty: Review of materials and techniques. J Neurosci Rural Pract 2011;2:162-7.
Shah AM, Jung H, Skirboll S. Materials used in cranioplasty: a history and analysis. Neurosurg Focus 2014;36:E19.
Mrad MA, Murrad K, Antonyshyn O. Analyzing the Cost of Autogenous Cranioplasty Versus Custom-Made Patient-Specific Alloplastic Cranioplasty. J Craniofac Surg 2017;28:1260-3.
Wang WX, Jiang N, Wang JW, Kang X, Fu GH, Liu YL. Bone formation in subcutaneous pocket after bone flap preservation. Clin Case Rep 2016; 4:473-6.
Jeon JP, Heo Y, Kang SH, Yang JS, Choi HJ, Cho YJ. Retrospective Chronologic Computed Tomography Analysis of Bone Flap Fusion and Resorption After Craniotomy and Autologous Cryopreserved Cranioplasty. World Neurosurgery 2019;129:e900-e906.
Griffin KS, Davis KM, McKinley TO, Anglen JO, Chu T-MG, Boerckel JD, et al. Evolution of Bone Grafting: Bone Grafts and Tissue Engineering Strategies for Vascularized Bone Regeneration. Clinical Reviews in Bone and Mineral Metabolism 2015;13:232-44.
Elsalanty ME, Genecov DG. Bone grafts in craniofacial surgery. Craniomaxillofac Trauma Reconstr 2009;2:125-34.
Benzel EC, Gilbertson L, Mericle RA. Enhancing spinal fusion. Clin Neurosurg 2008;55:63-71.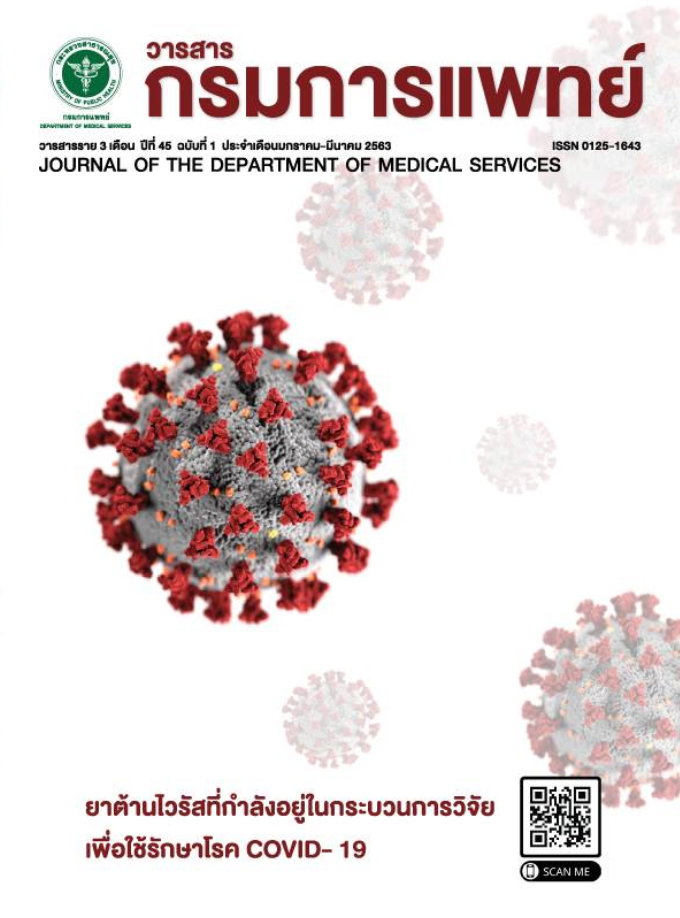 Downloads
How to Cite
1.
Thanyasri T. Outcome of the Subcutaneous Autologous Skull Flap Preservation in Traumatic Head Injury: Comparison between the Early and Late Cranioplasty. j dept med ser [Internet]. 2020 Mar. 30 [cited 2022 Sep. 30];45(1):52-64. Available from: https://he02.tci-thaijo.org/index.php/JDMS/article/view/244741
License
บทความที่ได้รับการตีพิมพ์เป็นลิขสิทธิ์ของกรมการแพทย์ กระทรวงสาธารณสุข
ข้อความและข้อคิดเห็นต่างๆ เป็นของผู้เขียนบทความ ไม่ใช่ความเห็นของกองบรรณาธิการหรือของวารสารกรมการแพทย์