Development of ABCs Nursing Practice Guideline for Acute Hemorrhagic Stroke Patients in the Surgical Intensive Care Unit at Chiang Mai Neurological Hospital
Keywords:
Nursing practice guideline, Acute hemorrhagic stroke patient, Surgical intensive care unit
Abstract
This research and development study aimed to develop ABCs nursing practice guideline for acute hemorrhagic stroke patients in the surgical intensive care unit at Chiang Mai Neurological Hospital and to compare patients outcomes of the nursing practice and nurse practitioners' satisfaction between the new practice and the conventional nursing practice. The sample consisted of 52 participants selected purposively. Participants were divided into 2 groups, with 26 subjects in each group. Data were collected from June to August 2019. The research instruments comprised of a manual evaluation form, a patients' outcome of nursing practice form, and a satisfaction evaluation form. The validity and reliability of the research instruments were assessed by 3 experts prior to collecting data. The CVI values were 0.98 and 0.93, respectively. The reliability values as measured by Cronbach's alpha coefficient were 0.96 and 0.83, respectively. Data were analyzed using frequency distribution, mean, percentage, and standard deviation, and compared using the exact probability test and the Mann-Whitney U Test. The study indicated that ABCs nursing practice guidelines for acute hemorrhagic stroke patients, developed by compiling nursing practice from empirical evidence, significantly reduced the duration of treatment in the intensive care unit (p < 0.05). Nurses were satisfied with the content and implementation at a statistically significant level (p < 0.05). The incidences of complications (increased intracranial pressure, cerebral edema, ventilator associated pneumonia, and aspiration) decreased compared to the former guideline from 34.6% to 23.1%. In conclusion, the application of ABCs nursing practice guideline for acute hemorrhagic stroke patients in the surgical intensive care unit can be useful to decrease patients' length of stay and reduce the occurrence of preventable complications.
Downloads
Download data is not yet available.
References
Lozano R, Naghavi M, Foreman K, Lim S, Shibuya K, Aboyans V, et al. Global and regional mortality from 235 causes of death for 20 age groups in 1990 and 2010: a systematic analysis for the Global Burden of Disease Study 2010. Lancet 2012; 15; 380:2095-128.
Powers WJ, Rabinstein AA, Ackerson T, Adeoye OM, Bambakidis NC, Becker K, et al. 2018 Guidelines for the Early Management of Patients with Acute Ischemic Stroke: A Guideline for Healthcare Professionals from the American Heart Association/American Stroke Association. Stroke 2018; 49:e46-e110.
Ministry of Public Health. Department of Disease Control. Bureau of Non-Communicable Diseases. Annual report 2017 [Internet]. Nonthaburi: Bureau of Non-Communicable Diseases; 2018 [cited 2019 Jun 15]. Available from: http://www.thaincd.com/document/file/download/paper-manual/NCDReport60.pdf
Raju RS, Sarma PS, Pandian JD. Psychosocial problems, quality of life, and functional independence among Indian stroke survivors. Stroke 2010; 41:2932-7.
Thongchai C. Clinical practice guidelines development. The Thai Journal of Nursing Council 2005; 20:63-76.
Chiang Mai Neurological Hospital. Surgical intensive care unit's data. Chiang Mai: Hospital; 2018.
Sackett DL, Rosenberg WM, Gray JA, Haynes RB, Richardson WS. Evidence-based medicine: what it is and what it isn't. BMJ 1996; 312:71-2.
Vorapongsathorn T, Vorapongsathorn S. Sample size calculation using G* Power program. Thailand Journal of Health Promotion and Environmental Health 2018; 41:11-21.
Meehanpong P, Chatdokmaiprai K. Assessing quality of research instrument in nursing research. Journal of The Royal Thai Army Nurses 2018; 19:9-15.
Komatsatit W, Kenthongdee W, Kromthong P. Developing a care system for stroke patients, Loei Provincial Network. Journal of Nursing and Health Care 2015; 33:150-9.
Polchaiyo S, Masaeng A, Kerdkaew B. Development of a care system for stroke patients under the context of tertiary care hospital. Journal of Humanities and Social Sciences Nakhon Phanom University 2018; Spec No (The 25th Nursing Meeting):26-35.
Duangkaew A, Jumpamool A. Effect of case management for hemorrhagic stroke patients on length of stay, cost of care and provider satisfaction. Journal of Nursing and Health Care 2018; 36:42-50.
Plungklang S, Buranavanich W, Gualnok S, Singthale K, Somchock J. Development of patient care model for cerebrovascular disease in accidental and emergency department at Jakarat Hospital Nakhonratchasima Province, Thailand. Journal of Nursing and Education 2014; 7:92-103.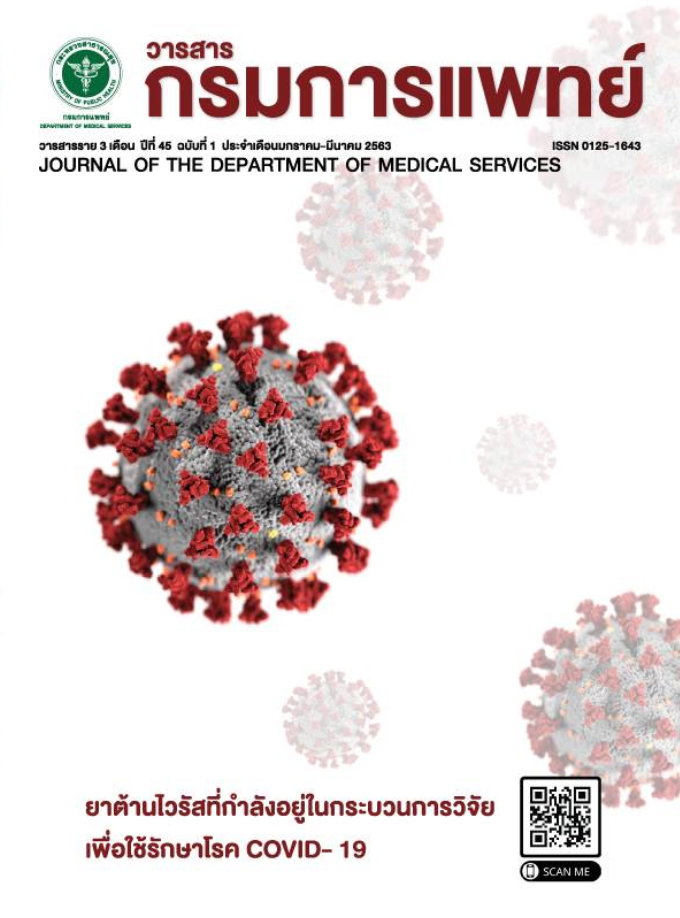 Downloads
How to Cite
1.
Pongsavang S, Anpunya C, Poonsem S. Development of ABCs Nursing Practice Guideline for Acute Hemorrhagic Stroke Patients in the Surgical Intensive Care Unit at Chiang Mai Neurological Hospital. j dept med ser [Internet]. 2020 Mar. 30 [cited 2022 Oct. 7];45(1):78-85. Available from: https://he02.tci-thaijo.org/index.php/JDMS/article/view/244746
License
บทความที่ได้รับการตีพิมพ์เป็นลิขสิทธิ์ของกรมการแพทย์ กระทรวงสาธารณสุข
ข้อความและข้อคิดเห็นต่างๆ เป็นของผู้เขียนบทความ ไม่ใช่ความเห็นของกองบรรณาธิการหรือของวารสารกรมการแพทย์