Risk factors for alcohol withdrawal delirium in patient with alcohol dependence of Thanyarak Maehongson Hospital
Keywords:
Risk factors, Alcohol dependence(s), Alcohol withdrawal delirium
Abstract
Background: Alcohol withdrawal delirium is a serious and fatal condition. Understanding the risk factors for this condition can provide appropriate care and prevention. Objective: To determine the risk factors for alcohol withdrawal delirium in alcohol dependents of Thanyarak Maehongson Hospital. Method: This study is a case-control study. The sample consisted of alcohol dependents treated at Thanyarak Maehongson Hospital between October 2016 and September 2018. One hundred alcohol dependents were simply randomized selected and then simply randomized into two groups, one with alcohol withdrawal delirium and the other one without alcohol withdrawal delirium. Results: The 100 patients diagnosed with alcohol dependences were divided into two groups, 50 patients (50%) without alcohol withdrawal delirium and 50 patients (50%) with alcohol withdrawal delirium. The risk factors for alcohol withdrawal delirium are history of other drugs use (Adjusted odd ratio [AOR] = 2.732, 95% CI = 1.118- 6.667), respiratory rate > 20 times per minute (AOR = 4.319, 95% CI = 1.069-17.458), creatinine levels < 0.67 mg/dL (AOR = 4.151, 95% CI = 1.740-9.899), and the SGOT ≥ 150 UL (AOR = 4.573, 95% CI = 1.780-11.752). Conclusion: From this study, it was found that the risk factors for alcohol withdrawal delirium included history of other drugs use, respiration rate at admission, serum creatinine and SGOT enzyme level.
Downloads
Download data is not yet available.
References
World Health Organization. Global Status Report on Alcohol and Health 2014.
Phunnapa Kittirattanapaiboon TK, Wachira Pengjuntr, Jintana Leejongermpoon, Worawan Chutha, Kedsaraporn Kenbubpha. Epidemiology of psychiatric comorbidity in Thailand: a national study 2008. J Ment Health Thai 2013;21:1-14.
Corfee FA. Alcohol withdrawal in the critical care unit. Australian critical care : official journal of the Confederation of Australian Critical Care Nurses 2011;24:110-6.
Carlson RW, Kumar NN, Wong-Mckinstry E, Ayyagari S, Puri N, Jackson FK, et al. Alcohol withdrawal syndrome. Critical care clinics 2012;28:549-85.
Ait-Daoud N, Malcolm RJ, Jr., Johnson BA. An overview of medications for the treatment of alcohol withdrawal and alcohol dependence with an emphasis on the use of older and newer anticonvulsants. Addictive behaviors 2006;31:1628-49.
Monte R, Rabunal R, Casariego E, Bal M, Pertega S. Risk factors for delirium tremens in patients with alcohol withdrawal syndrome in a hospital setting. European journal of internal medicine 2009;20:690-4.
Schuckit MA. Recognition and management of withdrawal delirium (delirium tremens). The New England journal of medicine 2014;371:2109-13.
American Psychiatric Association. Diagnostic and statistical manual of mental disorders : DSM-5. Fifth Edition. ed. Arlington: Washington, DC: American Psychiatric Association; 2013 United States.
Mainerova B, Prasko J, Latalova K, Axmann K, Cerna M, Horacek R, et al. Alcohol withdrawal delirium - diagnosis, course and treatment. Biomedical papers of the Medical Faculty of the University Palacky, Olomouc, Czechoslovakia 2015;159:44-52.
Jesse S, Brathen G, Ferrara M, Keindl M, Ben-Menachem E, Tanasescu R, et al. Alcohol withdrawal syndrome: mechanisms, manifestations, and management. Acta neurologica Scandinavica 2017;135:4-16.
Hammond DA, Rowe JM, Wong A, Wiley TL, Lee KC, Kane-Gill SL. Patient Outcomes Associated With Phenobarbital Use With or Without Benzodiazepines for Alcohol Withdrawal Syndrome: A Systematic Review. Hospital pharmacy 2017;52:607-16.
Palmstierna T. A model for predicting alcohol withdrawal delirium. Psychiatric services (Washington, DC) 2001;52:820-3.
Sarkar S, Choudhury S, Ezhumalai G, Konthoujam J. Risk factors for the development of delirium in alcohol dependence syndrome: Clinical and neurobiological implications. Indian journal of psychiatry 2017;59:300-5.
Princess Mother National Institute on Drug Abuse Treatment. Clinical Practice Guideline of Alcohol Withdrawal Patient for Multidisciplinary Team. Bangkok,Thailand: Chulalongkorn University Printing House; 2015.
Eyer F, Schuster T, Felgenhauer N, Pfab R, Strubel T, Saugel B, et al. Risk assessment of moderate to severe alcohol withdrawal--predictors for seizures and delirium tremens in the course of withdrawal. Alcohol and alcoholism (Oxford, Oxfordshire) 2011;46:427-33.
Lee JH, Jang MK, Lee JY, Kim SM, Kim KH, Park JY, et al. Clinical predictors for delirium tremens in alcohol dependence. Journal of gastroenterology and hepatology 2005;20:1833-7.
Wright T, Myrick H, Henderson S, Peters H, Malcolm R. Risk factors for delirium tremens: a retrospective chart review. The American journal on addictions2006;15:213-9.
Salling MC, Martinez D. Brain Stimulation in Addiction. Neuropsychopharmacology : official publication of the American College of Neuropsychopharmacology 2016;41:2798-809.
Najmy S, Duseja A, Pal A, Sachdev S, Sharma RR, Marwah N, et al. Redefining the Normal Values of Serum Aminotransferases in Healthy Indian Males. Journal of clinical and experimental hepatology 2019;9:191-9.
Chu C-L, Liang C-K, Lin Y-T, Chow PC, Pan C-C, Chou M-Y, et al. Biomarkers of delirium: Well evidenced or not?Journal of Clinical Gerontology and Geriatrics 2011;2:100-4.
Huh JH, Choi SI, Lim JS, Chung CH, Shin JY, Lee MY. Lower Serum Creatinine Is Associated with Low Bone Mineral Density in Subjects without Overt Nephropathy. PloS one 2015;10:e0133062-e.
Takabatake T, Ohta H, Ishida Y, Hara H, Ushiogi Y, Hattori N. Low serum creatinine levels in severe hepatic disease. Archives of internal medicine1988;148:1313-5.
Noimark D. Predicting the onset of delirium in the post-operative patient. Age and Ageing 2009;38:368-73.
Santos FS, Velasco IT, Fráguas Jr R. Risk factors for delirium in the elderly after coronary artery bypass graft surgery. International Psychogeriatrics 2004;16:175-93.
Monnat SM. Factors Associated With County-Level Differences in U.S. Drug-Related Mortality Rates. American journal of preventive medicine 2018;54:611-9.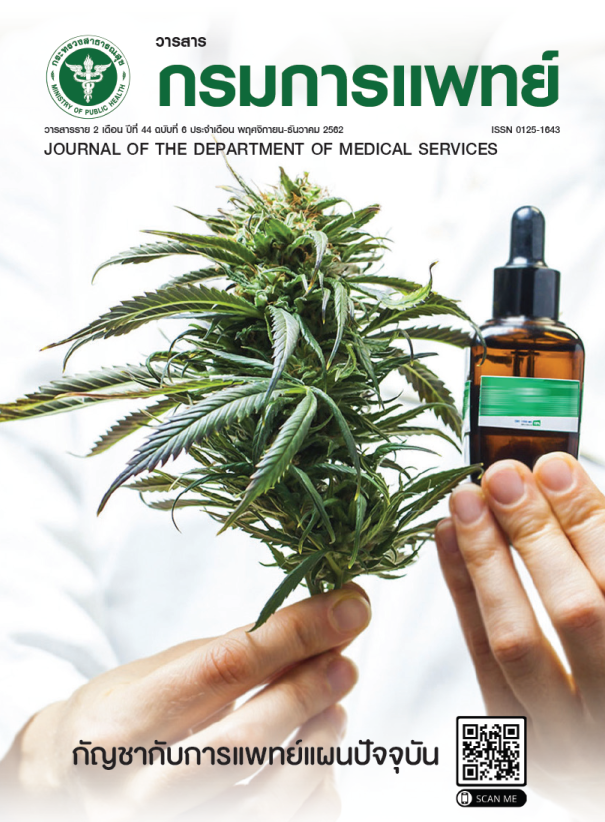 Downloads
How to Cite
1.
Ukranun W. Risk factors for alcohol withdrawal delirium in patient with alcohol dependence of Thanyarak Maehongson Hospital. j dept med ser [Internet]. 2019 Dec. 30 [cited 2022 Sep. 30];44(6):39-45. Available from: https://he02.tci-thaijo.org/index.php/JDMS/article/view/244793
License
บทความที่ได้รับการตีพิมพ์เป็นลิขสิทธิ์ของกรมการแพทย์ กระทรวงสาธารณสุข
ข้อความและข้อคิดเห็นต่างๆ เป็นของผู้เขียนบทความ ไม่ใช่ความเห็นของกองบรรณาธิการหรือของวารสารกรมการแพทย์