Clinical Performance and Quality of Care for Patient with ST-Elevation Myocardial Infarction at the Emergency Department in Central Chest Institute of Thailand
Keywords:
Clinical performance, Quality of care, ST-elevation myocardial infarction
Abstract
This retrospective descriptive study (chart review) aimed to evaluate the clinical performance and quality of care for patients with ST-elevation myocardial infarction (STEMI). This was conducted on patients with STEMI for those who came to the emergency department in the central chest institute of Thailand between 1st October, 2016 and 31st December, 2017 (n=53). The research instrument used was the case record form that was created by the researcher, which comprised the following information: demographic characteristics, illness history, clinical nursing intervention performance, and quality of care for patient with STEMI. Descriptive statistics was used for data analyses. From the study, it was found that the clinical nursing intervention performance was at a good level in four components including advocating of patients' rights, continuity of care, providing information, and nursing intervention for patients with STEMI. Two-components with the poor level including health promotion and risk prevention for patients with STEMI. Among patients with STEMI had an electrocardiogram (ECG) performed (Door to ECG) within 10 minutes (mean 3.2, SD 1.3) of arrival was 100%. Also, the time from ED arrival to ED discharge (Doorin- door-out time) within 30 minutes (mean 30.7, SD 21.4) was 71.7%. Lastly, the time from ED arrival to reperfusion therapy (Door to balloon time) within 90 minutes (mean 58.5, SD 28.5) was 88.7%.
Downloads
Download data is not yet available.
References
Moran AE, Tzong KY, Forouzanfar MH. Variations in ischemic heart disease burden by age, country, and income: the Global Burden of Diseases, Injuries, and Risk Factors 2010 study. Global heart 2014;9:91-9.
Naghavi M, Abajobir AA, Abbafati C. Global, regional, and national age-sex specific mortality for 264 causes of death, 1980–2016: a systematic analysis for the Global Burden of Disease Study 2016. The Lancet 2017;390:1151-210.
Fox CS, Evans JC, Larson MG, Kannel WB, Levy D. Temporal trends in coronary heart disease mortality and sudden cardiac death from 1950 to 1999: the Framingham Heart Study. Circulation 2004;110:522-7.
Rosamond WD, Chambless LE, Heiss G. Twenty-two year trends in incidence of myocardial infarction, CHD mortality, and case-fatality in four US communities, 1987 to 2008. Circulation 2012:CIRCULATIONAHA. 111.047480.
McGovern PG, Jacobs Jr DR, Shahar E. Trends in acute coronary heart disease mortality, morbidity, and medical care from 1985 through 1997: the Minnesota heart survey. Circulation 2001;104:19-24.
Thangkratok P. The effect of reverse trendelenburg position on back pain after cardiovascular angiography and interventions. BKK Med J 2016;12.
Jneid H, Addison D, Bhatt D. 2017 AHA/ACC clinical performance and quality measures for adults with ST-elevation and non–STelevation myocardial infarction: a report of the American College of Cardiology/ American Heart Association task force on performance measures. Journal of the American College of Cardiology 2017;70:2048-90.
Yiadom MYA, Baugh CW, McWade CM. Performance of emergency department screening criteria for an early ECG to identify ST segment elevation myocardial infarction. Journal of the American Heart Association 2017;6:e003528.
Nursing Division. Standard of nursing care in hospitals. Bangkok: The War Veterans Organization Officer of Printing Mill; 2008.
Central Chest Institute of Thailand. Emergency department in Central Chest Institute of Thailand annual report Nonthaburi Central Chest Institute of Thailand; 2010.
Thangkratok P, Poohomjarean H, Rinsathorn S. Effects of AIDET communication program on satisfaction among patients and families in Cardiac Care Unit, Bangkok Heart Hospital. Songklanagarind Medical Journal 2017;35:335-42.
Tunthep P. Development of acute myocardial infarction patient care management in Surin Hospital. Medical Journal of Srisaket Surin Buriram Hospitals 2011;26:247-61.
Arkanitta N, Vipavakarn S, Sittisarn S. The development of nursing care model for patient with ST segment elevation myocardial infarction in Krabi Hospital. Journal of Nursing Division 2013;40:70-84.
Stiffler KA, Gerson LW. Health promotion and disease prevention in the emergency department. Emergency Medicine Clinics of North America 2006;24:849-69.
Grieco N, Sesana G, Corrada E, Ieva F, Paganoni A, Marzegalli M. Mortality and ST resolution in patients admitted with STEMI: the MOMI survey of emergency service experience in a complex urban area. European Heart Journal: Acute Cardiovascular Care 2012;1:192-9.
Chaiwong T, Khonpikun N, Chewakiatyingyong S, Phanseub P, Chaiwong S. Patient caring guideline for angina pectoris on acute coronary syndrome (ACS) in emergency room (ER) Dok Kham Tai Hospital Phayao Province. Naresuan Phayao Journal 2013;6:77-85.
Pornchensuanpong C, Kamwatchanang C, Boonchoo K. Effect of clinical practice guidelines for ST elevate myocardial infarction patients in emergency department, Nakhonnayok Hospital. The Journal of Faculty of Nursing Burapha University 2015;23:97-111.
Lubovich A, Hamood H, Behar S, Rosenschein U. Bypassing the emergency room to reduce door-to-balloon time and improve outcomes of patients with ST elevation myocardial infarction: the acute coronary syndrome Israeli survey experience. The Israel Medical Association journal : IMAJ 2011;13:216-9.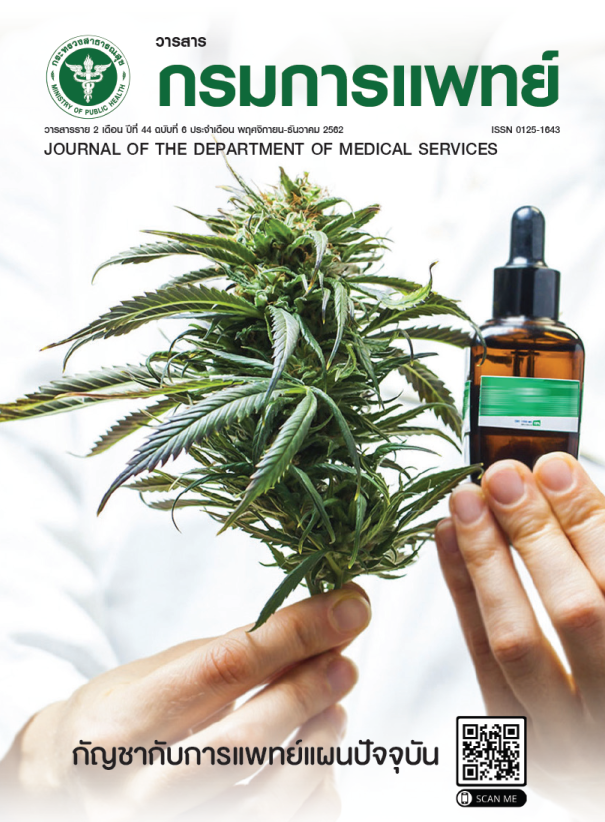 Downloads
How to Cite
1.
Jeanagool P, Sabaisook S, Kongkaew S, Wimonsinrapin P, Luelarb P, Kramkeaw T, Thangkratok P. Clinical Performance and Quality of Care for Patient with ST-Elevation Myocardial Infarction at the Emergency Department in Central Chest Institute of Thailand. j dept med ser [Internet]. 2019 Dec. 30 [cited 2022 Oct. 7];44(6):77-84. Available from: https://he02.tci-thaijo.org/index.php/JDMS/article/view/244798
License
บทความที่ได้รับการตีพิมพ์เป็นลิขสิทธิ์ของกรมการแพทย์ กระทรวงสาธารณสุข
ข้อความและข้อคิดเห็นต่างๆ เป็นของผู้เขียนบทความ ไม่ใช่ความเห็นของกองบรรณาธิการหรือของวารสารกรมการแพทย์