Prevalance and Risk Factors of Diabetic Nephropathy in Type 2 Diabetes Patients at Pangsilathong Hospital, Kamphaeng Phet Province, Thailand
Keywords:
Type 2 diabetes, Diabetic nephropathy, Hemoglobin A1c, Triglyceride
Abstract
Background: Diabetic nephropathy is the major cause of chronic kidney disease in type 2 diabetes patients.
Objective: The aims of this study were to determine the prevalence and risk factors of diabetic nephropathy in type 2 diabetes patients at Pangsilathong Hospital.
Method: The data of 1,216 type 2 diabetes patients were collected between 1 October 2018 and 30 June 2019. The statistics was used by Univariate logistic regression and Multivariate logistic regression for identifying risk factors of diabetic nephropathy in type 2 diabetes.
Result: The finding showed that the prevalence of diabetic nephropathy in type 2 diabetes at Pangsilathong Hospital was 33.8%. After multivariate analysis of risk factors associated with diabetic nephropathy were Serum Creatinine >1.4 mg. /dl., Hemoglobin A1c >7%, Uncontrolled blood pressure (≥140/90 mmHg.), male, Triglyceride >200 mg. /dl. and eGFR <60 ml./min.
Conclusion: Management of NCD clinic should be early detection for diabetic nephropathy and aggressive management of risk factors may be essential in preventing or delaying the progression to chronic kidney disease.
Downloads
Download data is not yet available.
References
Aekpalakorn W. Thai Na tional Health Examination survey, NHES V. Nonthaburi: Health system research; 2016.World health organization. Global report on diabetes 2016. Available form http://apps.who. int/iris/ bitstream/10665/204871/1/9789241565257
Diabetes Association of Thailand, The Endocrine Society of Thailand, Department of Medical Services, National Health Security Office. Clinical Practice Guideline for Diabetes, Thailand 2014. Bangkok : Aroonkarnpim; 2014.
Rangsin R, MedResNet. An assessment on quality of care among patients diagnosed with type 2 diabetes and hypertension visiting hospitals of Ministry of Public Healthand Bangkok Metropolitan Administration in Thailand. Bangkok, Thailand: National Health Security Office, 2014.
Nephrology Society of Thailand. Thailand renal replacement therapy registry report 2013. Available from: http://www. nephrothai.org/th/trt-annual-report-1/333-annual-reportthailand-renal-replacement-therapy-2007-2014-th.
Zhang P, Zhang X, Brown J, Vistisen D, Sicree R, Shaw J, et al. Global healthcare expenditure on diabetes for 2010 and 2030. Diabetes Res Clin Pract 2010; 87:293–301.
Chatterjee S, Riewpaiboon A, Piyauthakit P, Riewpaiboon W, Boupaijit K, Panpuwang N, et al. Cost of diabetes and its complications in Thailand: a complete picture of economic burden. Health and social care in the community, 2011; 19:289–98.
Trade and Economic Indices Bureau, Ministry of Commerce. ndexpr.moc.go.th/price_pres-ent/cpi/data/index. Accessed January 2019.
Khonlaeard S. Guidelines for Detection, Prevention, and Treatment of Diabetic Complication (Eye , Kidney, Foot). Bangkok: Institute of Medical Research and Technology Assessment, Department of Medical services;2011
Suwanwalaikorn S. High prevalence of microalbuminuria in Thai type 2 diabetes patients: Results from DEMAND Campaign (A collaborative multicenter DEMAND Study). Annual Meeting of the Royal College of Physicians of Thailand 2004 (Abstracts).
Krairittichai U, Potisat S, Jongsareejit A, Sattaputh C. Prevalence and risk factors of diabetic nephropathy among Thai patients with type 2 diabetes mellitus. J Med Assoc Thai 2011; 94: 1-5.
Janjumras K, Pipatsatitpong D. Prevalence of diabetic nephropathy in type 2 diabetes mellitus at Somdejprapinklao Hospital. J Med Tech Assoc Thailand 2016; 44:510-21.
Tepsukon C, O'Brien T. Factors associated with microalbuminuria in type 2 diabetes patients in Nan Hospital, Thailand. The Bulletin of Chiang Mai Associated Medical Sciences. 2014; 47:118-24.
Alrawahi AH, Rizvi SGA, Al-Riyami D, Al-Anqoodi Z. Prevalence and risk factors of diabetic nephropathy in omani type 2 diabetics in Al-dakhiliyah region. Oman Med J 2012; 27:212-6.
Cheng D, Fei Y, Liu Y, Li J, Xue Q, Wang X, Wang N. HbA1C variability and the risk of renal status progression in diabetes mellitus: a meta-analysis. PLoS One 2014;9:e115509.
Thanakitcharu P. Treatment of hypertension in chronic kidney disease. Department of Medical Service Journal. 2016; 5: 36-48.
Bakris GL, Weir MR, Shanifar S, Zhang Z, Douglas J, van Dijk DJ, et al. Effects of blood pressure level on progression of diabetic nephropathy: results from the RENAAL study. Arch Intern Med 2003; 163:1555-65.
Mulec H, Johnsen SA, Wiklund O, Björck S. Cholesterol: a renal risk factor in diabetic nephropathy. Am J Kidney Dis 1993; 22:196-201.
Shen FC, Su JJ, Wu HC, Hsieh YH, Yao WJ, Yong K, et al. The prevalence and risk factors of diabetic nephropathy in Taiwanese type 2 diabetes-a hospital based study. Acta Nephrologica 2009; 23:90-5.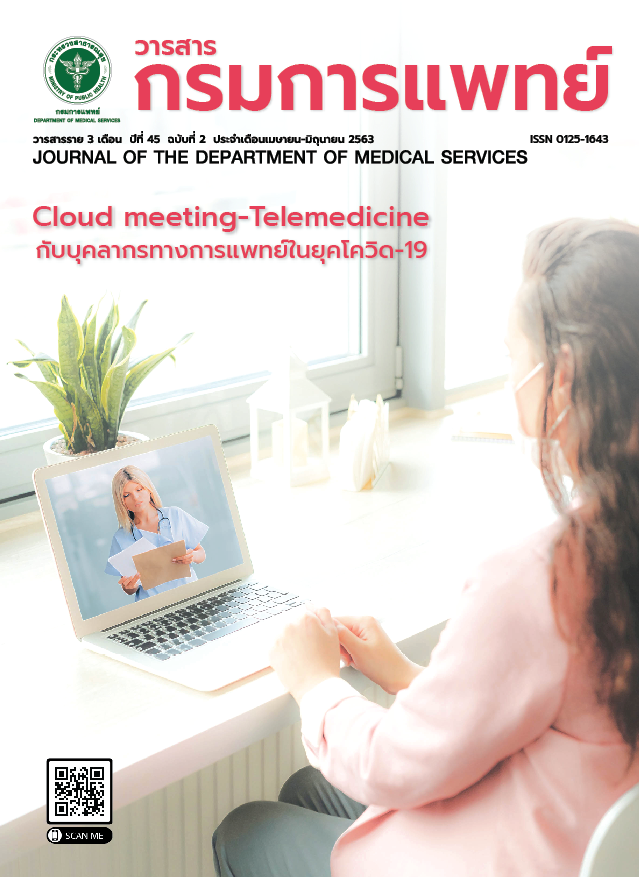 Downloads
How to Cite
1.
สิทธิ์ ภคไพบูลย์. Prevalance and Risk Factors of Diabetic Nephropathy in Type 2 Diabetes Patients at Pangsilathong Hospital, Kamphaeng Phet Province, Thailand. j dept med ser [Internet]. 2020 Sep. 1 [cited 2022 Aug. 14];45(2):12-8. Available from: https://he02.tci-thaijo.org/index.php/JDMS/article/view/245348
License
บทความที่ได้รับการตีพิมพ์เป็นลิขสิทธิ์ของกรมการแพทย์ กระทรวงสาธารณสุข
ข้อความและข้อคิดเห็นต่างๆ เป็นของผู้เขียนบทความ ไม่ใช่ความเห็นของกองบรรณาธิการหรือของวารสารกรมการแพทย์