Dental Status and Oral Health of Patients with Epilepsy in Prasart Neurological Institute: A Survey Study
Keywords:
Epilepsy, Dental status
Abstract
Background:  Several studies reported that seizures possibly contribute to the incident of dental trauma, both teeth and soft tissues. However, at Prasart Neurological Institute, there is no correlation between dental statuses of patients who suffer from Epilepsy and traumatic injuries of teeth and surrounding tissues. On the contrary, according to collected data from the survey established at this hospital, there are certain evidences of cracked as well as fractured teeth which are obviously not related to seizures.
Objective:  A survey study dental status and oral health of patients with epilepsy in Prasart Neurological Institute
Method: This study of dental status in those with epilepsy at Prasart Neurological Institute from September 2017 to February 2019 was gathered by surveying Epilepsy patients 280 persons.
Result:  Epilepsy patients 280 persons, with females 170 and males 100 (mean age = 39.9) from Outpatient Department. All of patients are categorized into 3 groups (well, moderated controlled and uncontrolled seizures, at 33, 159 and 88 respectively.) In addition, with periodontal status, there are three groups as follow 1. Normal periodontal status (6 persons), 2. Gingivitis (120 persons) 3. Gingivitis and calculus deposited in general (140 persons), and 4. Periodontitis (14 persons).
Conclusion:  from our study, it can be clearly seen that dentists could basically operate on patients with controlled seizures similarly to normal people. Nevertheless, operators should avoid stress stimulating seizures that can occur during the procedures and be careful an aspiration and using dental instruments. This study could demonstrate oral condition in patients suffering from Epilepsy and help dentists have understanding to manage patients in controlled seizures group
Downloads
Download data is not yet available.
References
Aragon CE, Burneo JB. Understanding the patient with epilepsy and seizures in the dental practice. JCDA. 2007;73:71-6.
Subki AH, Mukhtar AM, Saggaf OM, Ali RA, Khalifa KA, Al-Lulu DM, et al. Parental perceptions of dental health and need for treatment in children with epilepsy: a multicenter cross-sectional study. Pediatric Health Med Ther, 2018; 9:165.
Mehmet Y, Senem O, Sulun T, Humeyra K. Management of epileptic patients in dentistry. Surg Sci 2012; 3: 47-52.
Aragon CE, Burneo JG. Understanding the patient with epilepsy and seizures in the dental practice. J Can Dent Assoc 2007; 73:71-6.
Bryan RB, Sullivan SM. Management of dental patients with seizure disorders. Dent Clin N Am 2006;50:607-23.
Buck D, Baker GA, Jacoby A, Smith DF, Chadwick DW. Patients' experiences of injury as a result of epilepsy. Epilepsia 1997; 38:439-44.
Nonato ER, Borges MA. Oral and maxillofacial trauma in patients with epilepsy: prospective study based on an outpatient population. Arq Neuropsiquiatr 2011;69:491-5.
Robbins MR. Dental management of special needs patients who have epilepsy. Dent Clin N Am 2009;53:295-309.
Sanders BJ, Weddell JA, Dodge NN. Managing patients who have seizure disorders: dental and medical issues. J Am Dent Assoc 1995; 126:1641-7.
Costa AL, Yasuda CL, Shibasaki W, Nahas-Scocate ACR, de Freitas CF, Carvalho PE, et al. The association between periodontal disease and seizure severity in refractory epilepsy patients. Seizure 2014; 23:227-30.
Borges K, Kaul N, Germain J, Kwan P, O'Brien TJ. Randomized trial of add-on triheptanoin vs medium chain triglycerides in adults with refractory epilepsy. Epilepsia open 2019; 4:153-163.
Hauser WA, Annegers JF, Kurland LT. Incidence of epilepsy and unprovoked seizures in Rochester, Minnesota: 1935-1984. Epilepsia 1993; 34:453-58.
Hampton KK, Peatfield RC, Pullar T, Bodansky HJ, Walton C, Feely M. Burns because of epilepsy. BMJ (Clinical research ed.). 1988; 296:1659.
Gurbuz T, & Tan H. Oral health status in epileptic children. Pediatr Int. 2010;52(2):279-83.
American Association of Endodontics. Cracking the cracked tooth code. Endodontics: colleagues for excellence. 1997 Fall/Winter; 1-13.
John MT. Patients with epilepsy may have an increased risk of tooth loss. J Evid Based Dent Pract 2005; 5:226-7.
Chapman PJ. Medical emergencies in dental practice and choice of emergency drugs and equipment: a survey of Australian dentists. Australian dental journal 1997; 42:103-8.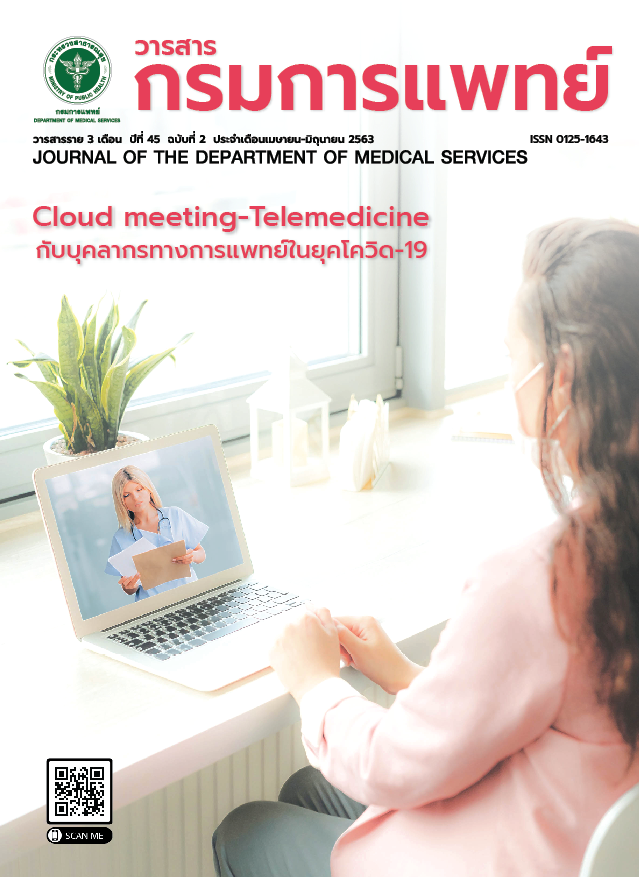 Downloads
How to Cite
1.
อรชร ทองบุราณ. Dental Status and Oral Health of Patients with Epilepsy in Prasart Neurological Institute: A Survey Study. j dept med ser [Internet]. 2020 Sep. 1 [cited 2022 Aug. 14];45(2):26-30. Available from: https://he02.tci-thaijo.org/index.php/JDMS/article/view/245385
License
บทความที่ได้รับการตีพิมพ์เป็นลิขสิทธิ์ของกรมการแพทย์ กระทรวงสาธารณสุข
ข้อความและข้อคิดเห็นต่างๆ เป็นของผู้เขียนบทความ ไม่ใช่ความเห็นของกองบรรณาธิการหรือของวารสารกรมการแพทย์