A Review of Emergency Medical Service Rate under a Project of Financial Recommendation for Universal Coverage for Emergency Patients (UCEP)
Keywords:
A UCEP review, Medical service rate, Reimburses, Emergency medical services
Abstract
Background: Presently, the Fee Schedule is employed to be an emergency medical expenses reimbursement mechanism. However, there is plenty of rooms for improvement. To be able to most effectively improve the reimbursement and the relevant agencies work budget managing. Therefore, to scrutinize and modulate the fee schedule is necessary.
Objective: The object of this study (1) To scrutinize the emergency medical services rates classifying by reimbursement. (2) To explore the service rate lists which are not included in the fee schedule and the reimbursement difficulties.
Method: A mixed-methods study. Quantitative methods direct using the emergency medical service reimbursement information under a project of financial recommendation for Universal Coverage for Emergency Patients (UCEP). The UCEP data which the infirmary providing emergency medical services submit the National Health Security Office the information in the fiscal year 2017 to reimburse. Qualitative methods directly interview physicians and medical staff organizations to explore the service rate lists which are not included in the fee schedule and the reimbursement difficulties.
Result: The result showed that the number of emergency medical expenses disbursement, accounting for 23.18% of all at of the total (9,647 items). The most of charges were higher than the fee schedule rate particularly drugs and parenteral nutrition category which was the highest average reached over 714 times. There were considerably different proportions of charges between the reimbursement rate and the fee schedule rate especially drugs and medical supply groups. Glucose (Blood, Urine, and Other) was the highest charged Item, accounting for over 9,900 times. There were 81,493 times without recording disbursement code and no code 13,843 items. However, 7,692 items were the already list of fee schedules. The difficulties such as 1) in the early stages, there was a disagreement from the lists that were not consistent with the private hospital lists using in their regular services. However, they have adjusted and solved those problems latterly. 2) Some drug lists could not be filled with data details for reimbursement. There was not the coverage of some medical supplies used lists in regular services in the fee schedule. Some artificial organs and medical devices could not specify material used types. Outpatient and inpatient hospital services were not available in the fee schedule.
Conclusion: If the Fee Schedule is put on the payroll to be an emergency medical expenses reimbursement mechanism continuously, it will need to have a regular unit developing emergency medical services rates. Additionally, Thai Medicines Terminology (TMT) has to be utilized to national drug codes and medical terminology, and also the Logical Observation Identifiers Names and Codes (LOINC) have to be administered to a universal code system for identifying laboratory and clinical observations.
Downloads
Download data is not yet available.
References
Yoshio uetsuka. Characteristics of Japan's healthcare systems and the problems. Japan Med Assoc J 2012;55:330–3.
Bethesda. Medical Device Reimbursement in Taiwan [Internet]. Pacific Bridge Medical. 2018. [cited 2018 Oct 25]. Available from: www.pacificbridgemedical.com/publication/ medical-device-reimbursement-in-taiwan/
Harper RW, Nasis A, Sundararajan V. How changes to the medicare benefits schedule could improve the practice of cardiology and save taxpayer money. Med J Aust2015; 203:256-8.
Ministry of public Health and National Institute for Emergency Medicine. Accounts and Expense Rates, Rules, Procedures, and Conditions for Determining Expenses in The Operation of Crisis Emergency Patients. [Internet]. 2017. [cited 2018 Oct 27]. Available from: URL; https://www.niems.go.th/1/Ebook/ Detail/797?group=25.
Social Security Office. The Guidelines for the protection of the rights of crisis emergency patients according to the policy "Emergency cases treat every right" In private hospitals outside the contract three funds. [Internet]. 2018. [cited 2018 Oct 27].Available from: URL; www.sso.go.th/wpr/assets/upload/files_ storage/sso_th/07327dcea5b7cb3d970b017055bfc578.pdf.
Lundkvist J. Pricing and reimbursement of drugs in Sweden. Eur J Health Econ 2002;3:66–70.
Pedersen K. Pricing and reimbursement of drugs in Denmark. Eur J Health Econ 2003;4:60–5.
Hsu JC, Lu CY. The evolution of Taiwan's National Health Insurance drug reimbursement scheme. Daru 2015; 23:15.
Kijsanayotin B., Sinthuvanich D. LOINC data standards and Thai health information systems. Nonthaburi: Health System Research Institute; 2012.
Uchegbu C, Jing X. The potential adoption benefits and challenges of LOINC codes in a laboratory department: a case study. Health Inf Sci Syst 2017;5:6.
McDonald CJ, Huff SM, Suico JG, Hill G, Leavelle D, Aller R, et al. LOINC, a universal standard for identifying laboratory observations: a 5-year update. Clin Chem 2003;49:624–33.
The central working group of the standard program category. The Service Accounting Guide and Hospital Fees According to the Standard Program Category for the Medical Fee Billing, Version 1, February 2000. Nonthaburi: Ministry of Public Health; 2000.
Chen GT, Chang SC, Chang CJ. New drug reimbursement and pricing policy in Taiwan. Value Health Reg Issues2018; 15:127–32.
Dimitrova TB, Sidjimova D, Cherneva D, Kralimarkov N.Pricing, reimbursement, and health technology assessment of medical products in Bulgaria. Int J Technol Assess Health Care 2017 ;33:365–70.
Department of Health and Human Service Office of Inspector general. Medicare Reimbursement for Parenteral Nutrition. Washington, DC: Office of Inspector general; 1997.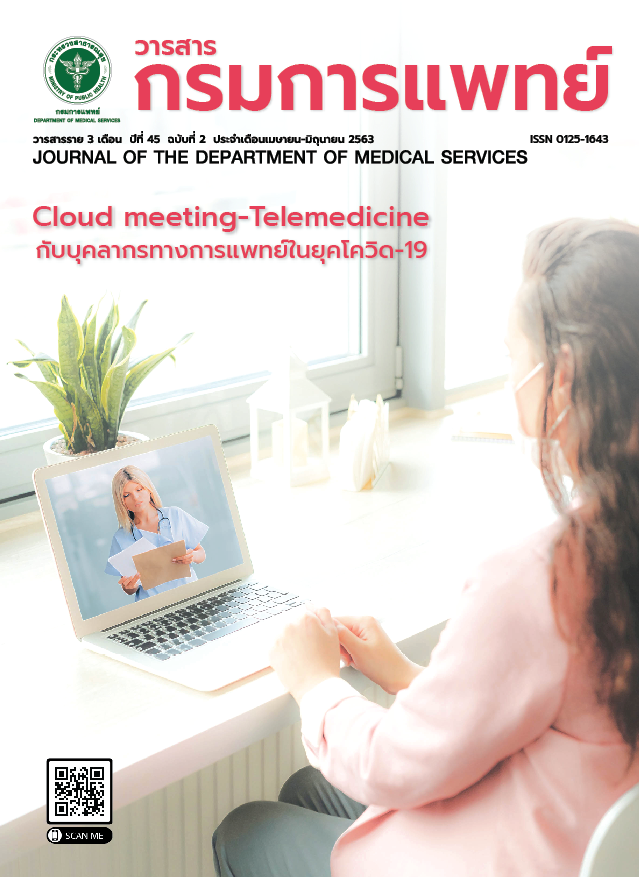 Downloads
How to Cite
1.
ขวัญประชา เชียงไชยสกุลไทย พ.บ.,ภาสกร สวนเรือง ศศ.ม., วท.ม. , อุทุมพร วงษ์ศิลป์ บช.ม. , พัชนี ธรรมวันนา วท.ม. , ถาวร สกุลพาณิชย์ พ.บ.,วท.ม. A Review of Emergency Medical Service Rate under a Project of Financial Recommendation for Universal Coverage for Emergency Patients (UCEP). j dept med ser [Internet]. 2020 Sep. 1 [cited 2022 Aug. 14];45(2):82-90. Available from: https://he02.tci-thaijo.org/index.php/JDMS/article/view/245440
License
บทความที่ได้รับการตีพิมพ์เป็นลิขสิทธิ์ของกรมการแพทย์ กระทรวงสาธารณสุข
ข้อความและข้อคิดเห็นต่างๆ เป็นของผู้เขียนบทความ ไม่ใช่ความเห็นของกองบรรณาธิการหรือของวารสารกรมการแพทย์