Prevalence and Causes of Seizure-Related Hospitalization in Epileptic Patient at Saraburi Hospital
Keywords:
Epilepsy, Hospitalization, Prevalence
Abstract
Background: Epilepsy is an ambulatory care sensitive condition. The hospitalization for epilepsy may be avoided if the patients receive treatment based on quality health care system in primary level. From 2008 to 2010, Health Insurance System Research Office reported that an epilepsy-related hospitalization was increased. However, there was no research focusing on the epilepsy-related hospitalization rate in Saraburi hospital.
Objective: The aim of this study was to determine the prevalence and the causes of the seizure-related hospitalization in this hospital.
Method: Retrospective chart review was conducted in adult epileptic patients aged 15 years or older, who admitted with some seizures at Saraburi hospital between 1 January and 31 December 2017. There were 402 patients who received outpatient medical treatment in Saraburi hospital at least 2 visits during the study period.
Result: The seizure-related hospitalization of 67 patients was about 16.7%. Non-adherence was a major cause of the seizure-related hospitalization as 50.8%. An average number of hospitalization was 1.8 times per year (SD, 1.3), and median of length of stay was 2.0 days (IQR, 2.0-3.0). Total direct medical cost was 5,215 Baht per admission (SD, 2,826). Most patients (95.5%) improved and 65.2% of subjects received anti-epileptic drugs similar to that received at the last visit. Although easy epilepsy clinic can improve quality of service delivery in health care system, there is no easy epileptic clinic in Saraburi hospital. This strategy can reduce some problem in special group including epileptic patients. Appropriate preventative and early management in ambulatory care may increase seizure-free rate and decrease hospitalization rate as well as health care utilization.
Conclusion: Prevalence of seizure-related hospitalization in epileptic patient at Saraburi hospital was 16.7% and non-adherence was a major cause of these patients.
Downloads
Download data is not yet available.
References
Asawavichienjinda T, Sitthi-Amorn C, Tanyanont W.Prevalence of epilepsy in rural Thailand: a population-based study. J Med Assoc Thai 2002; 85: 1066-73.
Limwattananon S. Manual Analysis of Age-Standardized Hospitalization with Ambulatory Care Sensitive Conditions, Acute Myocardial Infarction, Ischemic and Hemorrhagic Strokes. 1st ed. Nonthaburi. Health Insurance System Research Office; 2011.
Sajatovic M, Welter E, Tatsuoka C, Perzynski AT, Einstadter D. Electronic medical record analysis of emergency room visits and hospitalizations in individuals with epilepsy and mental illness comorbidity. Epilepsy Behav 2015; 50:55-60.
Mitchell RJ, Herkes G, Nikpour A, Bleasel A, Shih P, Vagholkar S, et al. Examining health service utilization, hospital treatment cost, and mortality of individuals with epilepsy and status epilepticus in New South Wales, Australia 2012-2016. Epilepsy Behav 2018; 79: 9-16.
Strzelczyk A, Griebel C, Lux W, Rosenow F, Reese JP. The Burden of Severely Drug-Refractory Epilepsy: A Comparative Longitudinal Evaluation of Mortality, Morbidity, Resource Use, and Cost Using German Health Insurance Data. Front Neurol 2017; 8: 712.
Manjunath R, Paradis PE, Parisé H, Lafeuille MH, Bowers B, Duh MS, et al. Burden of uncontrolled epilepsy in patients requiring an emergency room visit or hospitalization. Neurology 2012; 79: 1908-16.
Divino V, Petrilla AA, Bollu V, Velez F, Ettinger A, Makin C. Clinical and economic burden of breakthrough seizures. Epilepsy Behav 2015; 51: 40-7.
Saha SK, Nel M, Prinsloo EA. Profile and associated factors for re-admitted epileptic patients with complications in a South African hospital. Cent Afr J Med 2006; 52: 35-8.
McDermott S, Royer J, Mann JR, Armour BS. Factors associated with ambulatory care sensitive emergency department visits for South Carolina Medicaid members with intellectual disability. J Intellect Disabil Res 2018; 62: 165-78.
Gabr WM, Shams ME. Adherence to medication among outpatient adolescents with epilepsy. Saudi Pharm J 2015; 23: 33-40.
Samsonsen C, Reimers A, Bråthen G, Helde G, Brodtkorb E. Nonadherence to treatment causing acute hospitalizations in people withepilepsy: an observational, prospective study. Epilepsia 2014; 55: e125-8.
Tiamkao S, Sawanyawisuth K, Paowana W, Saengsuwan J, Arunpongpaisal S, Chaiyakum A. et al. Seizure presenting to the emergency department, Srinagarind Hospital. J Med Assoc Thai 2006; 89: 362-7.
Asawavichienjinda T, Sitthi-Amorn C, Tanyanont W.Compliance with treatment of adult epileptics in a rural district of Thailand. J Med Assoc Thai 2003; 86: 46-51.
Jaiklom C, Ausawatmugkul T, Bunyapat N. Effect of pharmaceutical in epileptic patients at Prasat Neurological Institute. Journal of the Department of Medical Services 2016; 41: 110-9.
Tiamkao S. Role of Multidisciplinary Team for Epileptic Patients Care. Thai Journal of Neurology 2016; 32: 33-8.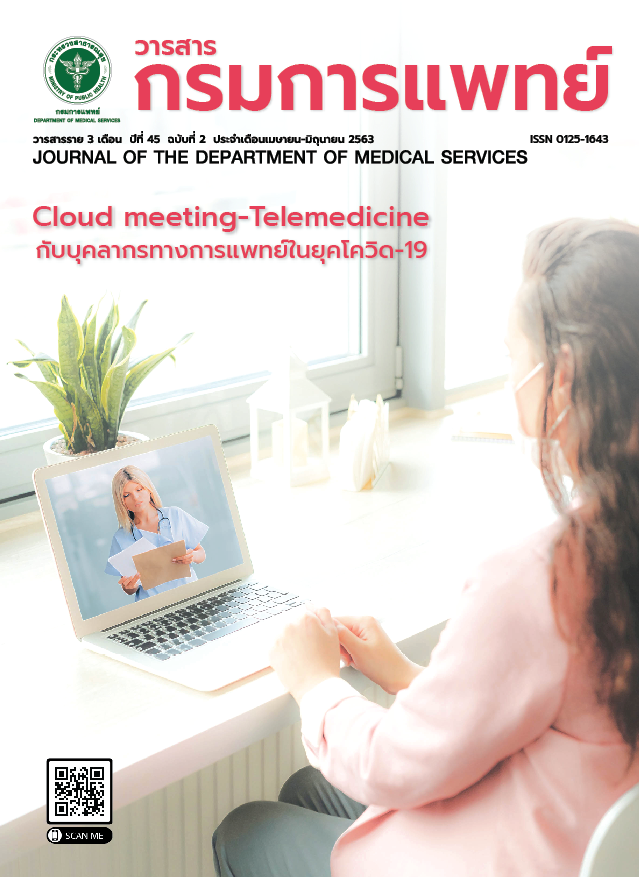 Downloads
How to Cite
1.
พิมประภา กิจวิธี ปร.ด, นรากรณ์ นราธิกรณ์ฤทธิ์ วท.ม., อังสนา ฉัตรรัตนแสง วท.ม. Prevalence and Causes of Seizure-Related Hospitalization in Epileptic Patient at Saraburi Hospital. j dept med ser [Internet]. 2020 Sep. 1 [cited 2022 Aug. 14];45(2):134-40. Available from: https://he02.tci-thaijo.org/index.php/JDMS/article/view/245542
License
บทความที่ได้รับการตีพิมพ์เป็นลิขสิทธิ์ของกรมการแพทย์ กระทรวงสาธารณสุข
ข้อความและข้อคิดเห็นต่างๆ เป็นของผู้เขียนบทความ ไม่ใช่ความเห็นของกองบรรณาธิการหรือของวารสารกรมการแพทย์