Long-term Survival after Pericardiectomy in Chronic Constrictive Pericarditis at Central Chest Institute of Thailand (CCIT)
Keywords:
Constrictive pericarditis, pericardiectomy, long-term survival
Abstract
Background: Constrictive pericarditis is a rare and disabling disease. This study was to evaluate our single-center experience with pericardiectomy for chronic constrictive pericarditis.
Objective: The main objectives of our analysis were long-term survival, clinical outcome, mortality rate and identification of risk factors.
Method: A retrospective study of our database identified 45 patients who underwent pericardiectomy at Central Chest Institute of Thailand from January 1999 to January 2019. Demographic data, intraoperative and long term outcomes were analyzed.
Results: There were 39 men, with a mean age of 42.8 ± 15.1 years. Most presented with shortness of breath (87%), pitting edema (80 %), hepatomegaly (56%) or ascites (53%). Most common etiology of constrictive pericarditis was tuberculosis in 36 (80%) patients. Most of the patients (87%) were in New York Heart Association (NYHA) class II and III. The surgical approach was achieved via a median sternotomy in 43 (95.6%) patients. The hospital mortality was 13% in this study. The high preoperative NYHA and the high dose of inotropic drug in postoperative period were associated with a significantly higher hospital mortality. The survival rates were 90.8%, 76.8% and 63% at 1, 5 and 10 years, respectively.
Conclusion: Pericardiectomy was associated with a high morbidity and mortality rate. Nevertheless, it is able to improve the functional class and has a good long-term survival rate when compare with other studies. Preoperative functional class and high dose inotropic drug use are crucial in predicting the risk of hospital mortality.
Downloads
Download data is not yet available.
References
Bergman M, Vitrai J, Salman H. Constrictive pericarditis: A reminder of a not so rare disease. Eur J Int Med 2006;17: 457-64.
Cameron J, Oesterle SN, Baldwin JC, Hancock EW. The etiologic spectrum of constrictive pericarditis. Am Heart J 1987; 113:354-60.
Ling LH, Oh JK, Schaff HV, Danielson GK, Mahoney DW, Seward JB, et al. Constrictive pericarditis in the modern era: evolving clinical spectrum and impact on outcome after pericardiectomy. Circulation1999; 100:1380-6.
Buyukbayrak F, Aksoy E, Dedemoglu M, Kirali K, Alp HM. Pericardiectomy for treatment of neoplastic constrictive pericarditis. Asian Cardiovasc Thorac Ann 2014;22:296-300.
Cho YH, Schaff HV, Dearani JA, Daly RC, Park SJ, Li Z, et al. Completion pericardiectomy for recurrent constrictive pericarditis: importance of timing of recurrence on late clinical outcome of operation. Ann Thorac Surg 2012;93:1236-40.
Bertog SC, Thambidorai SK, Parakh K, Schoenhagen P, Ozduran V, Houghtaling PL, et al. Constrictive pericarditis: etiology and cause-specific survival after pericardiectomy. J Am Coll Cardiol 2004; 43:1445-52.
Landex NL, Ihlemann N, Olsen PS, Gustafsson F. Constrictive pericarditis in a contemporary Danish cohort: aetiology and outcome. Scand Cardiovasc J 2015;49:101-8.
Szabo G, Schmack B, Bulut C, Soos P, Weymann A, Stadtfeld S, et al. Constrictive pericarditis: risks, aetiologies and outcomes after total pericardiectomy: 24 years of experience. Eur J Cardiothorac Surg 2013;44:1023-8.
George TJ, Arnaoutakis GJ, Beaty CA, Kilic A, Baumgartner WA, Conte JV. Contemporary etiologies, risk factors, and outcomes after pericardiectomy. Ann Thorac Surg 2012; 94:445-51.
Vistarini N, Chen C, Mazine A, Bouchard D, Hebert Y, Carrier M, et al. Pericardiectomy for Constrictive Pericarditis: 20 Years of Experience at the Montreal Heart Institute. Ann Thorac Surg 2015; 100:107-13.
Lin Y, Zhou M, Xiao J, Wang B, Wang Z. Treating constrictive pericarditis in a chinese single-center study: a five-year experience. Ann Thorac Surg 2012; 94:1235-40.
Busch C, Penov K, Amorim PA, Garbade J, Davierwala P, Schuler GC, et al. Risk factors for mortality after pericardiectomy for chronic constrictive pericarditis in a large single-centre cohort. Eur J Cardiothoracic Surg 2015; 48:e110-6.
Ghavidel AA, Gholampour M, Kyavar M, Mirmesdagh Y, Tabatabaie MB. Constrictive pericarditis treated by surgery. Tex Heart Inst J 2012;39:199-205.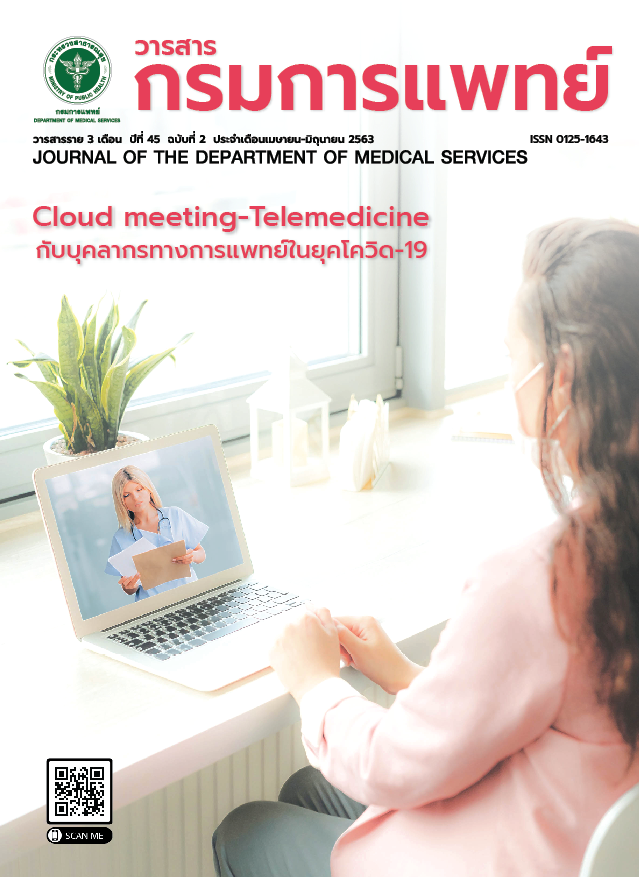 Downloads
How to Cite
1.
จักรพันธ์ จำปาเทศ พ.บ., ชัยวุฒิ ยศถาสุโรดม พ.บ., ชูศักดิ์ เกษมศานติ์ พ.บ. Long-term Survival after Pericardiectomy in Chronic Constrictive Pericarditis at Central Chest Institute of Thailand (CCIT). j dept med ser [Internet]. 2020 Sep. 1 [cited 2022 Aug. 14];45(2):141-8. Available from: https://he02.tci-thaijo.org/index.php/JDMS/article/view/245544
License
บทความที่ได้รับการตีพิมพ์เป็นลิขสิทธิ์ของกรมการแพทย์ กระทรวงสาธารณสุข
ข้อความและข้อคิดเห็นต่างๆ เป็นของผู้เขียนบทความ ไม่ใช่ความเห็นของกองบรรณาธิการหรือของวารสารกรมการแพทย์