Study of Rilpivirine use in HIV-Infected People at Krabi Hospital
Keywords:
Efavirenz, Rilpivirine, Lopinavir/ ritonavir, HIV
Abstract
Background: Rilpivirine is a second-generation non-nucleoside reverse transcriptase inhibitors (NNRTIs) that has fewer side effects than other NNRTIs, especially Efavirenz and is easier to administer than Lopinavir/ ritonavir. There is also a cheaper price per day than other drugs.
Objective: This study was to study the effectiveness and cost reduce of Rilpivirine antiretroviral therapy.
Methods: This retrospective study was done at Krabi Hospital by collecting data from study groups using Rilpivirine instead of Efavirenz (EFV) or Lopinavir/ ritonavir (LPV/ r) by evaluating the treatment of HIV viral load after taking Rilpivirine for not less than 24 weeks.
Results: All the study group found that HIV viral load were less than 40 copies/ml and no severe adverse reactions were reported. In addition, the cost can be reduced by 1049.96 baht per person per month.
Conclusion: Changes in treatment from Efavirenz, Lopinavir/ ritonavir to Rilpivirine do not reduce the effectiveness of the treatment, side effects decreased and the cost of medication also decreased.
Downloads
Download data is not yet available.
References
Fauci AS, Folkers GK, Lane HC. Human Immuno-deficiency Virus Disease: AIDS and related disorders. In: Kasper D, Fauci A, Hauser S,Longo D, Jameson JL, Loscalzo J, editors. Harrison's principles of internal medicine. 19th ed. NY: McGraw-Hill Education; 2015. p. 1215-85.
Thai MoH/NAC/UNAIDS 'AIDS Zero Portal: Data use tool' (accessed November 2019)
Brookie BM, Miguel G. Efavirenz – Still First Line King. Expert Opin Drug Metab Toxicol 2008; 4: 965–72.
Behrens G, Rijnders B, Nelson M, Orkin C, Cohen C, Mills A, et al. Rilpivirine Versus Efavirenz with Emtricitabine/Tenofovir Disoproxil Fumarate in Treatment-Naïve HIV-1–Infected Patients with HIV-1 RNA ≤100,000 Copies/mL: Week 96 Pooled ECHO/THRIVE Subanalysis. AIDS Patient Care STDS 2014; 28: 168–75.
Department of Disease Control. Thailand National Guideline on HIV/AIDS Treatment and Prevention 2014. 1st ed. Bangkok: ACFT; 2014. p. 65-167.
Department of Disease Control. Thailand National Guideline on HIV/AIDS Treatment and Prevention 2017.1st ed. Bangkok: ACFT; 2017. p. 67-176.
Mills AM, Cohen C, Dejesus E, Brinson C, Williams S, Yale K L, et al. Efficacy and safety 48 weeks after switching from efavirenz to Rilpivirine using emtricitabine/tenofovir disoproxil fumarate based single-tablet regimens. HIV Clin Trials 2013; 14: 216-23.
Jantarabenjakul W, Anugulruengkitt S, Kasipong N.Pharmacokinetics of Rilpivirine and 24-week Outcomes after Switching from Efavirenz in Virologically Suppressed HIV-1-infected Adolescents. Antivir Ther 2018; 2:259-65.
Somton P, Sutananun W. Efficacy and Lipid Profile Change after Switching from Efavirenz to Rilpivirine, Journal of Bamrasnaradura Infectious Diseases Institute 2018; 12:105-11.
Melikian L G, Rhee Y S, Varghese V, Porter D, White K, Taylor J, et al, Non-nucleoside Reverse Transcriptase Inhibitor (NNRTI) Cross-Resistance: Implications for Preclinical Evaluation of Novel NNRTIs and Clinical Genotypic Resistance Testing. J Antimicrob Chemother 2014; 69:12-20.
Bunupuradah T, Ananworanich J, Chetchotisakd P, Kantipong P, Jirajariyavej S, Sirivichayakul S, et al. Etravirine and Rilpivirine Resistance in HIV-1 Subtype CRF01_AE-infected Adults Failing Non-Nucleoside Reverse Transcriptase Inhibitor-Based Regimens. Antivir Ther 2011; 16:1113-21.
Teeranaipong P, Sirivichayakul S, Mekprasan S, Ohata PJ, Avihingsanon A, Ruxrungtham K, et al. Role of Rilpivirine and Etravirine in Efavirenz and Nevirapine-Based Regimens Failure in a Resource-Limited Country: A Cross- Sectional Study. PLoS One 2016; 11: e0154221.
Llibre J M, Poveda E, Anta L, Blanco J L, Alvarez M, PérezElías M J, et al. Rilpivirine Resistance Mutations in HIV Patients Failing Non-Nucleoside Reverse Transcriptase Inhibitor-Based Therapies. AIDS 2013;27:81-5.
Gupta RK, Gregson J, Parkin N, Haile-Selassie H, Tanuri A, Forero LA, et al. HIV-1 drug resistance before initiation or re-initiation of first-line antiretroviral therapy in low-income and middle-income countries: a systematic review and meta-regression analysis, Lancet Infect Dis 2017;18: 346–55.
Ford N, Lee J, Andrieux-Meyer I, Calmy A. Safety, efficacy, and pharmacokinetics of rilpivirine: systematic review with an emphasis on resource-limited settings, HIV/AIDS – Research and Palliative Care 2011;3: 35–44.
LiverTox: Clinical and Research Information on DrugInduced Liver Injury [Internet]. Bethesda (MD): National Institute of Diabetes and Digestive and Kidney Diseases; 2012-. Rilpivirine. [Updated 2017 Feb 20].Available on : https://www.ncbi.nlm. nih.gov/books/NBK548514.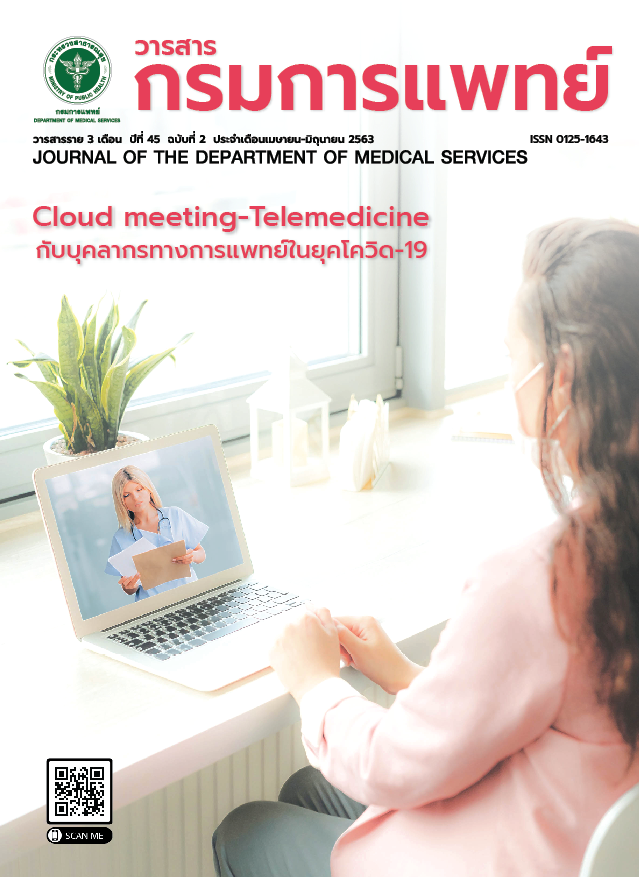 Downloads
How to Cite
1.
สุพจน์ ภูเก้าล้วน พ.บ., ศิริวิทย์ อัสวัฒิวงศ์ ภ.บ. Study of Rilpivirine use in HIV-Infected People at Krabi Hospital. j dept med ser [Internet]. 2020 Sep. 1 [cited 2022 Aug. 14];45(2):165-9. Available from: https://he02.tci-thaijo.org/index.php/JDMS/article/view/245563
License
บทความที่ได้รับการตีพิมพ์เป็นลิขสิทธิ์ของกรมการแพทย์ กระทรวงสาธารณสุข
ข้อความและข้อคิดเห็นต่างๆ เป็นของผู้เขียนบทความ ไม่ใช่ความเห็นของกองบรรณาธิการหรือของวารสารกรมการแพทย์