Evaluation of Nasal Changes after Using Modified Nasoalveolar Molding in Complete Unilateral Cleft Lip and Palate Patients
Keywords:
Complete unilateral cleft lip and cleft palate, Nasoalveolar molding, Denture adhesives
Abstract
Background: Nasoalveolar molding (NAM) is a pre-surgical treatment that is used to reduce the severity of the cleft deformity in order to facilitate primary surgical repair. Denture adhesive has been used to secure and improve retention of the NAM appliance however it could contribute to harmful effects including cytotoxicity, irritation, and infection.
Objectives:To evaluate the nasal outcomes of modified NAM therapy in patients with complete unilateral cleft lip and palate (UCLP) without denture adhesive.
Methods: A prospective cohort study was conducted. Eight UCLP patients who received modified NAM at Queen Sirikit national institute of child health were included in this study. Standard basilar view photographs were taken. Measurements of nostrils height, nostril width, columella angle, nasal base angle were performed. Statistical analyses were used to compare the differences between pre and post therapy measurements.
Results: After modified NAM therapy, there was a statistically significant increase in nostril height and columella angle with the differences of 2.38 mm. and 36.30 degree (p < 0.05) respectively. There was also a statistically significant decrease in nostril width with the differences of 3.27 mm. (p < 0.05).
Conclusions: A favorable outcomes of modified NAM therapy were achieved. It is promising that modified NAM can be used as effective as other conventional NAM appliances without denture adhesive required.
Downloads
Download data is not yet available.
References
Mossey PA, Li le J, Munger RG, Dixon MJ, Shaw WC. Cleft lip and palate. Lancet. 2009; 374:1773-85.
Mo-suwan L. A review of health status of Thai infants and preschool children. HSRI (online) 1999. (cited 2019 Sep 12). Available from : URL; http://kb.hsri.or.th/dspace/ handle/11228/1322
Chowchuen B, Thanaviratananich S, Chichareon V, Kamolnate A, Uewichitrapochana C, Godfrey K. A multisite study of oral clefts and associated abnormalities in Thailand: the epidemiologic data. Plast Reconstr Surg Glob Open 2016; 7:e583.
Jensen BL, Kreiborg S, Dahl E, Fogh-Andersen P. Cleft lip and palate in Denmark, 1976-1981: epidemiology, variability, and early somatic development. Cleft Palate J 1988; 25:258-69.
Liou EJW, Subramanian M, Chen PKT, Huang CS. The progressive changes of nasal symmetry and growth after nasoalveolar molding: a three-year follow-up study. Plast Reconstr Surg 2004; 114:858-64.
Grayson BH, Maull D. Nasoalveolar molding for infants born with cleft of the lip, alveolus, and palate. Clin Plast Surg 2004; 31:149-58.
Manosudprasit M, Wangsrimongkol T, Pisek P, Wiwatworakul O. Presurgical nasoalveolar molding techniques for a complete unilateral cleft lip and palate infant: a case report. J Med Assoc Thai2014; 97:S234-S242.
Gandedkar NH, Kiat CC, Kanesan P, Lee WC, Chen PY, Yeow VK. Presurgical nasoalveolar molding therapy in cleft lip and palate individuals: Case series and review. APOS Trends Orthod 2015; 5:208-14.
Wirarat P, Nirunrungrueng P, Ritthagol W, Keinprasit C. KORAT NAM. J Thai Assoc Orthod. 2010; 9:33-42.
Chaiworawitkul M. Comprehensive Cleft Care for Dentists and Orthodontists. vol. 1. 1st ed. Chiang Mai: Trio advertising & media; 2012.
Maillard S, Retrouvey JM, Ahmed MK, Taub PJ. Correlation between Nasoalveolar Molding and Surgical, Aesthetic, Functional and Socioeconomic Outcomes Following Primary Repair Surgery: a Systematic Review. J Oral Maxillofac Res 2017; 30:8:e2.
Al HR, Dahl JE, Morisbak E, Polyzois G. Irritation and cytotoxicity potential of denture adhesives. Gerodontology 2005; 22:177-83.
Gomez DF, Donohue ST, Figueroa AA, Polley JW. Nasal changes after presurgical nasoalveolar molding (PNAM) in the unilateral cleft lip nose. Cleft Palate Craniofac J 2012; 49:689-700.
Papadiochou S, Emmanouil I, Papadiochos I. Denture adhesives: A systematic review. J Prosthet Dent 2015; 113:391-7.
Woolridge MW. The 'anatomy' of infant sucking. Midwifery 1986; 2:164-71.
Elad D, Kozlovsky P, Blum O, Laine AF, Po MJ, Botzer E, et al. Biomechanics of milk extraction during breast feeding. Proceedings of the National Academy of Sciences of the United States of America. 2014; 111:5230-5.
Tezvergil-Mutluay A, Carvalho RM, Pashley DH. Hyperzincemia from ingestion of denture adhesives. J Prosthet Dent 2010; 103:380-3.
Chen YF, Liao YF. A modified nasoalveolar molding technique for correction of unilateral cleft nose deformity. J Craniomaxillofac Surg 2015; 43:2100-5.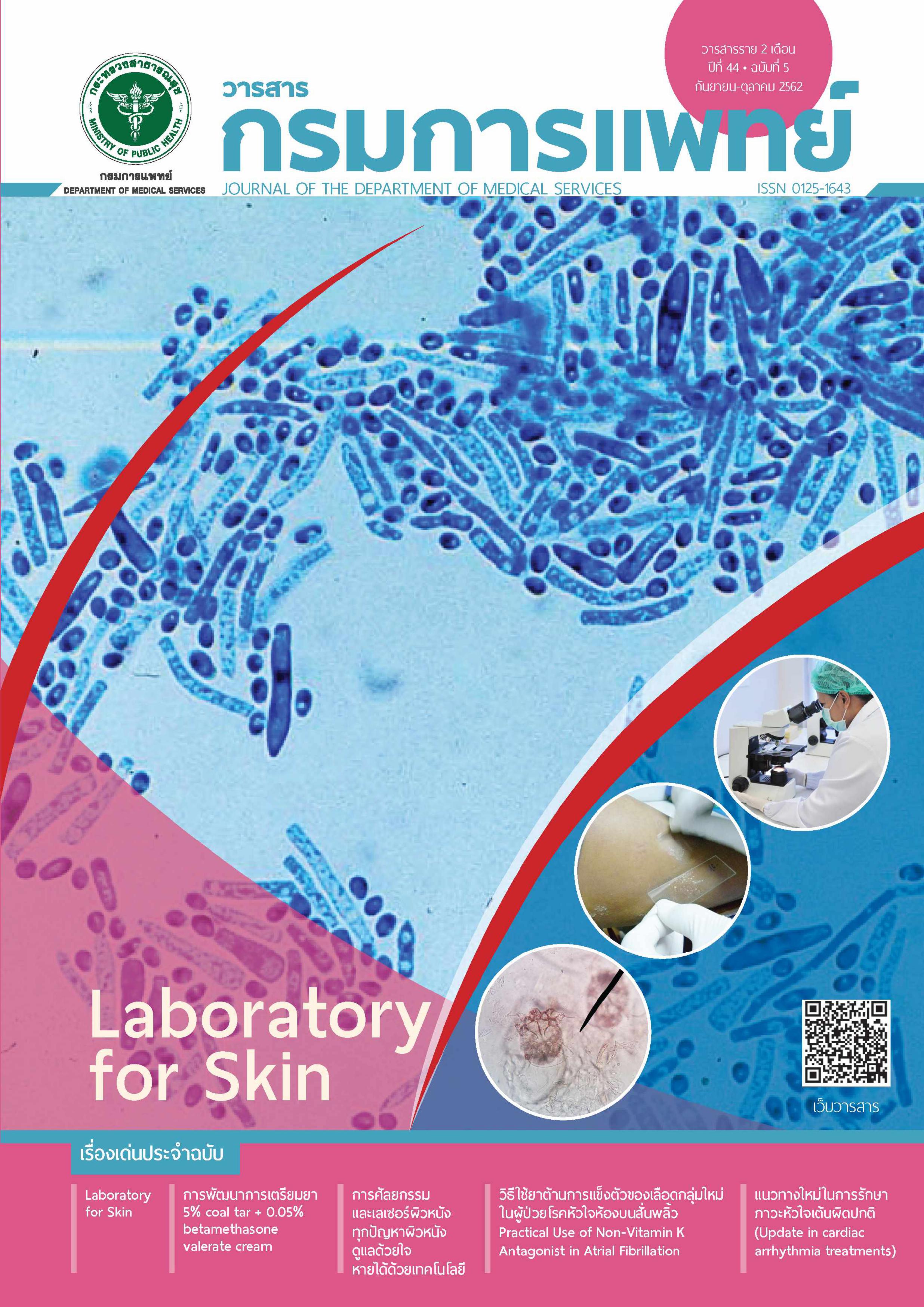 Downloads
How to Cite
1.
Phannarus K. Evaluation of Nasal Changes after Using Modified Nasoalveolar Molding in Complete Unilateral Cleft Lip and Palate Patients . j dept med ser [Internet]. 2019 Oct. 1 [cited 2022 Sep. 28];44(5):81-6. Available from: https://he02.tci-thaijo.org/index.php/JDMS/article/view/246647
License
บทความที่ได้รับการตีพิมพ์เป็นลิขสิทธิ์ของกรมการแพทย์ กระทรวงสาธารณสุข
ข้อความและข้อคิดเห็นต่างๆ เป็นของผู้เขียนบทความ ไม่ใช่ความเห็นของกองบรรณาธิการหรือของวารสารกรมการแพทย์