Orthopedist's Perspective on Determinants of Anti-osteoporosis Medication Prescription in Osteoporotic Hip Fracture
Keywords:
Opinion, Anti-osteoporosis medication, Fragility hip fracture, Type of reimbursement
Abstract
Background: At present, there are many guidelines recommend that patients who presented with osteoporosis hip fracture should be treated with anti-osteoporosis medication. Unfortunately, many studies revealed low rate of anti-osteoporosis medication received in these patients.
Objectives: To study the opinion of orthopedic surgeon on factors associated with prescription of anti-osteoporosis medication in patients who presented with osteoporosis hip fracture
Methods: The questionnaire was sent via an e-mail to orthopedic surgeons. The participants were asked about the factor associated with anti-osteoporosis medication prescription in osteoporosis hip fracture. Result was show as descriptive and each factor was analyzed using goodness of fit analysis.
Results: There were 174 participants in the study. Main reasons of not prescribe were cost of the treatment along with type of the health insurance scheme which cannot be reimbursed. Other reasons were age, gender, previous fragility fracture, and BMD result.
Conclusions: We found some factors which may have an association with anti-osteoporosis medication prescription or not in osteoporosis hip fracture. This adding knowledge may have benefit in planning the strategy of the treatment in these patients.
Downloads
Download data is not yet available.
References
Brauer CA. Incidence and Mortality of Hip Fractures inthe United States. Jama 2009; 302:1573.
Schnell S, Friedman SM, Mendelson DA, Bingham KW, Kates SL. The 1-Year Mortality of Patients Treated in a Hip Fracture Program for Elders. Geriatr Orthop Surg Rehabil 2010; 1:6–14.
Klotzbuecher CM, Ross PD, Landsman PB, Abbott TA, Berger M. Patients with Prior Fractures Have an Increased Risk of Future Fractures: A Summary of the Literature and Statistical Synthesis. J Bone Miner Res 2010; 15:721–39.
Chapurlat RD, Bauer DC, Nevitt M, Stone K, Cummings SR. Incidence and risk factors for a second hip fracture in elderly women. the Study of Osteoporotic Fractures. Osteoporos Int 2003; 14:130–6.
Berry SD, Samelson EJ, Hannan MT, Mclean RR, Lu M, Cupples LA, et al. Second Hip Fracture in Older Men and Women. Arch Intern Med 2008; 167:1971–6.
Pieper CF, Mautalen C, Hyldstrup L, Sc DM, Recknor C, Nordsletten L, et al. new england journal 2007; 1799–809.
Donggrell SA. New horizons for zoledronic acid: Results of the HORIZON trials in postmenopausal women with osteoporosis and after hip fracture. Expert Opin Pharmacother 2008; 9:663–8.
Beaupre LA, Morrish DW, Hanley DA, Maksymowych WP, Bell NR, Juby AG, et al. Oral bisphosphonates are associated with reduced mortality after hip fracture. Osteoporos Int 2011; 22:983–91.
Morin S, Rahme E, Behlouli H, Tenenhouse A, Goltzman D, Pilote L. Effectiveness of antiresorptive agents in the prevention of recurrent hip fractures. Osteoporos Int 2007; 18:1625–32.
Songpatanasilp T, Sritara C, Kittisomprayoonkul W, Chaiumnuay S, Nimitphong H, Charatcharoenwitthaya N, et al. Thai Osteoporosis Foundation (TOPF) position statements on management of osteoporosis. Osteoporos Sarcopenia 2016; 2:191–207.
Aguado-maestro I, Panteli M, García-alonso M, Bañuelos-díaz A, Giannoudis P V. Incidence of bone protection and associated fragility injuries in patients with proximal femur fractures. Injury [Internet]. 2017; Available from: https:// doi.org/10.1016/j.injury.2017.08.035
Jennings LA, Auerbach AD, Maselli J, Pekow S, Lindenauer PK, Lee SJ. Missed Opportunities for Osteoporosis Treatment in Patients Hospitalized for Hip Fracture. J Am Geriatr Soc 2010; 58:650–7.
Klop C, Gibson-Smith D, Elders PJM, Welsing PMJ, Leufkens HGM, Harvey NC, et al. Anti-osteoporosis drug prescribing after hip fracture in the UK: 2000–2010. Osteoporos Int 2015; 26:1919–28.
Solomon DH, Johnston SS BN et al. Osteoporosis Medication Use After Hip Fracture in U.S. Patients Between 2002 and 2011. J Bone Miner Res 2014; 29:1929–37.
Rojanasthien S, Chiewchantanakit S, Vaseenon T. Diagnosis and treatment of osteoporosis following hip fracture in Chiang Mai University Hospital. J Med Assoc Thail 2005; 88 Suppl 5:S65-71.
Eisenberg DF. Physicians ' perspectives on the treatment of osteoporosis patients with bisphosphonates. 2020; 1–8.
Ha Y, Lee Y, Lim Y, Jang S, Shin CS, Lee Y. Physicians' Attitudes to Contemporary Issues on Osteoporosis Management in Korea 2014; 143–50.
Simonelli C, Killeen K, Mehle S, Swanson L. Barriers to osteoporosis identification and treatment among primary care physicians and orthopedic surgeons. Mayo Clin Proc 2002; 77:334–8.
Kingkaew P, Pongchaikul C, Sompitak S, Bussabawalai T, Teerawattananon Y. Cost-utility analysis of treatment for prevention of osteoporotic fractures. HITAP; 2011.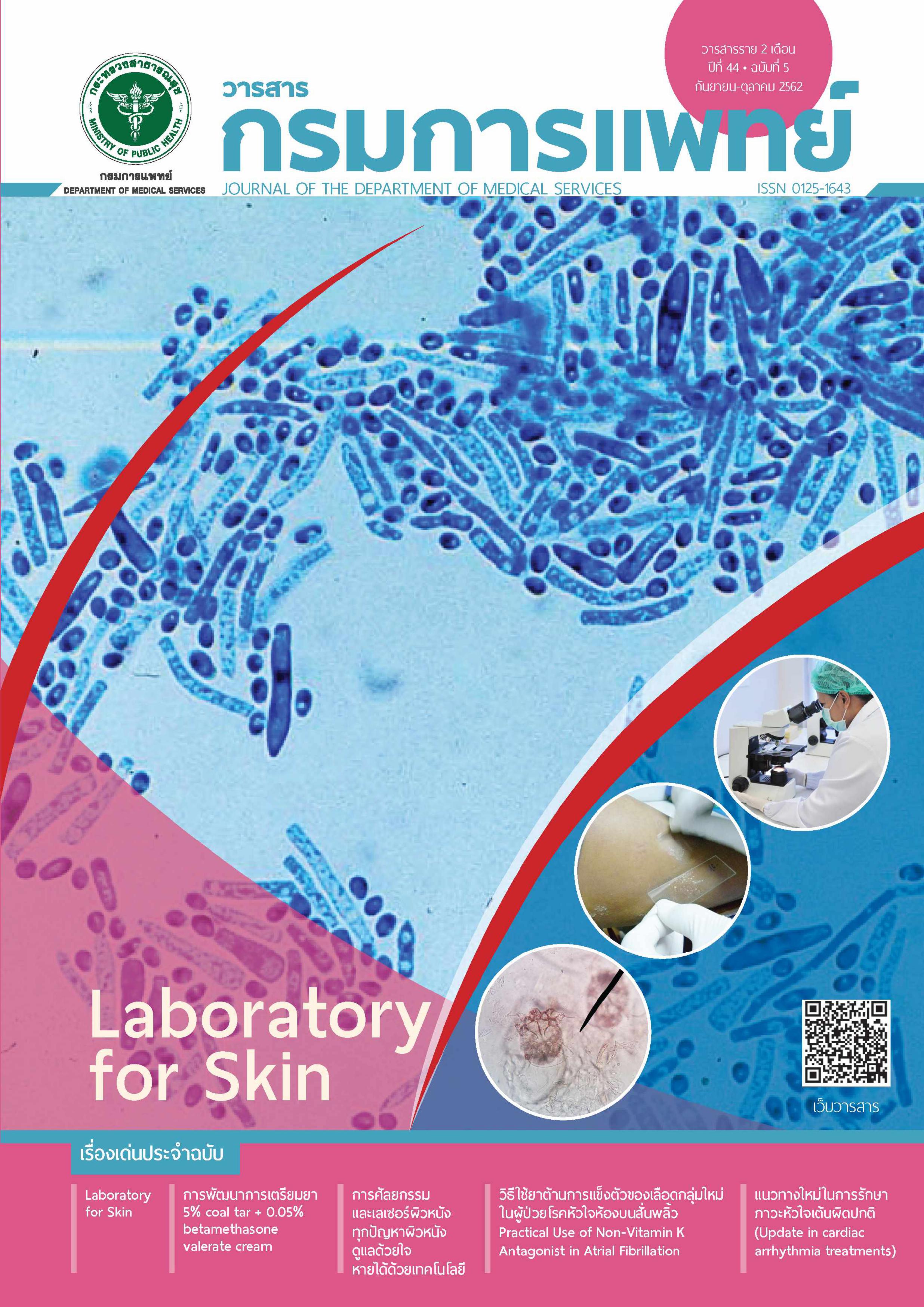 Downloads
How to Cite
1.
Kittithamvongs P, Pongpirul K. Orthopedist's Perspective on Determinants of Anti-osteoporosis Medication Prescription in Osteoporotic Hip Fracture. j dept med ser [Internet]. 2019 Oct. 1 [cited 2023 Mar. 27];44(5):134-8. Available from: https://he02.tci-thaijo.org/index.php/JDMS/article/view/246665
License
บทความที่ได้รับการตีพิมพ์เป็นลิขสิทธิ์ของกรมการแพทย์ กระทรวงสาธารณสุข
ข้อความและข้อคิดเห็นต่างๆ เป็นของผู้เขียนบทความ ไม่ใช่ความเห็นของกองบรรณาธิการหรือของวารสารกรมการแพทย์