Effects of Upper Musculoskeletal Disorder from School Bag Usage among Primary School Grade 4-6 Students for a School in Bangkok Metropolis
Keywords:
Upper musculoskeletal disorder, School bag, Primary school
Abstract
The student who carries bag beyond the proportion of Standard Body Weight (BW) has been one of the main causes of UpperMusculoskeletal Disorder (UMSDs), possibly affecting deformation of bone or chronic back pain symptom. The objective of this descriptive study is to compare between weight of bag and standard proportion body weight value at 10 and 15% BWand relationship among %BW, bag carrying duration and occurrence of UMSDs. The samples are 145 primary school grade 4-6 students applying statistics of Independent t-test, Chi-square testand Odds ratio.The result showthat body weight of the students averaged was 38.6±10.3 kilogram. They carried average weight of bag for 4.15±1.7 kilogram. The students had pain at both sides of shoulder, upper back and neck for 85.1 62.8 and 59.5%, respectively. Female students and Primary School Grade 4 carried bags with weight beyond standard criteria at 10 % BWat statistical significance (p<0.05). The finding from the relationship testing indicated that bag carrying duration > 20 minutes exposed to risk of shoulder pain symptom more than the person who carried bag < 10 minutes for 14.5 times (95%CI = 1.77-119.3). Discussion and conclusion;Students carried bags with weight beyond standard and duration had shoulder pain. According to suggestion, the school should provide someeducationlockers. The student should reduce carrying duration of bag such as placement of bag on the floor while standing for waiting or during break hour, the bag should not be carried.
Downloads
Download data is not yet available.
References
Spiteri K, Busuttil ML, Gauci D, Camilleri E, Grech V. Schoolbagsand back pain in children between 8 and 13 years: a national study. Br J Pain 2017;11:81-6.
Aprile I, Stasio ED, Vincenzi MT, Arezzo MF, Santis FD, Mosca R, et al. The relationship between back pain and schoolbag use: a cross-sectional study of 5,318 Italian students. The Spine Journal 2016; 16:748-55.
Dockrell S, Simms C, Blake C. Schoolbag carriage and schoolbag-related musculoskeletal discomfort among primary school children. Appl Ergon 2015; 51:281-90.
Wirth B, Christina KC, Humphreys K. Spinal pain in Swiss school children epidemiology and risk factors. BMC pediatr 2013; 13:1-10.
Ruttanaseeha W, Sahunin A, Supad P, Chuasathuchon P, Thanetphonkul R, Techabunyarat R, et al. Study of weight excess of year 1-4 students' school bag at Khon Kaen University primary demonstration school. Srinagarind Medical Journal 2009; 24:2-8.
Child safety promotion and injury prevention research center. Thai children carrying a heavy schoolbag. [cite 17 Apr 25]. Available from: http://csip.org/ebook/ no17/page5.html.
Dockrell S, Blake C, Simms C. Guidelines for schoolbag carriage: An appraisal of safe load limits for schoolbag weight and duration of carriage. Work 2016; 53: 679-88.
Ministry of Education. Core curriculum for basic education year 2008 [cite 2017 Feb 3]. Available from: http://math. ipst.ac.th/wp-content/uploads/ 2015/PDF/Curriculum %20 2551.pdf.
Mwaka E, Munabi IG, Buwembo W, Kukkiriza J, Ochieng J. Musculoskeletal pain and school bag use: across-sectional study among Ugandan pupils. Bio Med Central 2014; 7:1-7.
Deesungnern S, Thawinchai N. A survey of factors associated with schoolbag carrying and pain during schoolbag usage in high school students of Darawittayalai School, Chiang Mai. Thai Journal of Physical Therapy 2014; 36:70-8.
Kuorinka I, Jonsson B, Kilbom A, Vinterberg H, Biering SF, Andersson G, et al. Standardised Nordic questionnaires for the analysis of musculoskeletal symptoms. Appl Ergon 1987; 18: 233-7.
Dianat I, Sorkhi N, Pourhossein A, Asqhari JM. Neck, shoulder and low back pain in secondary schoolchildren in relation to schoolbag carriage: should the recommended weight limits be gender-specific. Appl Ergon 2014; 45:437-42.
Dockrell S, Jacobs K, Byrne J, Kelly S, Moore C, Meara E, et al. Parental awareness of schoolbag carriage: A comparative study of Irish and United Stated parents. Work 2017; 14: doi: 10.3233/WOR-172605.
Giusti PH, Almeida De, Tomasi E. Weight excess of school materials and its risks factors in South Brazil. Eur J Phys Rehabil Med 2008; 44:33-8.
Ismaial SO. Safe backpack weight limit for secondary school students in Ibadan, Soulthwestern Nigeria. Alexandria Engineering Journal 2017. doi.org/10.1016/j.aej. 2017.01.007.
Zhi S, Gouying D, Jipeng L, Yangyang L, Yongxing Z, Qinghua Z. How schooling and lifestyle factors effect neck and shoulder pain? A cross-sectional survey of adolescents in China. Spine 2014; 39:276-83.
Jayaratne K.Inculcation the ergonomic culture in developing countries: national healthy schoolbag initiative in Sri Lanka. Hum Factors 2012; 54:908-24.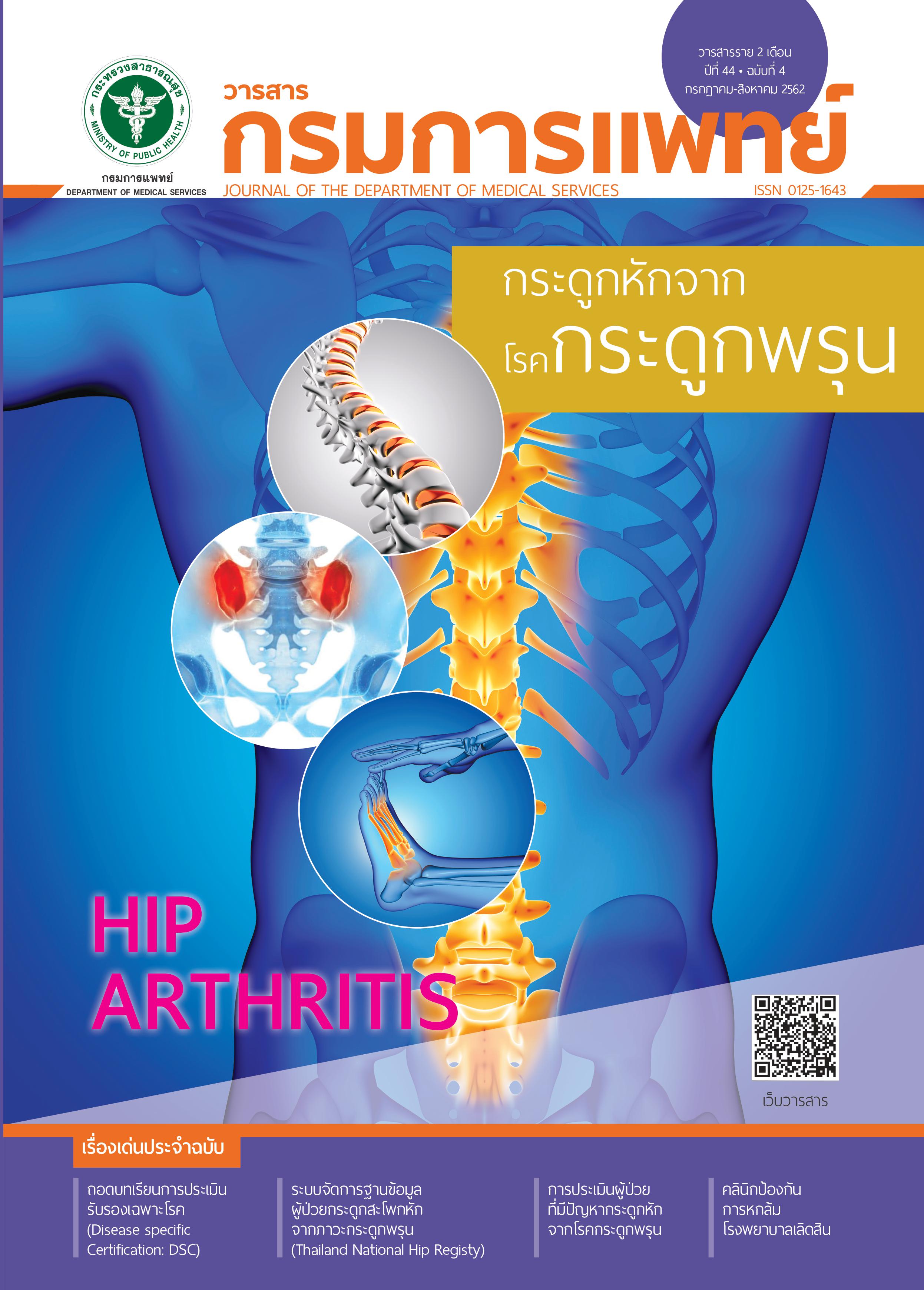 Downloads
How to Cite
1.
ฌาน ปัทมะ พลยง วท.ม., ณัฐพล สาระพิมพา วท.บ., โชติรส ดีกล้า วท.บ., สิริยากร พุกการะเวก วท.บ., บุตรี เทพทอง วท.ม., พิมพร พลดงนอก วท.ม. Effects of Upper Musculoskeletal Disorder from School Bag Usage among Primary School Grade 4-6 Students for a School in Bangkok Metropolis. j dept med ser [Internet]. 2019 Jul. 1 [cited 2022 Aug. 19];44(4):48-53. Available from: https://he02.tci-thaijo.org/index.php/JDMS/article/view/246687
License
บทความที่ได้รับการตีพิมพ์เป็นลิขสิทธิ์ของกรมการแพทย์ กระทรวงสาธารณสุข
ข้อความและข้อคิดเห็นต่างๆ เป็นของผู้เขียนบทความ ไม่ใช่ความเห็นของกองบรรณาธิการหรือของวารสารกรมการแพทย์