The PREBRA Exercise Model for Reducing Factors Causing Dementia among Aging Females in Thailand
Keywords:
Exercise, Dementia, Risk factors of dementia
Abstract
Dementia is important health problem in females in Thailand. This quasi-experimental research study aimed to determine whether exercised model called 'PREBRA' can reduce risk factors for dementia among aging females. The researchers created this model integrating the promotion of positive thinking, exposure to pleasant sound, engagement in physical activity and improved personal relationships. Participants in the experiment included 60 aging females aged between 60-69 years who were divided into two groups: first group of 30 were assigned to the experimental group who were exposed to the model and the second group were 30 females a control group. The experimental group participated in these activities 5 days a week for 12 weeks. The results of the study showed that the experimental group had significantly lower systolic blood pressure and decreased triglycerides, depression scores compared to the control group. High-density lipoprotein cholesteroland brain health measured as the ratio between alpha/beta in experimental group were significantly higher than the control group(p < 0.05). The experimental group had assessed their own physical well-being and stated that exercise program improved their fitness levels. Therefore, the PREBRA exercise model has been shown to positively impact on several risk factors for dementia. Relevant government agencies may use these findings to enhance holistic health promotion for the aging population in Thailand.
Downloads
Download data is not yet available.
References
World Health Organization. Dementia [Internet]. [cited 2017 Sep 12]. Availble from: http:// www.who.int/ news-room/ fa ct-sheets/detail/ dementia
World Health Organization. Dementia [Internet]. [cited 2018 Jul 30]. Availble from: http://www.who.int/mediacentre/ fa ctsheets/fs362/en/
Ministry of public health, Department of health. กรมอนามัยเผยผู้สูงวัยสมองเสื่อมกว่า 4 แสนคนคาดแนวโน้มสูงขึ้นเร่งคัดกรองป้องกัน [Internet]. [cite 2016 Apr 20]. Available from: http:// www.anamai.moph.go.th/ewtnews.php?nid=7071
Norton M. Dementia in the family the Impact on carers [internet]. Cambridge. [cited 2018 Apr 18]. 35 p. Available from: http://www.alzheimersresearchuk.org/wp-content/ uploads/2015/12/ Dementia-in-the-Family-The-impacton-carers.pdf
Strand BH, Rosness TA, Engedal K, Magnus P, Bergem ALM, Schirmer H, et al. Interaction of apolipoprotein E genotypes, lifestyle factors and future risk of dementia-related mortality: The Cohort of Norway (CONOR). Dement Geriatr Cogn Disord [Internet]. 2015. [cited 2018 May 26]. 40 (3-4):[137-47]. Available from: https://www.karger.com/ Article/Abstract /431218
Gerald J, Dorothy R. Control your blood sugar to help protect your brain [Internet] 2013. [cited 2018 Fab 15]; 31 (10):[1-2]. Available from: https://search.proquest. com/ openview/10558afe2b3 839d4e7326c488a66907/ 1?pqorigsite=gscholar&cbl=30886
Deckers K, van Boxtel MP, Schiepers OJ, de Vugt M, Muñoz Sánchez JL, Anstey KJ, et al. Target risk factors for dementia prevention: a systematic review and Delphi consensus study on the evidence from observational studies. Int j Geriatr Psychiatry [Internet]. 2015. [cited 2018 Fab 22]; 30:[234-46]. Available from: https://cris.maastrichtuniversity.nl/portal/ files/11962098/c5653. pdf#page=19
Alzheimer's association. What is the dementia [Internet]. 2016. [cited 2018 Fab 25].Available from: http://www.alz. org/what-is-dementia.asp
O'Donnell CA, Manera V, Kohler S, Irving K. Promoting modifiable risk factors for dementia: is there a role for general practice?. Br J Gen Pract [Internet]. 2015. [cited 2017 Sep 12]; 65(640): [567-68.]. Available from: https://bjgp.org/ content/65/640/567
Leuner B, Gould E. Structural plasticity and hippocampal function. Annu Rev Psychol. 2010; 61, 111-40.
Compton WC, Hoffman E. Positive psychology: the science of happiness an flourishing. Second edition. United state of America: John-Devid Hague. 2013.
Anothaisintawee T, Thamakaison S, Srisuwan P. Systematic review of dementia prevention in elderly. [Internet] 2014. [cited 2018 Fab 15]. Available from: http://www.hitap.net/ documents/24288
Konopka LM. How exercise influences the brain: a neuroscience perspective.Croatian medical journal. 2015; 56: 169.
Sarkamo T, Tervaniemi M, Laitinen S, Forsblom A, Soinila S, Mikkonen M, et al. Music listening enhances cognitive recovery and mood after middle cerebral artery stroke. Brain. 2008; 131: 866-76.
Ristau S. People do need people: Social interaction boosts brain health in older age. Generations. 2011;35: 70-6.
Chang Mai University. เสียงบาบัดจิตใจและสมอง [Internet]. 2013. [cited 2014 Aug 24]. Available from: http://www.med. cmu.ac.th/dept/rehab/2010/index.php?option=comcontent &view=article&id=111&Itemid=82&lang=th
De Melo Coelho FG, Gobbi S, Andreatto CAA, Corazza DI, Pedroso RV, Santos-Galduróz RF. Physical exercise modulates peripheral levels of brain-derived neurotrophic factor (BDNF): a systematic review of experimental studies in the elderly. Arch Gerontol Geriatr. 2013; 56: 10-5.
Sayal N. Exercise training increases size of hippocampus and improves memory PNAS (2011) vol.108 no.7 3017-3022. Ann Neurosci. 2015; 22: 107.
Dilokwanit W. รายการไขประเด็นดัง [Internet]. [cited 2017 Jan 15]. Available from: https://www.youtube.com/ watch?v=R_FiXXRpu88
Prasertthai P, Suwanno J, Sonpaweeravong J. Effect of a home-based moderate intensity exercise on the reduction of blood pressure in persons with prehypertension. Thai Journal of Nursing Council. 2553; 25: 80-95.
Ishikawa TK, Ohta T, Tanaka H. How much exercise is required to reduce blood pressure in essential hypertensives: a dose–response study. Am J Hypertens. 2003; 16: 629-33.
Singsawad S, Nicharojana LO, Piaseu N. Impact of hula hoop-assisted exercise on healthcare personnel's perceived self-efficacy, waistlines and levels of HDL cholesterol and triglyceride. Thai Journal of Nursing Council. 2555; 27: 109-22.
Kodama S, Tanaka S, Saito K, Shu M, Sone Y, Onitake F, et al. Effect of aerobic exercise training on serum levels of high-density lipoprotein cholesterol: a meta-analysis.Arch Intern Med. 2007; 167: 999-1008.
Harvey SB, Overland S, Hatch SL, Wessely S, Mykletun A, Hotopf M. Exercise and the prevention of depression: results of the HUNT Cohort Study.Am J Psychiatry [Internet]. 2018. [cited 2018 Sep 15]; 175: [28-36.]. Available from: https://ajp.psychiatryonline.org/doi/pdf/10.1176/appi. ajp.2017.16111223
Panakorn L, Nanthamongkolchai S, Pitikultung S, Munsawaengsub C, Teachaboonsermsak P. Factors influencing dementia in elderly women in Lumphun province. Journal of Public Health. 2015; 45: 197-209.
Leungratanamart L, Chadcham S. Effects of treadmill exercise on executive function in early adult: An event-related potential study. Research Methodology and Cognitive Science. 2013; 10: 17-34.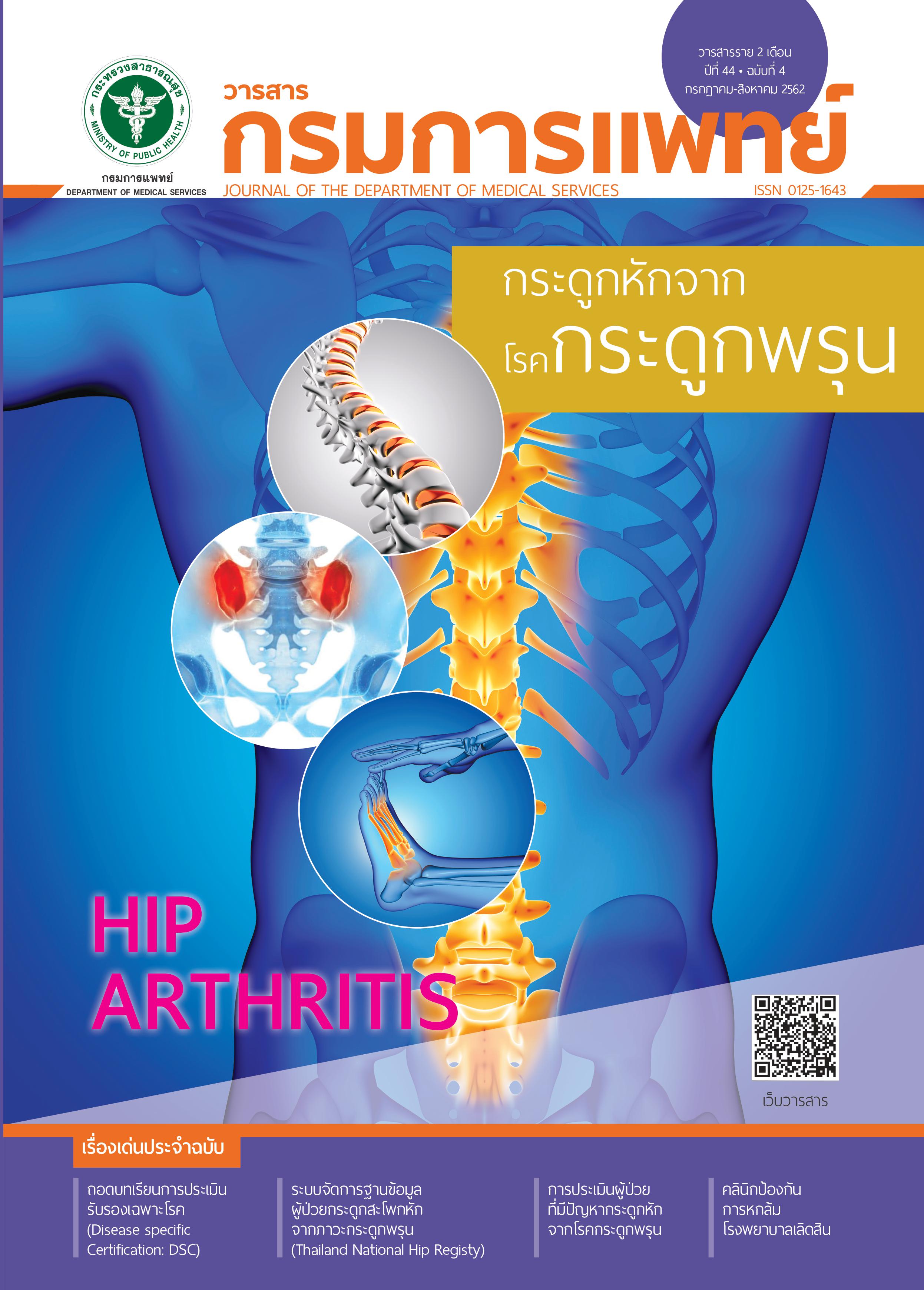 Downloads
How to Cite
1.
พรธิภา ไกรเทพ ศษ.ม., กุหลาบ รัตนสัจธรรม ส.ด., อนามัย เทศกะทึก ปร.ด., ธารารัตน์ ขาวเขียว ปร.ด. The PREBRA Exercise Model for Reducing Factors Causing Dementia among Aging Females in Thailand. j dept med ser [Internet]. 2019 Aug. 1 [cited 2022 Aug. 19];44(4):96-104. Available from: https://he02.tci-thaijo.org/index.php/JDMS/article/view/246710
License
บทความที่ได้รับการตีพิมพ์เป็นลิขสิทธิ์ของกรมการแพทย์ กระทรวงสาธารณสุข
ข้อความและข้อคิดเห็นต่างๆ เป็นของผู้เขียนบทความ ไม่ใช่ความเห็นของกองบรรณาธิการหรือของวารสารกรมการแพทย์