Comparative Study between Single Incision Transumbilical and Standard 3 - port Laparoscopic Cholecystectomy
Keywords:
Single incision transumbilical laparoscopic cholecystectomy, Standard 3 - port laparoscopic cholecystectomy, Clinical outcomes, Cost-effectiveness analysis
Abstract
This study aims to compare the clinical outcomes and cost-effectiveness of the laparoscopic cholecystectomy (LC) between a Single Incision Transumbilical Laparoscopic Cholecystectomy (SILC) and Standard 3 - port Laparoscopic Cholecystectomy (SLC). Method: A Randomized Controlled Trial was conducted in gallstone patients treated at Mahasarakham hospital during the August 1, 2018 – May 31, 2019. A total of 62 patients were randomized into 2 groups. A control group treated by SLC technique, an experiment group treated by SILC technique and follow up 2 weeks after treatment. Data were collected using the evaluate clinical outcome and costs in societal view. The Index of Item – Objective Congruence (IOC) was 0.95. The findings in this study revealed the followings: 1) There were no statistically significant difference between SILC and SLC in the aspects of operative time (p=0.149), bleeding (p= 1.00), and post-operative pain (p=.497) But there were significant differences in the cosmetic scale (p< 0.001), length of hospital stay (p<0.001), and time return to work (p<0.001) at the 0.05 level of significance. 2) Cost-effectiveness ratio (CER) of SILC has lower than SLC. Conclusion: the SILC has worth more than SLC.
Downloads
Download data is not yet available.
References
Panpimanmas S, Manmee C. Risk factors for gallstone disease in a Thai population. 2009; (cited 2019 Apr 15): Available from: https://www.ncbi.nlm.nih.gov/pmc/articles/ PMC3924135/pdf/je-19-116.pdf
Kanchanalarp S. Biliary tract stones. R Thai Army Med J. 2011; 64: 39–45.
Lee JYJ, Keane MG, Pereira S. Diagnosis and treatment of gallstone disease. Practitioner. 2015; 259:15–9, 2.
Thanapaisal N. Laparoscopic cholecystectomy. Srinagarind Med J. 2003; 18:110–7.
Haribhakti SP, Mistry JH. Techniques of laparoscopic cholecystectomy: Nomenclature and selection. J Minim Access Surg. 2015; 11:113.
Information Technology Center Mahasarakham Hospital. Statistics and service activity information 2018. Mahasarakham.Mahasarakham Hospital; 2019.
Vorapongsathorn T, Vorapongsathorn S. Sample size calculation for research by G*Power program. Thail J Heal Promot Environ Heal. 2018; 41:11–21.
Hawker GA, Mian S, Kendzerska T, French M. Measures of adult pain. Arthritis Care Res. 2011; 63:240–52.
Draaijers LJ, Tempelman FRH, Botman YAM, Tuinebreijer WE, Middelkoop E, Kreis RW, et al. The patient and observer scar assessment scale: a reliable and feasible tool for scar evaluation. Plast Reconstr Surg. 2004; 113:1960–5.
Jirapongsathorn P. The study of laparoscopic cholecystectomy at Prapokklao hospital. J Prapokklao Hosp Clin Med Educ Cent. 2017; 34:305–18.
Suraseang K. Laparoscopic cholecystectomy (LC): A comparison study between the single-incision and the three-port LC. Srinagarind Med J. 2013; 28:66–76.
Markar SR, Karthikesalingam A, Thrumurthy S, Muirhead L, Kinross J, Paraskeva P. Single-incision laparoscopic surgery (SILS) vs. conventional multiport cholecystectomy: systematic review and meta-analysis. Surg Endosc. 2012; 26:1205–13.
Deveci U, Barbaros U, Kapakli S, Manukyan N, Şimşek S, Kebudi A, et al. The comparison of single incision laparoscopic cholecystectomy and three port laparoscopic cholecystectomy: prospective randomized study. J Korean Surg Soc. 2013; 275:2233–7903.
Akethong C, Sawaengtham T. Comparative study: singleincision laparoscopic cholecystectomy and conventional three-ports laparoscopic cholecystectomy. J Med Assoc Thai. 2013; 96:1143–6.
Vilallonga R, Barbaros U, Sümer A, Demirel T, Fort JM, González O, et al. Single-port transumbilical laparoscopic cholecystectomy: A prospective randomized comparison of clinical results of 140 cases. J Minim Access Surg. 2012; 8:74–8.
Santivoranart S, Wiwatwanit S. The analysis of costeffectiveness, perioperative nursing activities based costing in patients with laparoscopic cholecystectomy, Thammasat hospital. J Nurs Div. 2015; 42:74–89.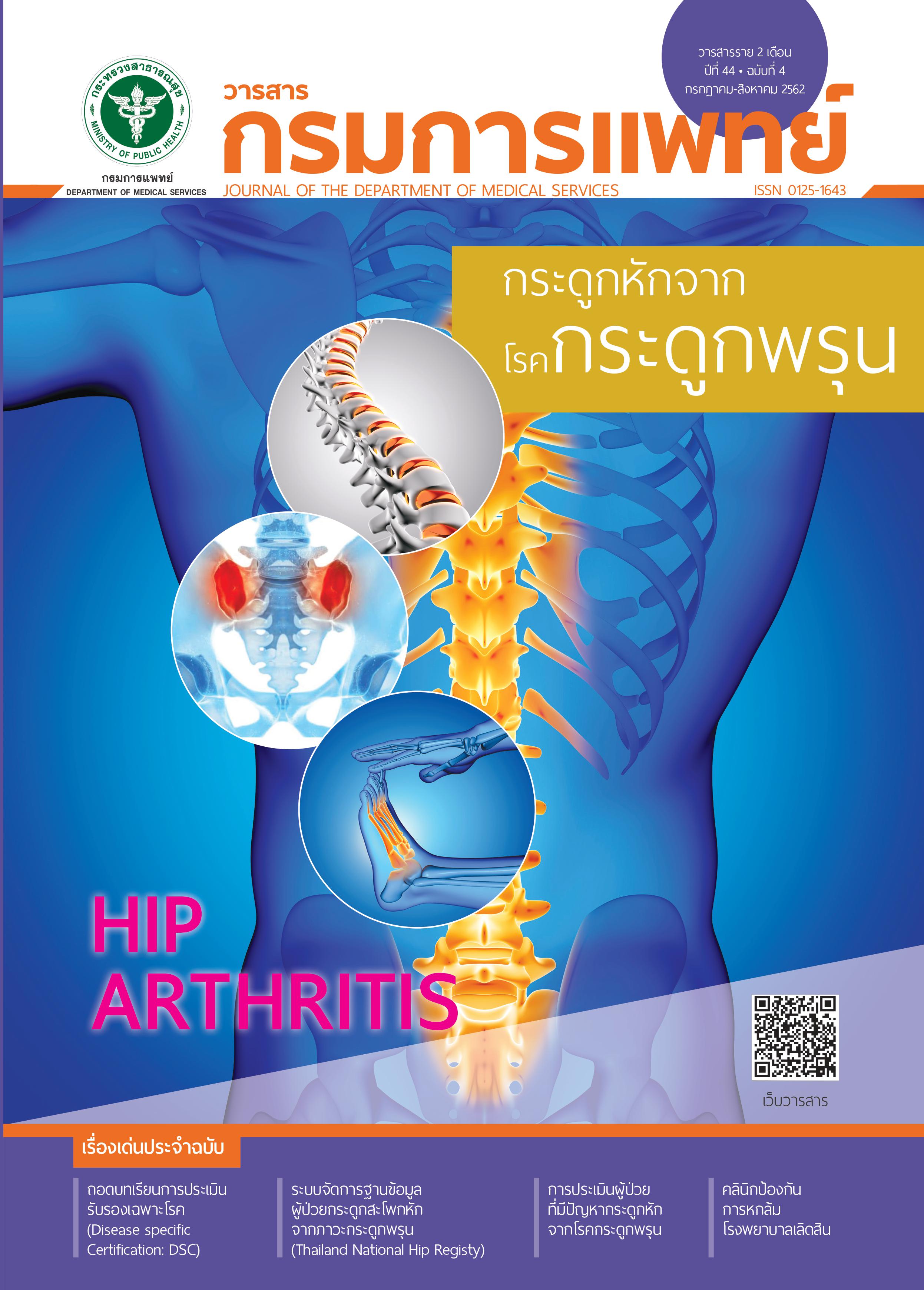 Downloads
How to Cite
1.
ภานุวัฒน์ ขันธสะอาด พ.บ. Comparative Study between Single Incision Transumbilical and Standard 3 - port Laparoscopic Cholecystectomy. j dept med ser [Internet]. 2019 Aug. 1 [cited 2022 Aug. 19];44(4):112-8. Available from: https://he02.tci-thaijo.org/index.php/JDMS/article/view/246716
License
บทความที่ได้รับการตีพิมพ์เป็นลิขสิทธิ์ของกรมการแพทย์ กระทรวงสาธารณสุข
ข้อความและข้อคิดเห็นต่างๆ เป็นของผู้เขียนบทความ ไม่ใช่ความเห็นของกองบรรณาธิการหรือของวารสารกรมการแพทย์