Factors Associated with Elderly Care from Caregivers in Chuen Chom District, Mahasarakham Province, Thailand
Keywords:
Elderly, Caregiver, Behaviour of elderly care
Abstract
The number of the elderly continues to rise each year in Thailand, which suggests the elderly need more care. A cross sectional survey was employed to investigate the factors associated with elderly care from caregivers in Chuen Chom district, Mahasarakham province, THAILAND. The interviews were conducted in the form of a questionnaire which was divided into 5 parts with Conbach's coefficients reliability of 0.73 to 0.80. Data were analysed by descriptive statistics as well as the investigation of factors affecting the care for the elderly from caregivers by inferential statistics. The results indicate that most caregivers were female, daughters of elderly, married, educated to a primary school level, farmers, with an average monthly income of 4,736 baht. The average length of care for the elderly was 19 years and 11.79 hours per day. The carers were overweight with a Body Mass Index (BMI) at the second level (25.00 to 29.99). The elderly while under the care of a caregiver had a median age of 78.35 years. The caregivers had good social and spiritual health comfort, knowledge of care giving, and their attitudes toward care for the elderly and their behaviour were at a moderate level. It was found that the factors relating to behaviour for the care of the elderly were monthly income, the time of caring for the elderly, their blood pressure, their social and spiritual comfort with their health status, and their knowledge and attitudes toward elderly care. These factors had a significant correlation to the caregiver behaviours of p-value 0.042, 0.001, 0.003, 0.001, 0.001, and 0.001 respectively. The results indicated that caregivers of elderly people have a poor health status in many aspects. Therefore, the care provider should be given regular healthcare management including a regular health check-ups. Policy makers and stakeholders should also be encouraging the caregivers to receive more health care support.
Downloads
Download data is not yet available.
References
Srisupak R. Health Care Model for Homebound Elderly in Mahasarakham Municipality. [Dissertation of Doctor of Public Health]. Faculty of Public Health, Mahasarakham University; 2016.
Suksabai P, Hatthirat S. Elderly mistreatment. [Internet]. 2007. [cited 2016 Aug 26]. Available from: https://www. doctor.or.th/clinic/detail/7409.
Rakiti W. Health Psychology of Elderly. [Internet] 2005. [cited 2016 Sep 3]. Available from: http://www.stou.ac.th/ stoukc/elder/main1_11.html.
Bamrungsakulsawat O. The Manual of Long Term Care for Elderly. National Health Security office (NHSO). Bangkok; 2016.
Mahasarakham Provincial Public Health. Screening System/Evaluation in Elderly. [Internet] 2017. [cited 2017 Sep 6]. Available from: http://mkho.moph.go.th/ltcadvanced/frontend/web/index.php/module/person/person/report1
Nursing Division. Health States Assessment. Health Department. Bangkok; 2010.
Nilchaikowit T. Thai GHQ – 28. Department of Mental Health, Ministry of Public Health. Nonthaburi; 2002.
Department of Mental Health, Ministry of Public Health. Health Psychology Test. [Internet] 2016. [cited 2017 Sep 30]. Available from: https://www.dmh.go.th/test/download/ view.asp?id=17
Panarin J. Knowledge, Attitude and Practice of the Elderly's Caregivers in Srisook Health Promotion Hospital, Kantarawichai district, Mahasarakham Province. [Independent Study]. Faculty of Public Health, Mahasarakham University; 2016
Sapbamrer R. Research Methodology in Public Health. Bangkok. Odeon Store; 2016
Phuaksawat P, Nakkhun N, Rotchanarak W. Situations, Problems, and Health care needs for Home-Bound and Bed-bound chronically illness Patients in Suratthani Municipal Community. Nursing Journal of the Ministry of Public Health. 2016; 26:54-64.
Sawatphol C, Pengpinit T, Senanikorn A, Srisuraphol W. Care for Elderly Dependents in the Northeast of Thailand. Journal of MCU 2016; 5: 387-405.
Pornkuna R, Jungoudonkarn D, Thanasetanngkul S, Rungruengkolkit S. Role and Culture Perception of Child to care of parent who has chronic Disease in Esan Culture: A Case Study in Khon Kaen Province. Journal of Nursing and Health. 2003; 26: 21-9.
Suwannakoot N. Care system for the elderly in community: case study at health promoting hospital, Tambon Meungsrikai, Umpor Varinchumrab, Ubonratchathani Province. [Independent in Master of Nursing], Faculty of Nursing, Khon kaen University; 2011.
Senchsi L, Chamusri S, Klankaradi K. The Caregivers Experiences in Self Adaptation of take care of Activity Daily Living (ADLs) of Elderly dementia in rural context. Journal of Nursing and Health Care 2017; 35: 74-81.
Vongchavalitkul B, Sanguanwongwan W, Chatchaisucha S, Limsarun T, Thaisamak S, Ruengkhajhon K. Knowledge and Attitude of the Elderly Caregivers: A Case Study of Thammapakorn Phoklang and Watmuang Elderly Care Center Nakhonratchasima Province. Journal of Business Administration 2016; 5: 74-92.
Panyathorn K. Family caregiving of the elderly in Nongtaguy Village, Maung District Udonthani Province. Journal of Nursing and Health Care. 2014; 32: 33-9.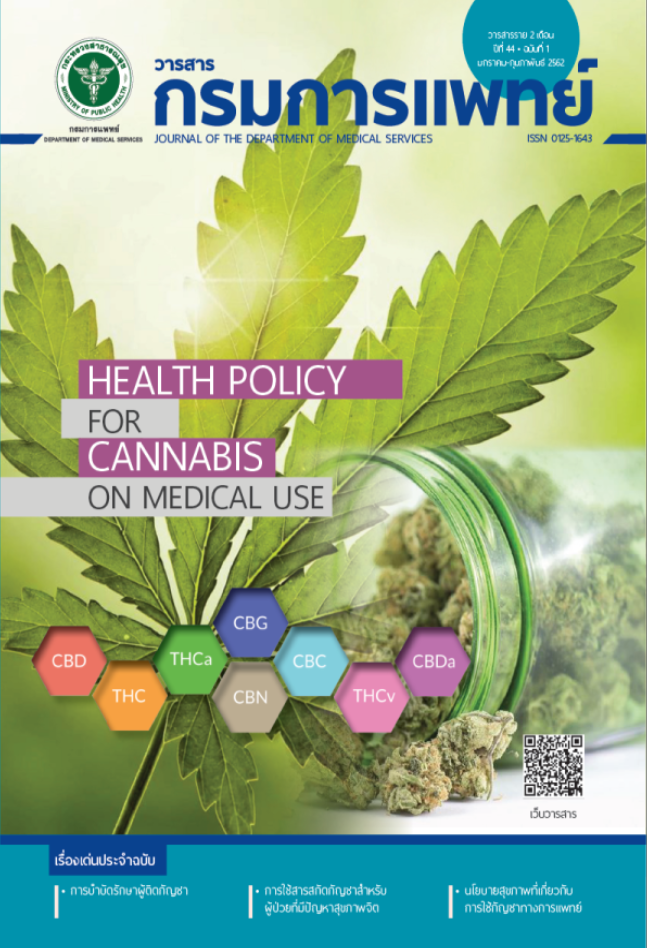 Downloads
How to Cite
1.
Turnbull N, Chuppawa W, Chada W, Kodchalee K. Factors Associated with Elderly Care from Caregivers in Chuen Chom District, Mahasarakham Province, Thailand. j dept med ser [Internet]. 2019 Feb. 1 [cited 2023 Jan. 27];44(1):127-30. Available from: https://he02.tci-thaijo.org/index.php/JDMS/article/view/247038
License
บทความที่ได้รับการตีพิมพ์เป็นลิขสิทธิ์ของกรมการแพทย์ กระทรวงสาธารณสุข
ข้อความและข้อคิดเห็นต่างๆ เป็นของผู้เขียนบทความ ไม่ใช่ความเห็นของกองบรรณาธิการหรือของวารสารกรมการแพทย์