Effectiveness of Acupuncture on Peripheral Neuropathy among Type 2 Diabetic Patients
Keywords:
Acupuncture, Numbness foot, Diabetic peripheral neuropathy
Downloads
Download data is not yet available.
References
Who.int .Geneva: Diabetes Fact sheet; 2016 [cited 2017 Jun 2]. Available from http://www.who.int/mediacentre/ factsheets/fs312/en/.
Shaw JE, Sicree RA, Zimmet PZ. Global estimates of the prevalence of diabetes for 2010 and 2030. Diabetes Res Clin Pract. 2010;87:4-14.
Who.int .Geneva: The top 10 causes of death; 2017[cited 2017 Jun 2]. Available from: http://www.who.int/mediacentre/factsheets/fs310/en/.
Who.int .Geneva: Complications of diabetes.Diabetes Programme; 2017[cited 2017 Jun 2]. Available from: http:// www.who.int/diabetes/action_online/basics/en/index3. html.
Kiatpakdee J, Leelasamran W, Permsirivanich W, Tipchatyotin S. Using 10-g monofilament to test insensate foot in diabetes mellitus type 2 patients. Journal of Thai Rehabilitation Medicine 2009;19:86-90.
Rai S, Gupta, Rai M, Birari KV. Diabetic peripheral neuropathyemerging pharmacologic options. Bombay Hospital Journal 2008;50:595-606.
Saad Javed, Uazman Alam, and Rayaz A. Malik.Treating Diabetic Neuropathy: Present Strategies and Emerging Solutions. The Review of Diabetic Studies.Journal of The Society for Biomedical Diabetes Researh. 2015 SpringSummer; 12(1-2): 63-83. Available form : https://www.ncbi. nlm.nih.gov/pmc/articles/PMC5397984/. Accessed 23 Sep 2017.
Tomlinson DR, Moriarty RJ, Mayer JH. Prevention and reversal of defective axonal transport and motor nerve conduction velocity in rats with experimental diabetes by treatment with the aldose reductase inhibitor Sorbinil.
Diabetes 1984; 33:470-6.
Boulton AJ, Malik RA, Arezzo JC, Sosenko JM. Diabetic somatic neuropathies. Diabetes Care 2004;27:1458-86.
Goto Y, Hotta N, Shigeta Y, Sakamoto N, Kikkawa R. Effects of an aldose reductase inhibitor, epalrestat, on diabetic neuropathy. Clinical benefit and indication for the drug assessed from the results of a placebo-controlled double-blind study. Biomed Pharmacother 1995;49:269-77.
Sereechettapong S. Effect of acupuncture treatment of diabetic peripheral neuropathy. J Health Sys Res 2007;1:279-83.
Bunrin S, Sakunasing J. Effect of acupuncture and foot massage for treatment of diabetic peripheral neuropathy. Journal of Health Science 2012; 21:907-16.
Crawford F, Welch K, Andras A, Chappell FM. Ankle brachial index for the diagnosis of lower limb peripheral arterial disease [cite 2017 Sep 28]. Available from: https://www. ncbi.nlm.nih.gov/pubmed/27623758.
Virasombat N, Riyachan P, Chairat P, Krongsantia P, Singthong D, et al. The Efficacy of Acupuncture in Integrated Care for Patients with Diabetic Peripheral Neuropathy at Sung Noen Hospital, Nakhon Ratchasima Province, 2012. Journal of Thai Traditional & Alternative Medicine 2014;12(3):231-40.
Tanakornnuwat S, Hua W, Ping F, Jiakang L, Fengxia L. The Effectiveness of Acupuncture in Diabetic Peripheral Neuropathy. Journal of Thai Traditional & Alternative Medicine 2012;10: 177-86.
White A, Cummings M, Filshie J. An introduction to Western medical acupuncture. Edinburgh: Churchill Livingstone Elsevier; 2008:17-25.
Carlsson C. Acupuncture mechanisms for clinically relevant long-term effectsdreconsideration and a hypothesis. Acupunct Med 2002; 20:82-99.
Sato A, Schmidt RF. The modulation of visceral functions by somatic afferent activity. Jpn J Physiol 1987;37:1-17.
Sato A. Neural mechanisms of autonomic responses elicited by somatic sensory stimulation. Neurosci Behav Physiol 1997;27:610-21.
Li P, Longhurst JC. Neural mechanism of electroacupuncture's hypotensive effects. Auton Neurosci 2010;157:24-30.
Zhou W, Fu LW, Tjen-A-Looi SC, Li P, Longhurst JC. Afferent mechanisms underlying stimulation modalityrelated modulation of acupuncture-related cardiovascular responses. J Appl Physiol 2005;98:872-80.
Cabioglu MT, Ergene N, Tan U. Smoking cessation after acupuncture treatment. Int J Neurosci 2007;117:571-8.
Yang CH, Lee BH, Sohn SH. A possible mechanism underlying the effectiveness of acupuncture in the treatment of drug addiction. Evid Based Complement Alternat Med 2008;5:257-66.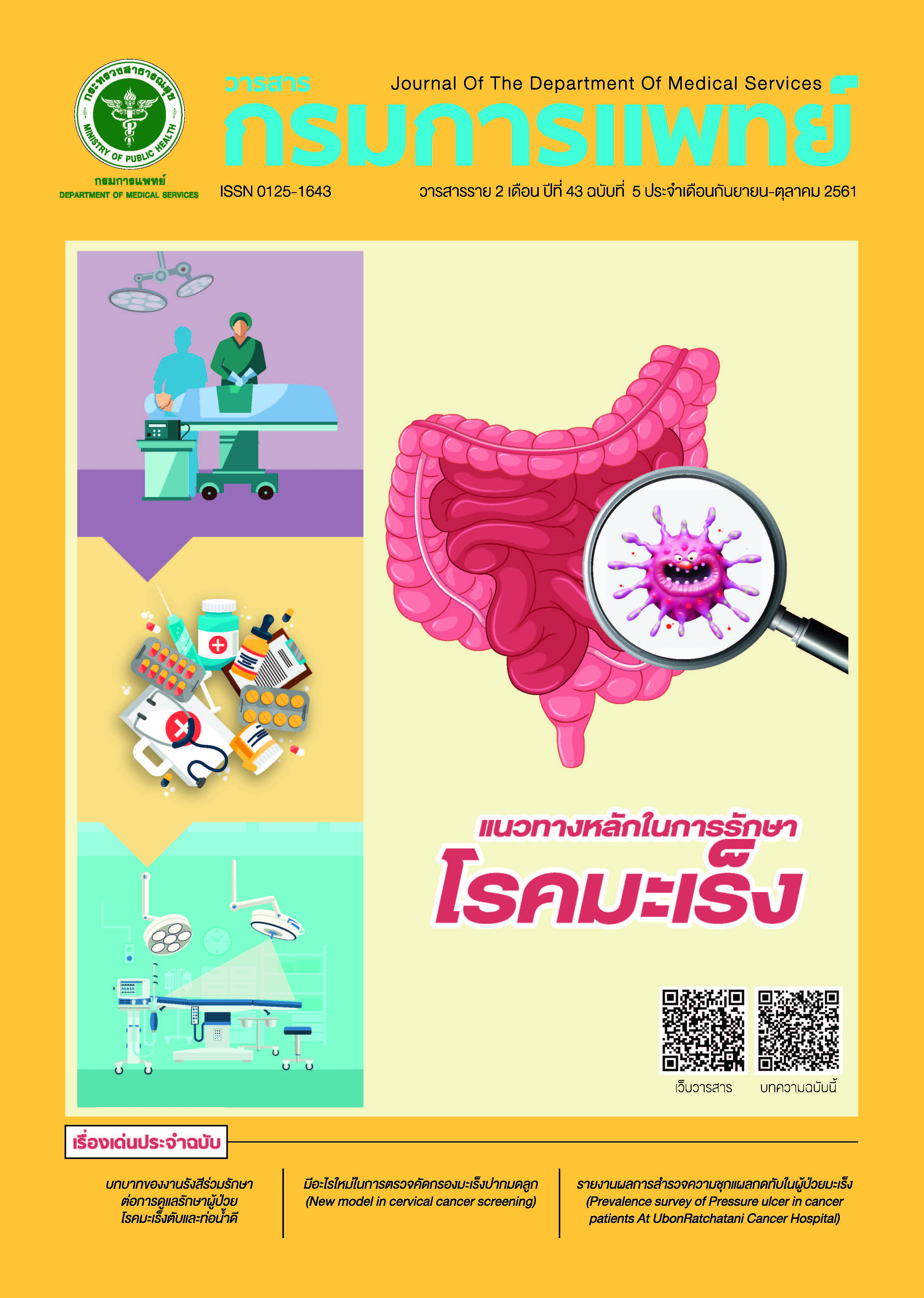 Downloads
How to Cite
1.
ภัทรพร ริมชลา พ.บ. Effectiveness of Acupuncture on Peripheral Neuropathy among Type 2 Diabetic Patients. j dept med ser [Internet]. 2018 Oct. 1 [cited 2022 Aug. 15];43(5):40-4. Available from: https://he02.tci-thaijo.org/index.php/JDMS/article/view/247759
License
บทความที่ได้รับการตีพิมพ์เป็นลิขสิทธิ์ของกรมการแพทย์ กระทรวงสาธารณสุข
ข้อความและข้อคิดเห็นต่างๆ เป็นของผู้เขียนบทความ ไม่ใช่ความเห็นของกองบรรณาธิการหรือของวารสารกรมการแพทย์