Term Neonatal Jaundice Screening by Transmission Transcutaneous Bilirubinometer
Keywords:
Neonatal non-hemolytic jaundice, Phototherapy with T8 (18 watt) fluorescent tubes mounted on light reflecting lamp holder
Downloads
Download data is not yet available.
References
Brown AK, Kim MH, Wu PY, Bryla DA. Efficacy of phototherapy in prevention and management of neonatal hyperbilirubinemia. Pediatrics 1985;75:393-400.
Cockington RA. A guide to the use of phototherapy in the management of neonatal hyperbilirubinemia. J Pediatr 1979;95:281-5.
Petersen JR, Okorodudu AO, Mohammad AA, Fernando A, Shattuck KE. Association of transcutaneous bilirubin testing in hospital with decreased readmission rate for hyperbilirubinemia. Clin Chem. 2005;51:540-4.
el-Beshbishi SN, Shattuck KE, Mohammad AA, Petersen JR. Hyperbilirubinemia and transcutaneous bilirubinometry. Clin Chem 2009;55:1280-7.
Sanpavat S , Find all citations by this author (default). Or filter your current search Nuchprayoon I. Noninvasive transcutaneous bilirubin as a screening test to identify the need for serum bilirubin assessment. J Med Assoc Thai 2004; 87:1193-8. 20
Janjindamai W, Tansantiwong T. Accuracy of transcutaneous bilirubinometer estimates using BiliCheck in Thai neonates. J Med Assoc Thai 2005; 88:187-90.
Sanpavat S, Nuchprayoon I. Comparison of two transcutaneous bilirubinometers--Minolta AirShields Jaundice Meter JM103 and Spectrx Bilicheck--in Thai neonates. Southeast Asian J Trop Med Public Health 2005;36:1533-7.
Dai J, Parry DM, Krahn J. Transcutaneous bilirubinometry: its role in the assessment of neonatal jaundice. Clin Biochem. 1997;30:1-9.
Bhutani VK, Johnson L, Sivieri EM. Predictive ability of a predischarge hour-specific serum bilirubin for subsequent significant hyperbilirubinemia in healthy term and near-team newborns. Pediatrics 1999;103:6-14.
Bhutani VK, Gourley GR,Adler S,Kreamer B, Dalin C, Johnson LH. Noninvasive measurement of total serum bilirubin in a multiracial predischarge newborn population to assess the risk of severe hyperbilirubinemia. Pediatrics 2000;106:E17
Briscoe L, Clark S, Yoxall CW. Can trancutaneous bilirubinometry reduce the need blood tests in jaundiced full term babies? Arch Dis Child Fetal Neonatal Ed 2002;86:F190-2.
Yamanouchi I, Yamauchi Y, Igarachi I. . Transcutaneous bilirubinometry: preliminary studies of noninvasive transcutaneous bilirubin metry in the Okayama National Hospital. Pediatrics 1980;65:195-202.
Saengaroon P, Barlee A. Transcutaneous bilirubinometry in Thai neonates. J Pedi Society of Thailand 1983;22:19-24.
Kolatat T, Vanaprapa N, Inchargm L. Transcutaneous bilirubinometry. Effect of postnatal age serum bilirubin concentration. Siriraj Hosp Gaz 1994;46:597-60.
Janjindamai W. Transcutaneous bilirubin measurements in fullterm neonate. Songkla Med J 2001;19:61-7.
Pirunnet T, Chamnanvanakij S, Saengaroon P. Screening of neonatal Jaundice Using Transcutaneous Bilirubinometry. RTA Med J 2005;58: 95-100.
Yooprasert J, Chareonsiriwat V. Relationship between transmission transcutaneous bilirubin (tTcB) and total serum bilirubin (TSB) meausurement. Thai Journal of Pediatrics 2015;54:50-7.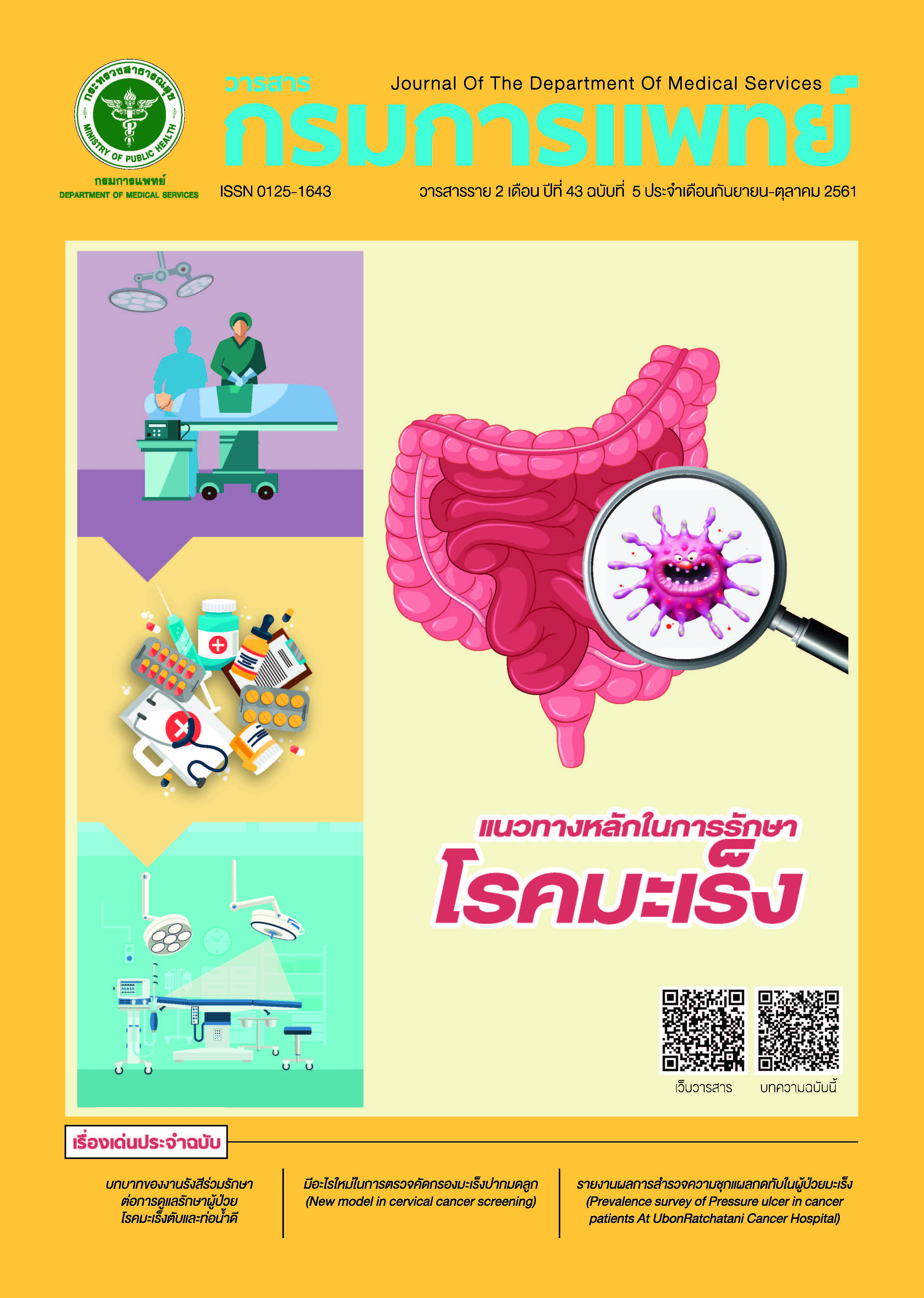 Downloads
How to Cite
1.
Charoensiriwat V. Term Neonatal Jaundice Screening by Transmission Transcutaneous Bilirubinometer. j dept med ser [Internet]. 2018 Oct. 1 [cited 2022 Oct. 7];43(5):45-8. Available from: https://he02.tci-thaijo.org/index.php/JDMS/article/view/247760
License
บทความที่ได้รับการตีพิมพ์เป็นลิขสิทธิ์ของกรมการแพทย์ กระทรวงสาธารณสุข
ข้อความและข้อคิดเห็นต่างๆ เป็นของผู้เขียนบทความ ไม่ใช่ความเห็นของกองบรรณาธิการหรือของวารสารกรมการแพทย์