The Patient's Behaviour, Expectation, and Satisfaction on the Service Quality of Physical Therapy Services in Government Hospitals Under the Office of the Permanent Secretary, Ministry of Public Health, Western Thailand
Keywords:
Physical therapy services, Expectations, Satisfaction
Downloads
Download data is not yet available.
References
Basic information of hospitals under the Office of the Permanent Secretary, Ministry of Public Health. [online]. Bangkok: Ministry of Public Health; 2017. [cite 2017 Dec 12]. Available from: https://phdb.moph.go.th/phdb2017/ force_down.php?f_id=314.
Physical Therapy Clinic. [online]. Bangkok: Physical Therapy Association of Thailand;2017. [cite 2017 Dec 12]. Available from: http://www.thaipt.org/index.php?module=-clinic.
Population-based evidence of registration, announced December 31, 2016. [online]. Bangkok: Department of Administration, Ministry of Interior; 2017. [cite 2017 Dec 12].Available from : http://stat.bora.dopa.go.th/stat/y_ stat59.htm.
Explore hospitals and private hospitals. [online]. Bangkok: National Statistical Office; 2012. [cite 2017 Dec 12].Available from: http://service.nso.go.th/nso/web/survey/ surpop2-4-6.html.
Banlu S, Ladda D. Thailand elderly in 2016. [online].Bangkok: Foundation for Thai Elderly Research and Development Institute;2013. [cite 2017 Dec 12]. Available from: https://fopdev.or.th.
Physical Therapy Act BE 2004. Special Issue Volume 121, Part 65. 22 October 2004.
Parasuraman A. Zeithaml VA, Berry LL. A Multiple Item Scale for Measuring Customer Perceptions of Service Quality. Marketing Science Institute. Working Paper Report: August. V64; 198:1-408.
Kotler P. Marketing Management Analysis, Planning, Implementation and Control. New Jersey: A Simon & Schuster Company; 1997
Gronroos C. Service quality. The six criteria of good perceived service quality. Review of Business;1988.
Cochran WG. Sampling Techniques. New York: John Wiley & Sons. Inc; 1953.
Pitipol P. Factors affecting the decision to use the service. Physiotherapy Clinic of Bangkok Population. Journal of Finance, Investment, Marketing and Business Administration, 3(2): 413-430
Phanomyom T. Satisfaction of relatives on the quality of service. Physical Therapy of Ang Thong Hospital Master's Dissertation, Phranakhon Si Ayutthaya Rajabhat University, Phranakhon Si Ayutthaya, Thailand; 2009.
Raktai N. Expectations and perceptions of service recipients on quality of private hospital services Western Thailand. Master's Dissertation, Stamford International University Hua-Hin campus. Phetchaburi, Thailand; 2016.
Khanjai A. Expectations and Perceived Quality of Services of Insured Lamphun Hospital, Lamphun Province. National and International Conference Interdisciplinary Researches for local development Sustainability, Northern Rajabhat University Network, 15th July 23 2015; Nakhon Sawan Rajabhat University. Nakhon Sawan; 2015. p 221-35.
Pargpreaw S. Quality of service and satisfaction toward outpatient services in Siriraj hospital. Master's Dissertation, Bangkok University, Bangkok, Thailand; 2011
Sroysing K. Customer's Expectations and Perception towards Satisfaction of hotel's service Quality in Pattaya city, Chonburi province. Dusit Thani College Journal 2018; 10: 216-38.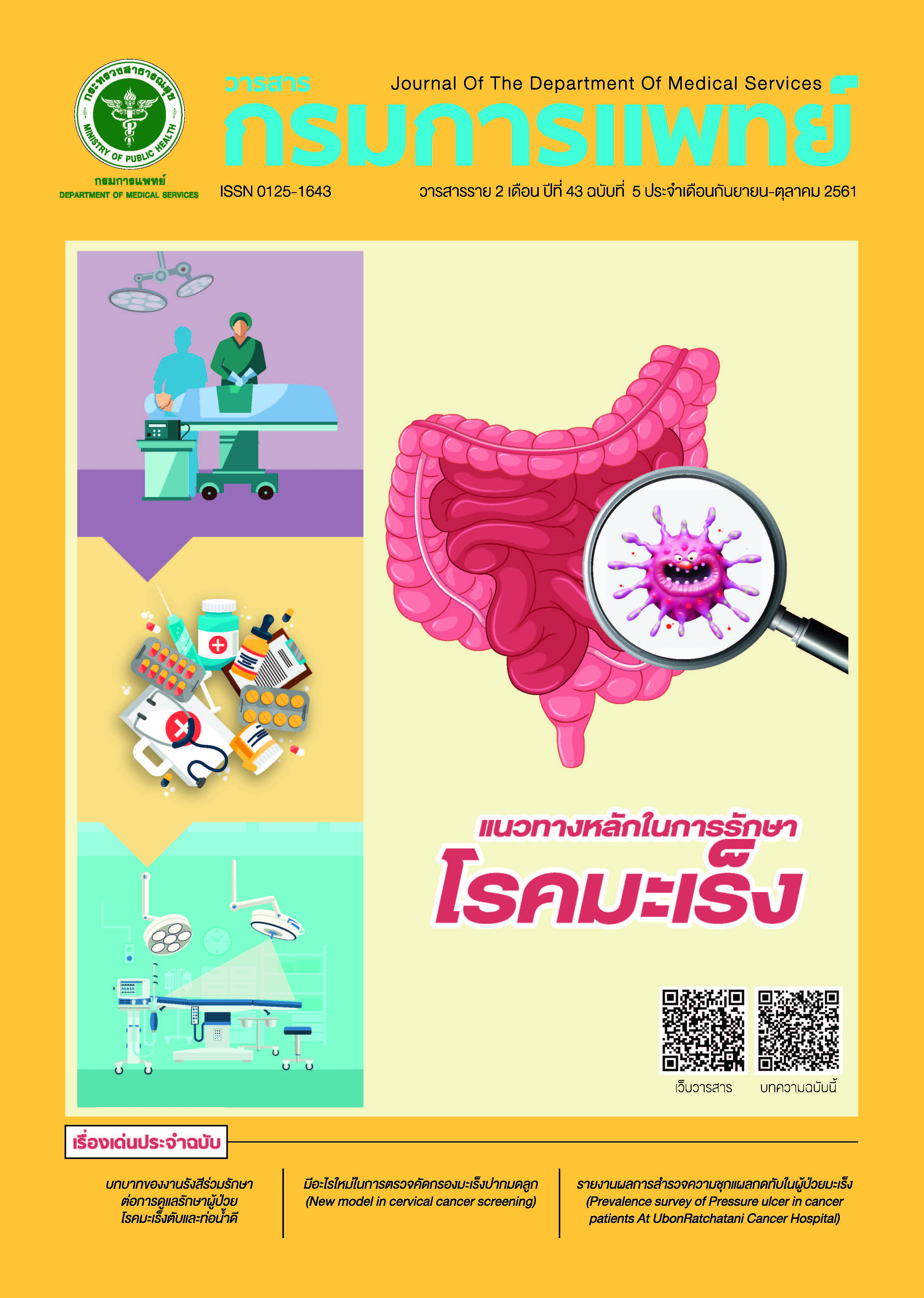 Downloads
How to Cite
1.
Leungnarutai W, Bunjongmanee P. The Patient's Behaviour, Expectation, and Satisfaction on the Service Quality of Physical Therapy Services in Government Hospitals Under the Office of the Permanent Secretary, Ministry of Public Health, Western Thailand. j dept med ser [Internet]. 2018 Oct. 1 [cited 2022 Oct. 1];43(5):67-74. Available from: https://he02.tci-thaijo.org/index.php/JDMS/article/view/247778
License
บทความที่ได้รับการตีพิมพ์เป็นลิขสิทธิ์ของกรมการแพทย์ กระทรวงสาธารณสุข
ข้อความและข้อคิดเห็นต่างๆ เป็นของผู้เขียนบทความ ไม่ใช่ความเห็นของกองบรรณาธิการหรือของวารสารกรมการแพทย์