Hemiplegic Clients' Experiences after the Virtual Reality (Gyro Roller) Rehabilitation on Activities of Daily Living: Qualitative Study
Keywords:
Hemiplegic clients, Virtual reality technology, Occupational therapy
Downloads
Download data is not yet available.
References
Mayo NE, Wood-Dauphinee S, Ahmed S, Gordon C, Higgins J, McEwen S. Disablement following stroke. Disabil Rehabil 1999; 21:258-68.
Latham NK, Jette DU, Coster W, Richards L, Smout RJ, James RA. Occupational therapy activities and intervention techniques for clients with stroke in six rehabilitation hospitals. Am J Occup Ther 2006; 60:369-78.
Legg L, Drummond A, Langhorne P. Occupational therapy for patients with problems in activities of daily living after stroke. Cochrane Database Syst Rev 2006; 4:CD003585.
Wicock A. Occupational and health: Are they one and the same? J Occup Sci 2007;14:3-8.
Yano H, Yoshie M, Iwata H, editors. Development of a Nongrounded Haptic Interface Using the Gyro Effect. The 11th Symposium on Haptic Interface for Virtual Environment and Teleoperator System (HAPTICS'03); 2003; Tsukuba, Japan: IEEE Computer Society.
Akinwuntan AE, De Weerdt W, Feys H, Pauwels J, Baten G, Arno P, et al. Effect of simulator training on driving after stroke: a randomized controlled trial. Neurology 2005; 65:843-50.
Ritthipravat P, Rohitasathira N, Sarincarinkul T. Stroke rehabilitation system: Upper Extremity. Thai Governmental Research Funds (Budget); 2014.
Parahoo K. Nursing Research: Principles, Process and Issues. 2, editor. Basingstoke: Palgrave; 2006.
Wiss P, Kizony R, Feintuch U, Katz N. Virtual reality in neurorehabilitation In: Selzer M, Cohen L, Clarke S, Duncan P, Gage G, editors. Textbook of neural repair and rehabilitation Cambridege and NY: Cambridge University Press; 2006. p. 182-97.
Sakunhongsophon S, Ananthachock S, K. H. Selected Factors, Activities of Daily Living and Complications in Stroke Survivors at Home. Journal of Nursing and Education 2011; 4:37-52.
Leelacharas S, Virunrach C. Stroke: Nursing Care and Advice. Journal of Public Health Nursing 2007;21:80-93.
Dajpratham P, Meenaphant R, Junthon P, Pianmanakij S, Jantharakasamjit S, Yuwan A. The inter-rater reliability of Barthel Index (Thai version) in stroke patients. J Thai Rehabil 2006; 16: 1-9.
Braun V, Clarke V. Using thematic analysis in psychology. Qualitative research in psychology 2006; 3:77-101.
Fereday J, Muir-Cochrane E. Demonstrating rigor using thematic analysis: A hybrid approach of inductive and deductive coding and theme development. Int J Qual Methods 2006; 5:1-11.
Daly J, Kellehear A, Gliksman M. The public health researcher: A methodological approach. Melbourne, Australia: Oxford University Press; 1997.
Fager SK, Burnfield JM. Patients' experiences with technology during inpatient rehabilitation: opportunities to support independence and therapeutic engagement. Disabil Rehabil Assist Technol 2014; 9:121-7.
Celinder D, Peoples H. Stroke patients' experiences with Wii Sports® during inpatient rehabilitation. Scand J Occup Ther 2012; 19:457-63.
Wingham J, Adie K, Turner D, Schofield C, Pritchard C. Participant and caregiver experience of the Nintendo Wii SportsTM after stroke: qualitative study of the trial of WiiTM in stroke (TWIST). Clin Rehabil 2015; 29:295-305.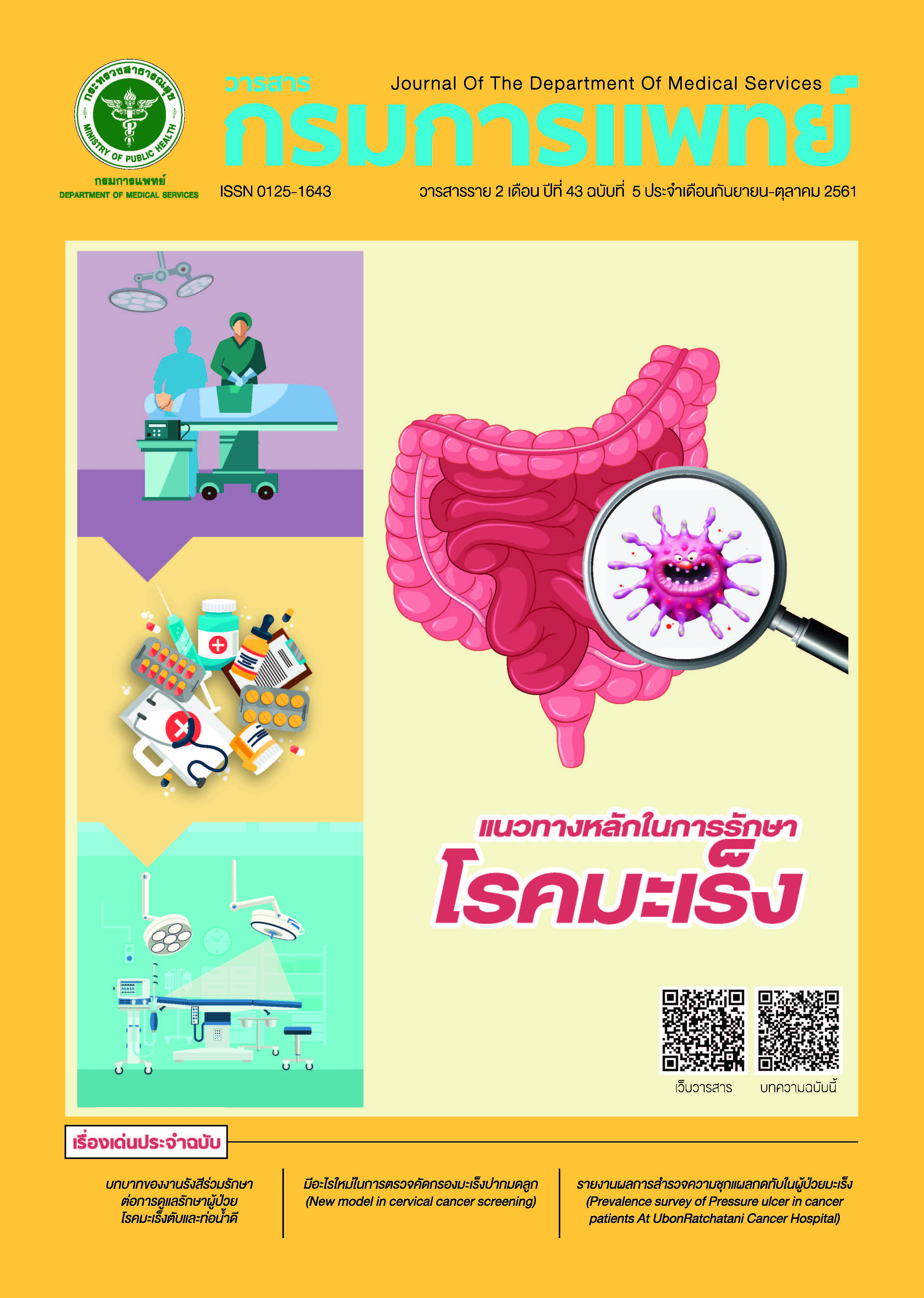 Downloads
How to Cite
1.
Kaunnil A, Ritthipravat P, Thongchoomsin S, Thichanpiang P, Sansri V. Hemiplegic Clients' Experiences after the Virtual Reality (Gyro Roller) Rehabilitation on Activities of Daily Living: Qualitative Study. j dept med ser [Internet]. 2018 Oct. 1 [cited 2022 Oct. 6];43(5):87-93. Available from: https://he02.tci-thaijo.org/index.php/JDMS/article/view/247781
License
บทความที่ได้รับการตีพิมพ์เป็นลิขสิทธิ์ของกรมการแพทย์ กระทรวงสาธารณสุข
ข้อความและข้อคิดเห็นต่างๆ เป็นของผู้เขียนบทความ ไม่ใช่ความเห็นของกองบรรณาธิการหรือของวารสารกรมการแพทย์