Sensitivity of Routine Chest Radiographs with Clinical History for Screening Cardiothoracic Abnormalities in Central Chest Institute of Thailand
Keywords:
Screening, Chest X-ray/Chest radiographs, Cardiothoracic diseases/Abnormalities, Sensitivity
Downloads
Download data is not yet available.
References
Chen EA, Carlson GA, Coughlin BF, Reed WP Jr, Garb JL, Garb JL, et al. Routine chest roentgenography is necessary in the workup of stage I and II breast cancer. L clin Oncol 2001; 19:1234.
Tungsagunwattana S, Vijitsanuan C, Suphannachart P, Chuchottaworn C, Uttawet S, Screening chest radiographs: accuracy in pulmonary tuberculosis. Chest Disease Institute Journal 2008;6:21-7.
Garcia-Miguel FJ, Garcia Caballero J, Gomez de Caso-Canto JA. Indications for thoracic radiography in the preoperative evaluation for elective surgery. Rev Esp Anestesiol Reanim 2002;49:80-8.
Bouillot JL, Fingerhut A, Paquet JC, Hay JM, Coggia M. Are routine preoperative chest radiographs useful in general surgery? A prospective, multicentre study in 3959 patients. Association des Chirurgiens de I' Assistance Publique pour les Evaluations medicales. Eur J Surg 1996;162 :597-604.
Escolano F, Alonso J, Gomar C, Sierra P, Castillo J, Castano J. Usefulness of preoperative chest radiography in elective surgery. Rev Esp Anestesi ol Reanim 1994;41:7-12.
Henschke CI, Yankelevitz DF, Wand A, Davis SD, Shiau M. Chest radiography in the ICU. Clin Imaging 1997;21:90-103.
Graat ME, Stoker J, Vroom MB, Schultz MJ. Can we abandon daily routine chest radiography in intensive care patients? J Intensive Care Med 2005;20:238-46.
Geijer M, Jensen C, Schlossman D. Chest radiography in the intensive care unit. Indications for radiography and effects of select archiving of films. Acta Radiol 1990; 31:321-3.
Greenbaum DM, Marschall KE. The value of routine chest x-rays in intubated patients in the medical intensive care unit. Crit Care Med 1982;10:29-30.
Henschke CI, Yankelevitz DF, Wand A, Davis SD, Shiau M. Accuracy and efficacy of chest radiography in the intensive care unit. Radiol Clin North Am 1996;34:21-31.
Sliwa JA, Mason K, Yarkony G, Press J, Lovell L. The value of routine chest roentgenograms on admission for rehabilitation after treumatic spinal cord injury. Am J Phys Med Rehabil 1994;73:84-8.
Hubbell FA, Greenfield S, Tyler JL, Chetty K, Wyle FA. The impact of routine admission chest x-ray films on patient care. N Engl J Med 1985;312:209-13.
Par k SY, Sm ith R V. Co mpar ison of p ostop erati ve cardiopulmonary examinations and chest radiographs to detect pulmonary complications after adult tracheotomy.Otolaryngol Head Neck Surg 1999;121:274-6.
Izbicki G, Shitrit D, Yarmolovsky A, Bendayan D, Miller G, Fink G, et al. Is routine chest radiography after tranbronchial biopsy necessary? : A prospect study of 350 cases. Chest 2006; 129:1561-4.
Panich A, Panjasawadwong Y. Routine preoperative chest roentgenogram and its impact on intraoperative complications. J Med Assoc Thai 1994;77:477-83.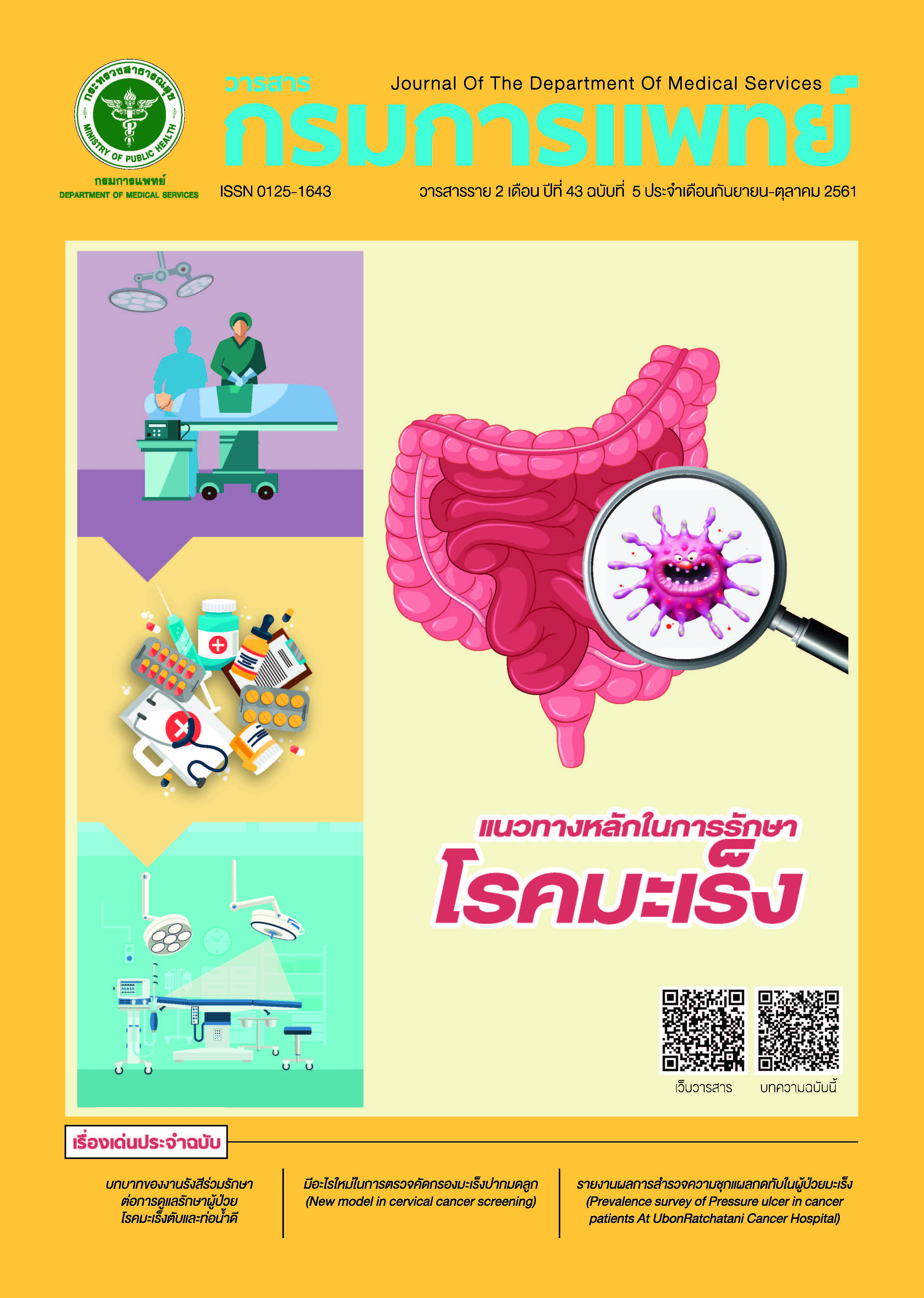 Downloads
How to Cite
1.
Tungsagunwattana S, Hairunpijit S, Atthawet S. Sensitivity of Routine Chest Radiographs with Clinical History for Screening Cardiothoracic Abnormalities in Central Chest Institute of Thailand. j dept med ser [Internet]. 2018 Oct. 1 [cited 2022 Oct. 7];43(5):94-8. Available from: https://he02.tci-thaijo.org/index.php/JDMS/article/view/247782
License
บทความที่ได้รับการตีพิมพ์เป็นลิขสิทธิ์ของกรมการแพทย์ กระทรวงสาธารณสุข
ข้อความและข้อคิดเห็นต่างๆ เป็นของผู้เขียนบทความ ไม่ใช่ความเห็นของกองบรรณาธิการหรือของวารสารกรมการแพทย์