Life Experiences of Burn Patients who had Deprived of Organ(s) and Become Handicapped: Multi - Cases Study at a Northeastern Hospital
Keywords:
Lived experience, Burn patients who had deprived of organs and become a handicapped
Downloads
Download data is not yet available.
References
Suntikarn. Accident and solutions in Thailand. (internet). (cited 28 April.2015). Available from: www.healthcarethai. com
Supaporn Opasanon and Pornprom Muangman. Severe Electrical Injury: case report and review. Burn and Wound Healing Association (Thailand). 2008; 2:14-25.
Edlich RF, Farinhott HM, Winters KL., Britt LD, Long WB 3 rd.Modern concepts of treatment and prevention of electrical burn. J Long Term Eff Med Implants 2005; 15: 511-32.
Baillie SE, Sellwood W,Wisely JA. Post-traumatic growth in adults following a burn. Burns 2014: 1089-96.
Mustoe TA, Cooter RD, Gold MH, Hobbs FD, Ramelet AA, Shakespeare PG, et al. International clinical recommendations on scar management. Plast Reconstr Surg 2002; 110:560-71.
Rashid A, Khanna A, Gowar JP, Bull JP. Revised estimates of mortality from burns in the last 20 years at the Birmingham Burns Centre. Burns 2001; 27: 723-30.
Suwannachote S, Benjathanang R, kittidecha S, Thangthed O. Health assessment of burn patients. Burn and Wound Healing Association (Thailand) 2009; 3: 14-28.
Dyster-Aas J, Kildal M, Willebrand M. Return to work and health – related quality of life after burn injury. J Rehabil Med 2007; 39: 49-55.
Patterson D.R., Ptacek J.T., Cromes F., Fauerbach J.A., Engrav L. The 2000 Clinical Research Award. Describing and predicting distress and satisfaction with life for burn survivors. Journal of Burn Care and Rehabilitation 2000; 21: 490-8.
Elsherbiny OE, Salem MA, El-Sabbagh AH, Elhadidy MR, Eldeen SM. Quality of life of adult patients with severe burns. Burns 2011; 37:776-89.
Pavoni V, Gianesello L, Paparetta L, Buoninsegni LT, Barboni E. Outcome predictors and quality of life of severe burn patients admitted to intensive care unit. Scand J Trauma Resusc Emerg Med 2010; 18 : 24.
Wiwatthanasittipong M. My Experience and Proposal Opinions in Treatment of Burn in Regional Hospital: Sunpasitthiprasong Hospital Ubonratchathani: Burn unit. Approaches toward the better care of burn and wound. Bangkok; 2012.
Jirawathkul S. Qualitative study in nursing. Bangkok; 2012.
Ututamasaropikkhu. Buthdavajana: Teach from the words of Buthda and khamma. (internet). (cited 20 Dec.2017) Available from: https://www.google.co.th/search?tbm.
Luang por Dee- tesana. Thammaperdkhammbundarn. (internet). (cited 20 Dec.2017) Available from: https:// soundcloud.com/user-970991101/uv2lnoghcsok
Srimuninnimit W. Management of burn wounds: Basic plastic surgery the 6th eds. Plastic surgery center Ramathibodi hospital; 2007.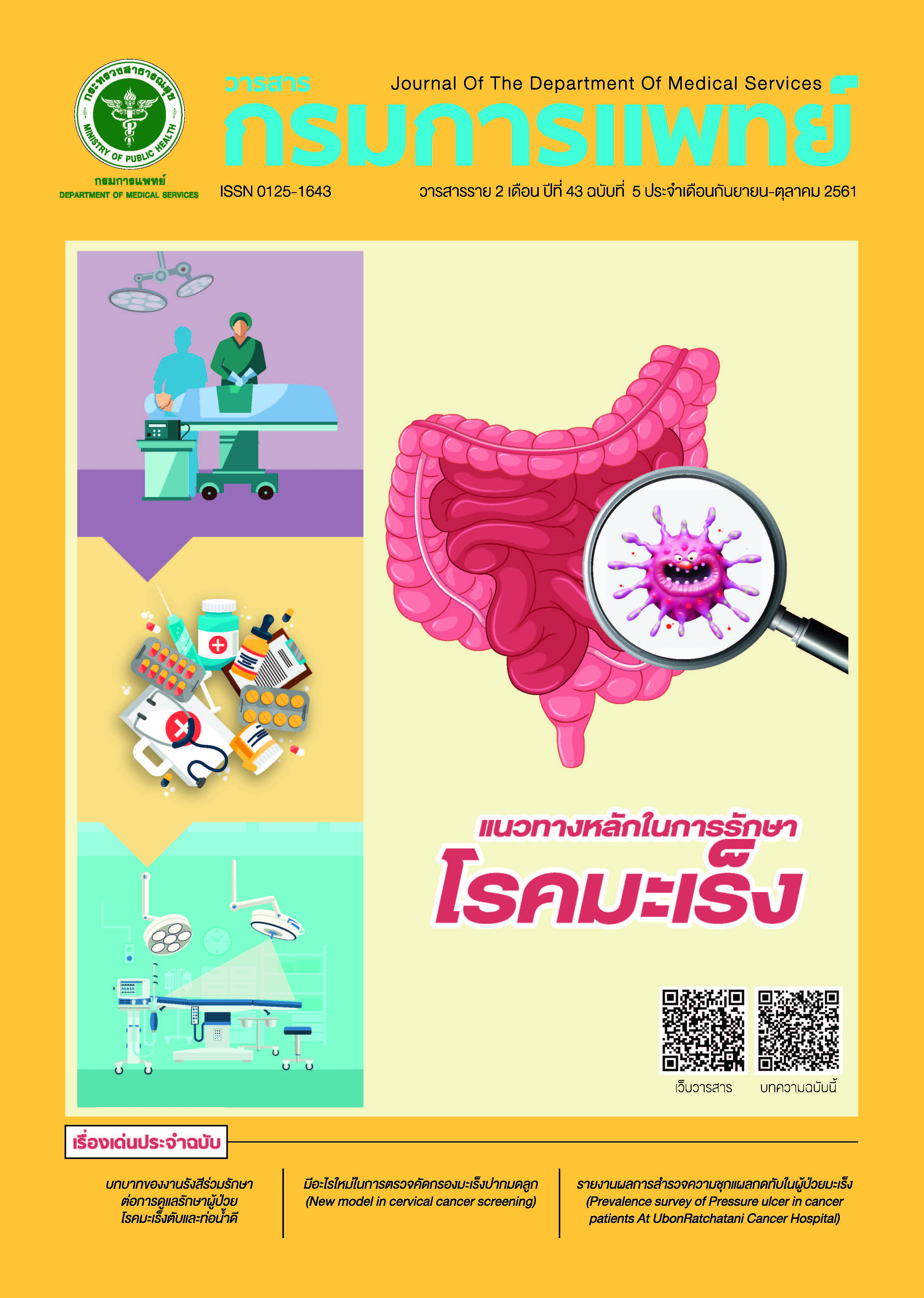 Downloads
How to Cite
1.
นภดล คำเติม พย.ม. Life Experiences of Burn Patients who had Deprived of Organ(s) and Become Handicapped: Multi - Cases Study at a Northeastern Hospital. j dept med ser [Internet]. 2018 Oct. 1 [cited 2022 Aug. 10];43(5):131-6. Available from: https://he02.tci-thaijo.org/index.php/JDMS/article/view/247851
License
บทความที่ได้รับการตีพิมพ์เป็นลิขสิทธิ์ของกรมการแพทย์ กระทรวงสาธารณสุข
ข้อความและข้อคิดเห็นต่างๆ เป็นของผู้เขียนบทความ ไม่ใช่ความเห็นของกองบรรณาธิการหรือของวารสารกรมการแพทย์