Risk Factors of Older People with Hip Fracture in Lerdsin Hospital
Keywords:
Osteoporosis, Fragility fracture
Downloads
Download data is not yet available.
References
Randell A, Sambrook PN, Nguyen TV, Lapsley H, Jones G, Kelly PJ, et al. Direct clinical and welfare costs of osteoporotic fractures in elderly men and women. Osteoporos. Int. 1995; 5: 427-32.
Pongchaiyakul C, Nguyen ND, Eisman JA, Nguyen TV. Clinical risk indices, prediction of osteoporosis, and prevention of fractures: diagnostic consequences and costs. Osteoporosis Int. 2005; 16: 1444-50.
Songpatanasilp T. Thai Osteoporosis Foundation (TOPF) position statements on management of osteoporosis. Osteoporosis and Sarcopenia 2016; 2: 191-207.
Center JR, Nguyen TV, Schneider D, Sambrook PN, Eisman JA. Mortality after all major types of osteoporotic fracture in men and women: an observational study. Lancet 1999; 353: 878-82.
Wongtriratanachai P, Luevitoonvechkij S, Songpatanasilp T, Sribunditkul S, Leerapun T, Phadungkiat S, et al. Increasing incidence of hip fracture in Chiang Mai Thailand. J Clin Densitom 2013; 16: 347-52.
Colón-Emeric C, Kuchibhatla M, Pieper C, Hawkes W, Fredman L, Magaziner J, et al. The contribution of hip fracture to risk of subsequent fractures: data from two longitudinal studies. Osteoporos Int 2003; 11: 879-83.
Amphansap T, Stitkitti N, Dumrongwanich P. Evaluation of Police General Hospital's Fracture Liaison Service: The first study of a Fracture Liason Service in Thailand. Osteoporosis and Sarcopenia 2016; 2: 238-43.
Hendrickx G, Boudin E, Van Hul W. A look behind the scenes: the risk and pathogenesis of primary osteoporosis. Nat Rev Rheumatol 2015; 11: 462-74.
Morley JE, Anker SD, von Haehling S. Prevalence, incidence, and clinical impact of sarcopenia: facts, numbers, and epidemiology-update 2014. J Cachexia Sarcopenia Muscle 2014; 5: 253-9.
Chung M, Lee J, Terasawa T, Lau J, Trikalinos TA. Vitamin D with or without calcium supplementation for prevention of cancer and fractures: an updated meta-analysis for the U.S. Preventive Services Task Force. Ann Intern Med 2011; 155: 827-38.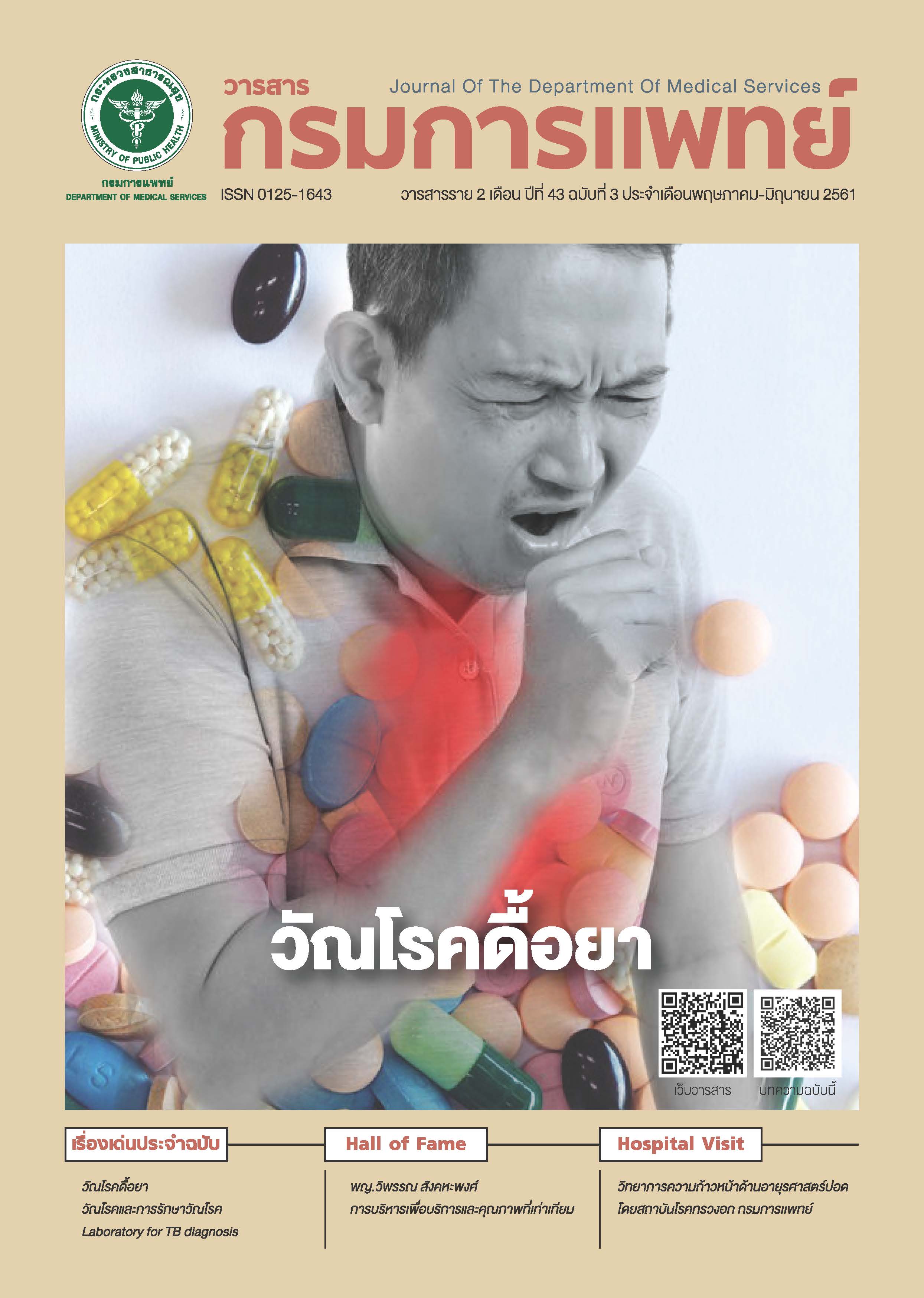 Downloads
How to Cite
1.
Anusornvongchai T. Risk Factors of Older People with Hip Fracture in Lerdsin Hospital . j dept med ser [Internet]. 2018 Jun. 1 [cited 2022 Sep. 27];43(3):56-9. Available from: https://he02.tci-thaijo.org/index.php/JDMS/article/view/248020
License
บทความที่ได้รับการตีพิมพ์เป็นลิขสิทธิ์ของกรมการแพทย์ กระทรวงสาธารณสุข
ข้อความและข้อคิดเห็นต่างๆ เป็นของผู้เขียนบทความ ไม่ใช่ความเห็นของกองบรรณาธิการหรือของวารสารกรมการแพทย์