Risk Factors of Falling in Post Stroke Patients after Discharge from the Hospital
Keywords:
Incidence, Stroke, Falling
Downloads
Download data is not yet available.
References
Hanchaiphiboolkul S, Poungvarin N, Nidhinandana S, Suwanwela NC, Puthkhao P, Towanabut S, et al. Prevalence of stroke and stroke risk factors in Thailand: Thai Epidemiologic Stroke (TES) Study. J Med Assoc Thai 2011; 94:427-36.
อมรา ทองหงษ์, กมลชนก เทพสิทธา, ภาคภูมิ จงพิริยะอนันต์. รายงานการเฝ้าระวังโรคไม่ติดต่อเรื้อรัง ปี พ.ศ. 2555. รายงานการเฝ้าระวังระบาดวิทยาประจำสัปดาห์ 2556; 44:145-52.
World Health Organization. Global Atlas on cardiovascular disease prevention and control. Geneva: World Health Organization; 2013.
อภิฤดี จิวะวิโรจน์, ณิชาภัตร พุฒิคามิน. การศึกษาความเสี่ยงต่อการหกล้มในผู้ป่วยโรคหลอดเลือดสมองระยะฟื้นฟูสภาพ. วารสารสมาคมประสาทวิทยาศาสตร์ ภาคตะวันออกเฉียงเหนือ 2556; 8:26-34.
Davenport RJ, Dennis MS, Wellwood I, Warlow CP. Complications after acute stroke. Stroke 1996; 27:415-20.
Schmid AA, Rittman M. Consequences of post stroke falls: activity limitation, increased dependence, and the development of fear of falling. Am J Occup Ther2009; 63:310-6.
Sze KH, Wong E, Leung HY, Woo J. Falls among Chinese stroke patients during rehabilitation. Arch Phys Med Rehabil 2001; 82:1219-25.
Belgen B, Beninato M, Sullivan PE, Narielwalla K. The association of balance capacity and falls self- efficacy with history of falling in community-dwelling people with chronic stroke. Arch Phys Med Rehabil 2006; 87:554-61.
Bergland A. Fall risk factors in community-dwelling elderly people. Norsk Epidemiologi 2012; 22:151-64.
Ocha W, Arayawichanon P, Manimanakorn N. Incidence of Falling in Stroke Patients after Discharge. J Thai Rehabil Med2010; 20:15-9.
Hyndman D, Ashburn A, Stack E. Fall events among people with stroke living in the community:circumstances of falls and characteristics of fallers. Arch Phys Med Rehabil 2002; 83:165-70.
Teasell R, McRae M, Foley N, Bhardwaj A. The incidence and consequences of falls in stroke patients during inpatient rehabilitation: factors associated with high risk. Arch Phys Med Rehabil 2002; 83:329-33.
Forster A, Young J. Incidence and consequences of falls due to stroke: a systematic inquiry. Br Med J. 1995; 311:83-6.
ชนากานต์ บุญนุช , ยุวดี เกตสัมพันธ์, สุทธิพล อุดมพันธุรัก,จุฬาภรณ์ พูลเอี่ยม, ปรีชญา พลเทพ. ขนาดกลุ่มตัวอย่างในงานวิจัยเชิงปริมาณ. เอกสารชุมชนนักปฏิบัติ คณะแพทยศาสตร์ ศิริราชพยาบาล มหาวิทยาลัยมหิดล. กรุงเทพมหานคร: โรงพยาบาลศิริราช; 2554.
Thiamwong L. Psychometric testing of the Falls Efficacy Scale-International (FES-I) in Thai older adults.Songkla Med J 2011; 29:277-87.
Jalayondeja C, Sullivan PE, Pichaiyongwongdee S. Sixmonth prospective study of fall risk factor identification in patients post-stroke. Geriatr Gerontol Int 2014; 14:778-85.
Chaiwanichsiri D, Jiamworakul A, Kitisomprayoonkul W. Falls among stroke patients in Thai Red Cross rehabilitation center. J Med Assoc Thai 2006; 89:S47-52.
Ugur C, Gücüyener D, Uzuner N, Ozkan S, Ozdemir G. Characteristics of falling in patients with stroke. J Neurol Neurosurg Psychiatry. 2000; 69:649-51.
Ashburn A, Hyndman D, Pickering R, Yardley L, Harris S. Predicting people with stroke at risk of falls. AgeAgeing 2008; 37:270-76.
Hellström K, Lindmark B, Wahlberg B, Fugl-Meyer AR. Self-efficacy in relation to impairments and activities of daily living disability in elderly patients with stroke: a prospective investigation. J Rehabil Med. 2003; 35:202-7.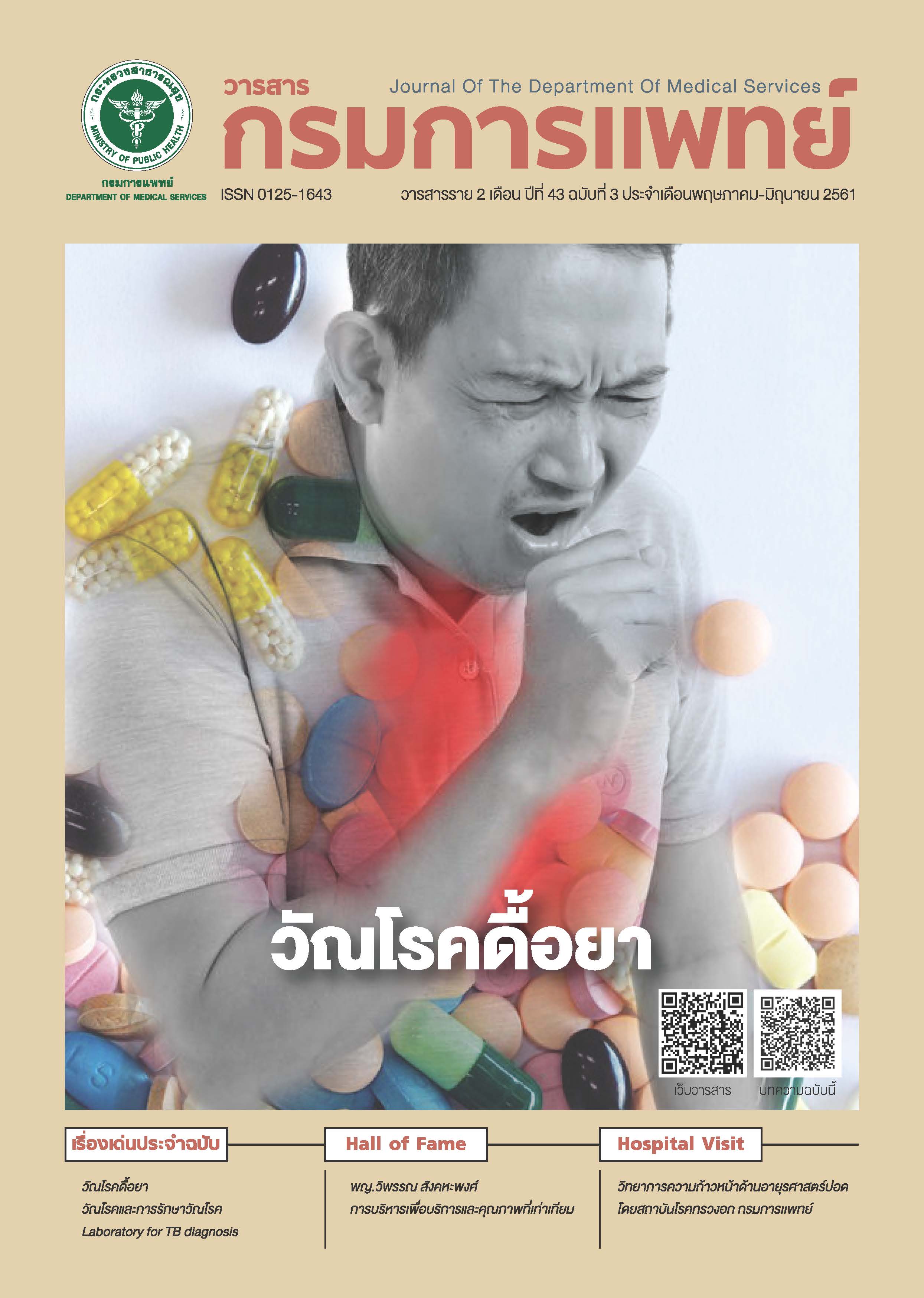 Downloads
How to Cite
1.
Kongubol W. Risk Factors of Falling in Post Stroke Patients after Discharge from the Hospital. j dept med ser [Internet]. 2020 Dec. 16 [cited 2022 Oct. 6];43(3):79-85. Available from: https://he02.tci-thaijo.org/index.php/JDMS/article/view/248036
License
บทความที่ได้รับการตีพิมพ์เป็นลิขสิทธิ์ของกรมการแพทย์ กระทรวงสาธารณสุข
ข้อความและข้อคิดเห็นต่างๆ เป็นของผู้เขียนบทความ ไม่ใช่ความเห็นของกองบรรณาธิการหรือของวารสารกรมการแพทย์