Effectiveness of Palliative Care from Hospital to Health Service Net Work at Phrae Hospital
Keywords:
Palliative care, Health Service Net Work
Downloads
Download data is not yet available.
References
Benzar E, Hansen L, Kneitel AW, Fromme EK .Discharge planning for palliative care patients: a qualitative analysis. J palliat Med 2011; 14:65-9.
Connor SR, Bermedo MC, editors. WHO global atlas of palliative care at the end of life, n.p.: World Health Organization; 2014.
Teno JM, Clarridge BR, Casey V, Welch LC, Wetle T, Shield R, et al. Family perspectives on end-of-life care at the last place of care. JAMA, 2004; 291:88-93.
ไหมมูน๊ะ คลังข้อง, สกล สิงหะ, พรทิพา บรรทมสินธุ์. พฤติกรรมของผู้ดูแลผู้ป่วยมุสลิมที่ป่วยเป็นมะเร็งระยะสุดท้าย. วารสารโรคมะเร็ง 2553; 30:45-54 .
Hui D, Elsayem A , Palla S, De La Cruz M, Li Z, Yennurajalingam S, et al. Discharge outcomes and survival of patients with advanced cancer admitted to an acute palliative care unit at a comprehensive cancer center. J Palliat Med 2010; 13:49-57.
ชุติมา อรรคลีพันธุ์, วิโรจน์ ตั้งเจริญเสถียร, ภูษิต ประคองสาย,จิตปราณี วาศวิท, อรศรี ฮินท่าไม้, อาทิตยา เทียนไพรวัลย์. การสำรวจ
การเข้าถึงสถานพยาบาลและรายจ่ายด้านสุขภาพของผู้ป่วยที่เสียชีวิต พ.ศ. 2548-2549.นนทบุรี: สถาบันวิจัยระบบสาธารณสุข; 2550.
Yeager A, LaVigne AW, Rajvanshi A, Mahato B, Mohan R, Sharma R, et al. Can Support: a model for home-based palliative care delivery in India. Ann Palliat Med 2016; 5:166-71.
De Jong JD, Clarke LE. What is a good death? Stories from palliative care. J Palliat Care 2009; 25:61-7.
Hughes SL, Weaver FM, Giobbie-Hurder A, Manheim L, Henderson W, Kubal JD, et al. Effectiveness of team-managed home-based primary care: a randomized multicenter trial. JAMA 2000; 284:2877-85.
Higginson IJ, Evans CJ. What is the evidence that palliative care teams improve outcomes for cancer patients and their families? Cancer J 2010; 16:423-35.
Youens D, Moorin R.The Impact of Community-Based Palliative Care on Utilization and Cost of Acute Care Hospital Services in the Last Year of Life. J Palliat Med. 2017; 20:736-44.
Fukui S, Fujita J, Tsujimura M, Sumikawa Y, Hayashi Y. Predictors of home death of home palliative cancer care patients: a cross-sectional nationwide survey. Int J Nurs Stud 2011; 48:1393-400.
Okamoto Y, Fukui S, Yoshiuchi K, Ishikawa T. Do Symptoms among Home Palliative Care Patients with Advanced Cancer Decide the Place of Death? Focusing on the Presence or Absence of Symptoms during Home Care. J Palliat Med 2016; 19:488.
Grunfeld E. Urquhart R, Mykhalovskiy E, Folkes A, Johnston G, Burge FI, et al. Toward population-based indicators of quality end-of-life care: testing stakeholder agreement. Cancer 2008; 112:2301-8.
Gomes B, Calanzani N, Koffman J, Higginson IJ. Is dying in hospital better than home in incurable cancer and what factors influence this? A population-based study. BMC Med2015; 13:235.
Seow H, Brazil K, Sussman J , Pereira J, Marshall D, Austin PC, et al .Impact of community based, specialist palliative care teams on hospitalisations and emergency department visits late in life and hospital deaths: a pooled analysis. BMJ2014; 348:g3496.
Nagaviroj K, Anothaisintawee T. A Study of the Association between Multidisciplinary Home Care and Home Death among Thai Palliative Care Patients. Am J Hosp Palliat Care 2017; 34:397-403.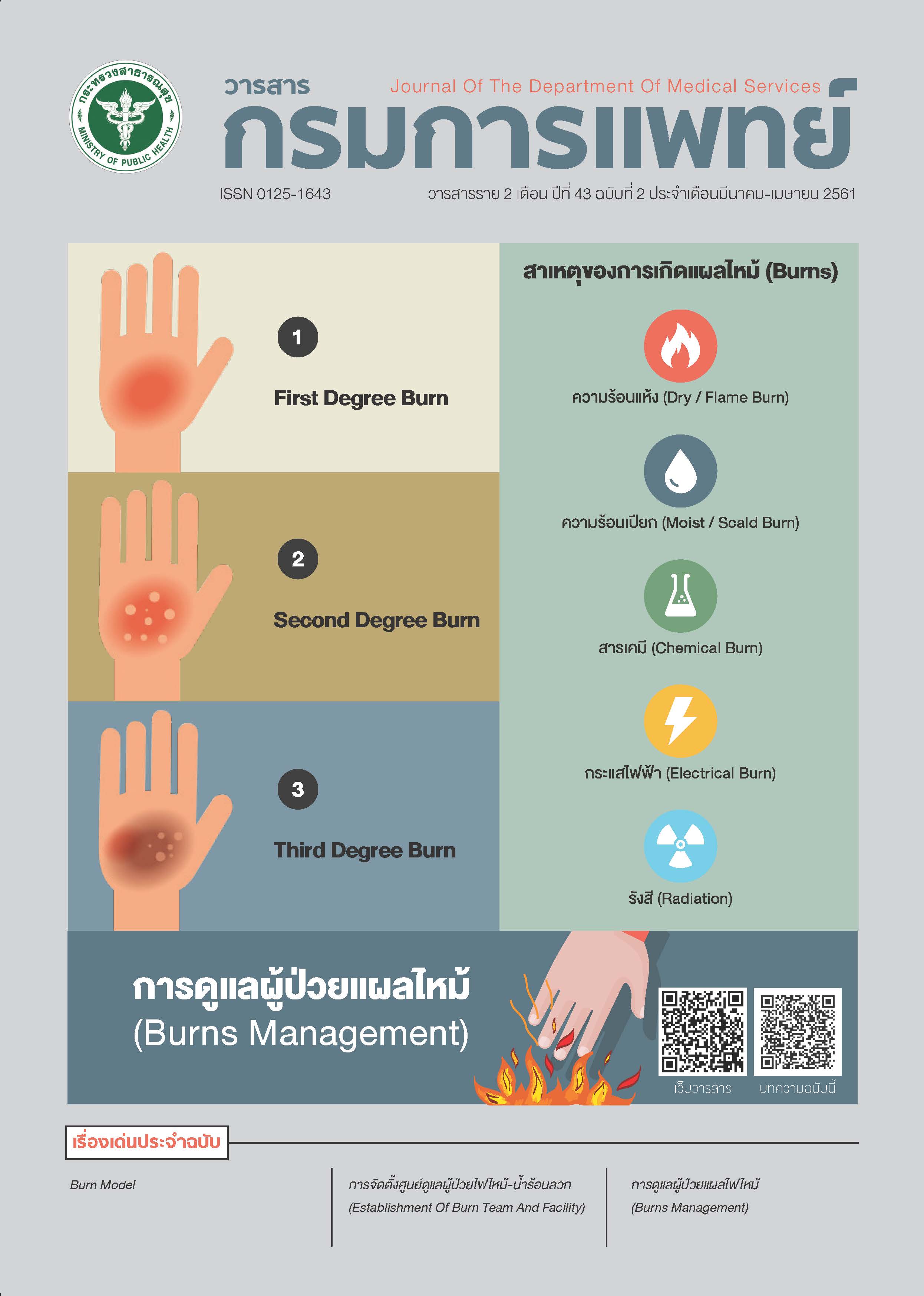 Downloads
How to Cite
1.
Makmai S., Nipitwatanapol R., Promrin S., Sitino P. Effectiveness of Palliative Care from Hospital to Health Service Net Work at Phrae Hospital. j dept med ser [Internet]. 2018 Apr. 1 [cited 2022 Oct. 6];43(2):141-5. Available from: https://he02.tci-thaijo.org/index.php/JDMS/article/view/248202
License
บทความที่ได้รับการตีพิมพ์เป็นลิขสิทธิ์ของกรมการแพทย์ กระทรวงสาธารณสุข
ข้อความและข้อคิดเห็นต่างๆ เป็นของผู้เขียนบทความ ไม่ใช่ความเห็นของกองบรรณาธิการหรือของวารสารกรมการแพทย์