Systemic Amyloidosis, an Easily Ignored and Overlooked Disease in Clinical Practice
Downloads
Download data is not yet available.
References
Pepys MB. Amyloidosis.Annu Rev Med 2006; 57: 223-41.
Sipe JD, Benson MD, Buxbaum JN, Ikeda S, Merlini G, Saraiva MJ, et al. Amyloid fibril protein nomenclature: 2010 recommendations from the nomenclature committee of the International Society of Amyloidosis.Amyloid 2010; 17: 101-4.
Sattianayagam PT, Lane T, Fox Z, Petrie A, Gibbs SD, Pinney JH,et al. A prospective study of nutritional status in immunoglobulin light chain amyloidosis.Haematologica 2013; 98: 136-40.
LeBlanc KE, Cestia W. Carpal tunnel syndrome. Am Fam Physician 2011; 83: 952-8.
Sucher BM, Schreiber AL. Carpal tunnel syndrome diagnosis. Phys Med Rehabil Clin N Am 2014; 25: 229-47.
Khurana R, Uversky VN, Nielsen L, Fink AL. Is Congo red an amyloid-specific dye? J Biol Chem 2001; 276: 22715-21.
Howie AJ, Brewer DB, Howell D, Jones AP. Physical basis of colors seen in Congo red-stained amyloid in polarized light. Lab Invest 2008; 88: 232-42.
Kumar S, Kimlinger T, Morice W. Immunophenotyping in multiple myeloma and related plasma cell disorders. Best Pract Res Clin Haematol 2010; 23: 433-51.
Dember LM. Amyloidosis - associated kidney disease. J Am Soc Nephrol 2006; 17: 3458-71.
Heher EC, Goes NB, Spitzer TR, Raje NS, Humphreys BD, Anderson KC, et al. Kidney disease associated with plasma cell dyscrasias. Blood 2010; 116: 1397-404.
Nestle FO, Burg G. Bilateral carpal tunnel syndrome as a clue for the diagnosis of systemic amyloidosis.Dermatology 2001; 202: 353-5.
DiRaimondo CR, Casey TT, DiRaimondo CV, Stone WJ. Pathologic fractures associated with idiopathic amyloidosis of bone in chronic hemodialysis patients. Nephron 1986; 43:22-7.
Nau KC, Lewis WD. Multiple myeloma: diagnosis and treatment. Am Fam Physician 2008; 78: 853-9.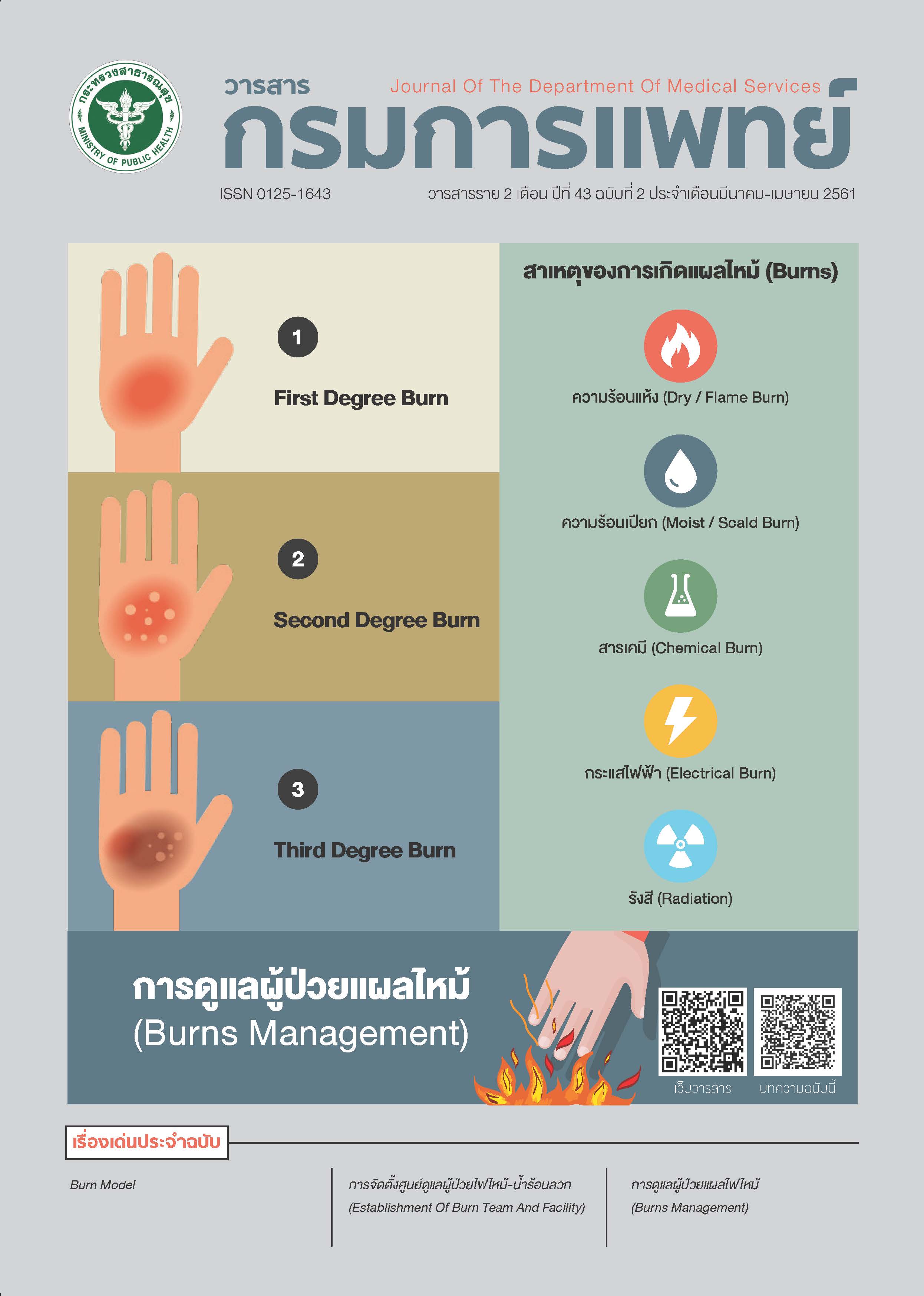 Downloads
How to Cite
1.
Sangluthong L, Insiripong S, Boondumrongsagul J, Jiragalwasan N. Systemic Amyloidosis, an Easily Ignored and Overlooked Disease in Clinical Practice. j dept med ser [Internet]. 2018 Apr. 1 [cited 2023 Mar. 24];43(2):152-4. Available from: https://he02.tci-thaijo.org/index.php/JDMS/article/view/248204
License
บทความที่ได้รับการตีพิมพ์เป็นลิขสิทธิ์ของกรมการแพทย์ กระทรวงสาธารณสุข
ข้อความและข้อคิดเห็นต่างๆ เป็นของผู้เขียนบทความ ไม่ใช่ความเห็นของกองบรรณาธิการหรือของวารสารกรมการแพทย์