Effectiveness of Smart Focus Extracorporeal Shock Wave Therapy for Chronic Plantar Fasciitis: Comparison of Recommended Guideline Energy Strategy and Lower Energy Strategy
Keywords:
Smart focus extracorporeal shock wave therapy, Chronic plantar fasciitis
Downloads
Download data is not yet available.
References
Crawford F, Thomson C. Interventions for treating plantar heel pain. Cochrane Database Syst Rev. 2003;(3) : CD000416.
Riddle DL, Pulisic M, Pidcoe P, Johnson RE. Risk factor for plantar fasciitis: a matched case - control study. J Bone Joint Surg AM. 2003; 85:872-7.
Irving DB, Cook JL, Menz HB. Factors associated with chronic plantar heel pain: a systematic review. J Sci Med Sport 2006; 9:11-22.
อุบลรัตน์ แก้วปิ่นทอง, สมเกียรติ เหมตะศิลป, อุไรรัตน์ พิภพมงคล. การศึกษาเปรียบเทียบผลการรักษาของ Shock wave และUltrasound ในผู้ป่วย Plantar fasciitis. เวชศาสตร์ฟื้นฟูสาร 2547; 14: 60-70.
Wang CJ, Huang HY, Pai CH. Shock wave enhanced neovascularization at the tendon - bone junction. an experiment in dogs. J Foot Ankle Surg 2002; 41: 16-22.
Wang FS, Wang CJ, Huang HC, Chung H, Chen RF, Yang KD. Physical shock wave mediates membrane hyperpolarization and Ras activation for osteogenesis in human bone stromal cell. Biochem Biophys Res Commun 2001; 287: 648-55.
Ogden JA, Toth-Kischkat A, Schultheiss R. Principles of shock wave therapy. Clin Orthop Relat 2001; 387:8-17.
Siebert W, Buch M. (eds). Extracorporeal shock wave in orthopaedics. Berlin. Springer Verlag 1997; 1-245.
Steinbach P, Hofstadter F, Nicolai H, Rossler W, Wieland W. In vitro investigations on cellular damage induced by high energy shock waves. Ultrasound Med Biol 1992; 18: 691-9.
Haupt G. Effect of shock wave in the treatment of partial thickness wounds in piglets. J Surg Res1990; 49:45-8.
Lee SJ, Kang JH, Kim JY, Kim JH, Yoon SR, Jung KI. Dose-related effect of extracorporeal shock wave therapy for plantar fasciitis. Ann Rehabil Med 2013; 37: 379-88.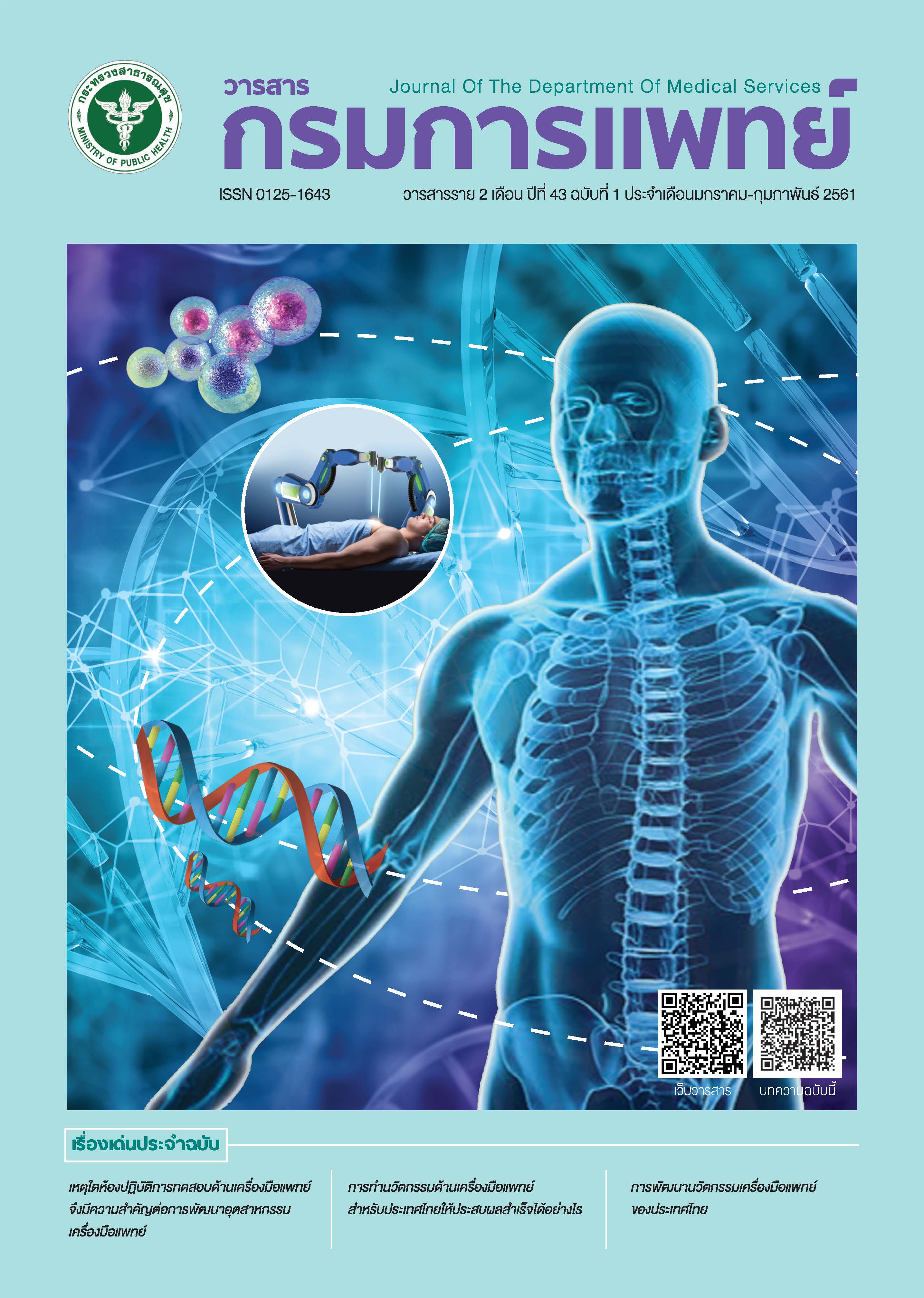 Downloads
How to Cite
1.
Boonmamanee N. Effectiveness of Smart Focus Extracorporeal Shock Wave Therapy for Chronic Plantar Fasciitis: Comparison of Recommended Guideline Energy Strategy and Lower Energy Strategy. j dept med ser [Internet]. 2018 Feb. 1 [cited 2022 Sep. 30];43(1):51-5. Available from: https://he02.tci-thaijo.org/index.php/JDMS/article/view/248205
License
บทความที่ได้รับการตีพิมพ์เป็นลิขสิทธิ์ของกรมการแพทย์ กระทรวงสาธารณสุข
ข้อความและข้อคิดเห็นต่างๆ เป็นของผู้เขียนบทความ ไม่ใช่ความเห็นของกองบรรณาธิการหรือของวารสารกรมการแพทย์