Surveillance for Healthcare-Associated Bloodstream Infections (HA-BSIs)
Keywords:
Healthcare-associated infection (HAI), Bloodstream infection (BSI), Central line-associated BSI (CLABSI), HAI Surveillance
Downloads
Download data is not yet available.
References
Russotto V, Cortegiani A, Graziano G, Saporito L, Raineri SM, Mammina C, et al. Bloodstream infections in intensive care unit patients: distribution and antibiotic resistance of bacteria. Infect Drug Resist 2015; 8:287-96.
Timsit JF, Soubirou JF, Voiriot G, Chemam S, Neuville M, Mourvillier M, et al. Treatment of bloodstream infections in ICUs. BMC Infect Dis 2014; 14:489.
Rosenthal VD. Central line-associated bloodstream infections in limited-resource countries: a review of the literature. Clin Infect Dis 2009;49:1899-907.
Karchmer A. Nosocomial bloodstream infections: organisms, risk factors, and implications. Clin Infect Dis. 2000; Suppl 4:S139-43.
McKean S, Ross J, Dressler D,Brotman D, Ginsburg J. Principles and practice of hospital medicine. New York:McGraw-Hill; 2012.
Centers for Disease Control and Prevention's (CDC) National Healthcare Safety Network (NHSN). Surveillance for bloodstream infections. Available from https://www.cdc.gov/ nhsn/acute-care-hospital/clabsi/index.html.
Laupland KB, Gregson DB, Zygun DA, Doig CJ, Mortis G, Church DL. Severe bloodstream infections: a populationbased assessment. Crit Care Med 2004; 32:992–7.
Timsit JF, Laupland KB. Update on bloodstream infections in ICUs. Curr Opin Crit Care 2012; 18:479-86.
Vincent JL, Rello J, Marshall J, Silva E, Anzueto A, Martin CD, et al. International study of the prevalence and outcomes of infection in intensive care units. JAMA 2009; 302:2323–9.
Rodríguez-Baño J, López-Prieto MD, Portillo MM, Retamar P, Natera C, Nuno E, et al. Epidemiology and clinical features of community-acquired, healthcare-associated and nosocomial bloodstream infections in tertiary-care and community hospitals. Clin Microbiol Infect. 2010; 16:1408–13.
Kollef MH, Zilberberg MD, Shorr AF, Vo L, Schein J, Micek ST, et al. Epidemiology, microbiology and outcomes of healthcare-associated and community-acquired bacteremia: a multicenter cohort study. J Infect 2011;62:130–5.
Deming WE. Health care-associated bloodstream infections: a change in thinking. Ann Inter Med 2002;137:850-1.
Vallés J, Alvarez-Lerma F, Palomar M, Blanco A, Escoresca A, Armestar F, et al. Health-care-associated bloodstream infections at admission to the ICU. Chest2011; 139: 810–5.
The Joint Commission. Preventing Central Line–Associated Bloodstream Infections: Useful Tools, An International Perspective. Nov 20, 2013. Accessed October 2017. http:// www.jointcommission.org/CLABSIToolkit.
Timsit JF. What is the best site for central venous catheter insertion in critically ill patients? Critical Care 2003, 7:397-399
Seifert H, Jansen B, Farr BM. Catheter-related infections. New York: Informa Healthcare; 2004.
Lorente L, Henry C, Mart M, Jim nez A, Mora M. Central venous catheter-related infection in a prospective and observational study of 2,595 catheters. Critical Care. 2005; 9:631-5.
Choudhuri AH, Chakravarty M, Uppal R. Epidemiology and characteristics of nosocomial infections in critically ill patients in a tertiary care Intensive Care Unit of Northern India. Saudi J Anaesth2017;11:402-7.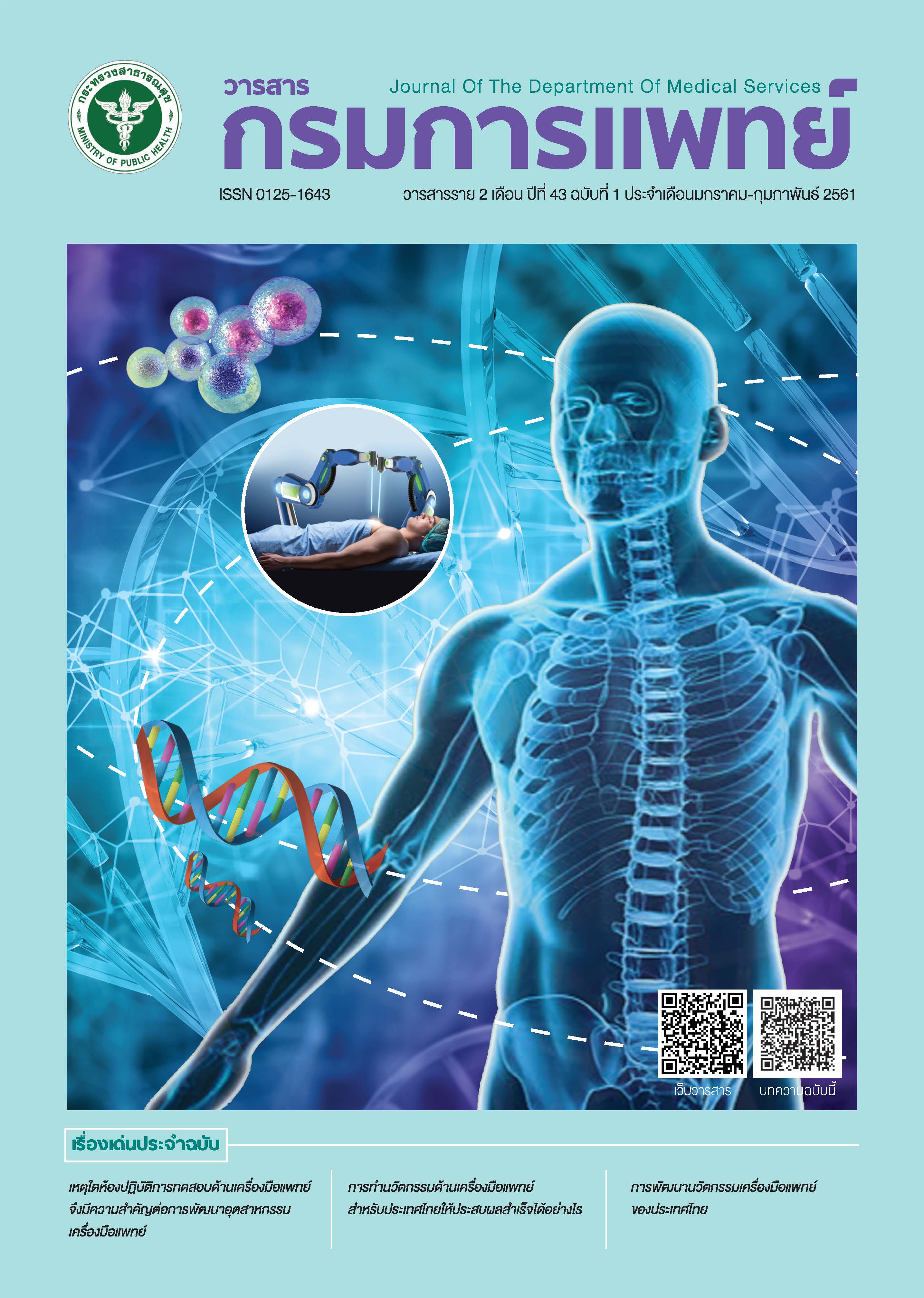 Downloads
How to Cite
1.
Bumrungsak R, Watagulsin P, Kasemsaisuwan A, Tantilipikara P, Samanmit Y, Sawanpanyalert N. Surveillance for Healthcare-Associated Bloodstream Infections (HA-BSIs). j dept med ser [Internet]. 2018 Feb. 1 [cited 2022 Oct. 7];43(1):125-30. Available from: https://he02.tci-thaijo.org/index.php/JDMS/article/view/248328
License
บทความที่ได้รับการตีพิมพ์เป็นลิขสิทธิ์ของกรมการแพทย์ กระทรวงสาธารณสุข
ข้อความและข้อคิดเห็นต่างๆ เป็นของผู้เขียนบทความ ไม่ใช่ความเห็นของกองบรรณาธิการหรือของวารสารกรมการแพทย์