Comparison between Pressure Patching and Bandage Contact Lens on Corneal Abrasion Area after Pterygium Surgery
Keywords:
Corneal abrasion, Pterygium, Pressure patching, Bandage contact lens
Downloads
Download data is not yet available.
References
Menghini M, Knecht PB, Kaufmann C, Kovacs R, Watson SL, Landau K, et al. Treatment of traumatic corneal abrasion: a three - arm, prospective, randomized study. Ophthalmic Res2013;50:13-8.
Vernon SA. Analysis of all new cases seen in a busy regional centre ophthalmic casualty department during a 24-week period. J R Soc Med1983;76:279-82.
Jones NP, Hayward JM, Khaw PT, Claoue CM, Elkington AR. Function of an ophthalmic 'accident and emergency' department: results of a six month survey. Br Med J 1986; 292:188-90.
Sheldrick JH, Vernon SA, Wilson A, Read SJ. Demand incidence and episodes rates of ophthalmic disease in a defined urban population. BMJ1992; 305:933-6.
Chiapella AP, Rosenthal AR. One year in an eye casualty clinic. Br J Ophthalmol 1985; 67:865-70.
Acheson JF, Joseph J, Spalton DJ. Use of soft contact lenses in an eye casualty department for the primary treatment of traumatic corneal abrasions. Br J Ophthalmol 1987;71:285-9.
Knox KA, McIntee J. Nurse management of corneal abrasion.Br J Nurs1995;4:440-60.
เวชระเบียนผู้ป่วยใน โรงพยาบาลกาฬสินธุ์.สำนักงานสาธารณสุขจังหวัดกาฬสินธ์; 2559.
Weissman BA: Oxygen tension under a permeable contact lens with and without tears. Am J Optom Physiol Opt 1980;57:721-3.
Vandorselaer T, Youssfi H, Caspers-Valu LE, Dumont P, Vauthier L. Treatment of traumatic corneal abrasion with contact lens associated with topical nonsteroid antiinflammatory agent (NSAID) and antibiotic: a safe, effective and comfortable solution. J Fr Ophtalmol 2001; 24:1025-33.
Salz JJ, Maguen E, Nesburn AB, Warren C, Macy JI, Hofbauer JD, et al. A two-year experience with excimer laser photorefractive keratectomy for myopia. Ophthalmology 1993; 100:873-82.
Salz JJ, Reader AL 3rd, Schwartz LJ, Van Le K. Treatment of corneal abrasions with soft contact lenses and topical diclofenac. J Refract Corneal Surg 1994; 10:640-6.
Arora R, Jain S, Monga S, Narayanan R, Raina UK, Mehta DK. Efficacy of continuous wear PureVision contact lenses for therapeutic use. Cont Lens Anterior Eye 2004; 27:39-43.
Sher NA, Barak M, Daya S, DeMarchi J, Tucci A, Hardten DR, et al. Excimer laser photorefractive keratectomy in high myopia. A multicenter study. Arch Ophthalmol 1992; 110:935-43.
ธีรวุฒิ เอกะกุล.ระเบียบวิธีวิจัยทางพฤติกรรมศาสตร์ และสังคมศาสตร์. อุบลราชธานี: สถาบันราชภัฏอุบลราชธานี; 2543.
Cajucom-Uy H, Tong L, Wong TY, Tay WT, Saw SM. The prevalence of and risk factors for pterygium in an urban Malay population: the Singapore Malay Eye Study (SiMES). Br J Ophthalmol 2010; 94:977-81.
Ma K, Xu L, Jie Y, Jonas JB. Prevalence of and factors associated with pterygium in adult Chinese: the Beijing Eye Study. Cornea 2007; 26:1184-6.
McCarty CA, Fu CL, Taylor HR. Epidemiology of pterygium in Victoria, Australia. Br J Ophthalmol 2000; 84:289-92.
Homgshan Liu. Ocular surface epithelial wound healing after pterygium excision.Investigative Ophthalmology & Visual Science 2014; 55:2755.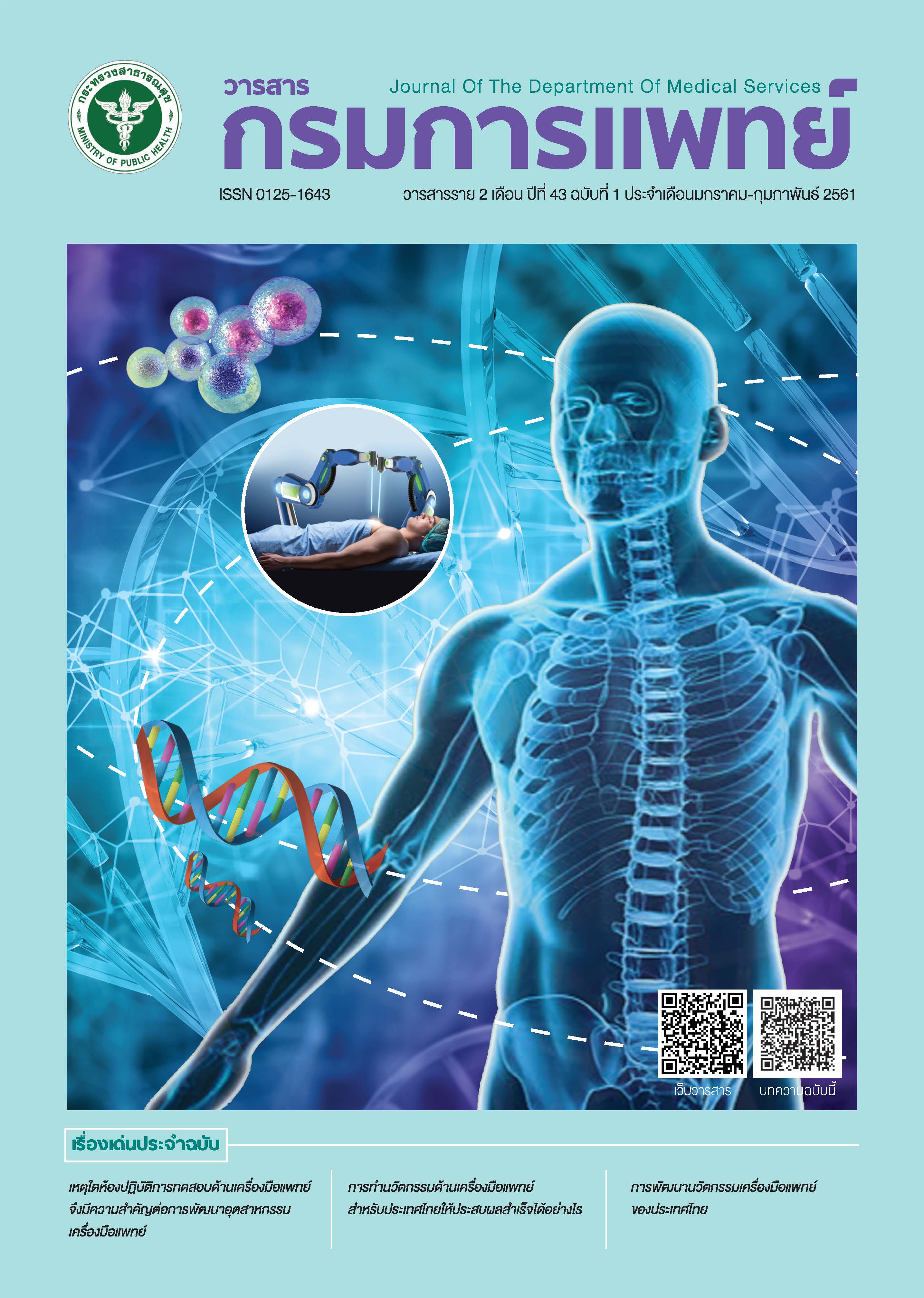 Downloads
How to Cite
1.
Piyapattanakorn P. Comparison between Pressure Patching and Bandage Contact Lens on Corneal Abrasion Area after Pterygium Surgery. j dept med ser [Internet]. 2018 Feb. 1 [cited 2022 Sep. 29];43(1):131-7. Available from: https://he02.tci-thaijo.org/index.php/JDMS/article/view/248331
License
บทความที่ได้รับการตีพิมพ์เป็นลิขสิทธิ์ของกรมการแพทย์ กระทรวงสาธารณสุข
ข้อความและข้อคิดเห็นต่างๆ เป็นของผู้เขียนบทความ ไม่ใช่ความเห็นของกองบรรณาธิการหรือของวารสารกรมการแพทย์