Comparison of the Effectiveness in Treatment Outcomes of Alcohol Withdrawal between Fixed-Schedule Regimen and SymptomTriggered Regimen in Alcohol Dependence Patients
Keywords:
Alcohol withdrawal, Alcohol withdrawal delirium, Fixed-schedule regimen, Symptom-triggered regimen
Downloads
Download data is not yet available.
References
World Health Organization. The Global status report on alcohol and health; 2011.
ศูนย์วิจัยปัญหาสุรา.สถานการณ์การบริโภคเครื่องดื่มแอลกอฮอล์และผลกระทบในประเทศไทยปี; 2556.
Kittirattanapaiboon P KT, Pengjuntr W, Leejongpermpoon J, Chutha W, Kenbubpha K. Epidemiology of psychiatric comorbidity in Thailand: a national study 2008. J Ment Health Thai 2013;21:1-14.
นพ.อนันต์ ธนาประเสริฐกรณ์. Alcohol withdrawal: a review of clinical management. [cited 2016 Jul 9].Available from: http://med.mahidol.ac.th/ramamental/sites/default/ files/public/pdf/Alcohol%20Withdrawal%20-%20A%20 Review%20of%20Clinical%20Management.pdf
Ait-Daoud N, Malcolm Jr RJ, Johnson BA. An overview of medications for the treatment of alcohol withdrawal and alcohol dependence with an emphasis on the use of older and newer anticonvulsants. Addictive Behaviors 2006;31:1628-49.
Carlson RW, Kumar NN, Wong-Mckinstry E, Ayyagari S, Puri N, Jackson FK, et al. Alcohol Withdrawal Syndrome. Crit Care Clin 2012;28:549-85.
Corfee FA. Alcohol withdrawal in the critical care unit. Aust Crit Care 2011;24:110-6.
Monte R, Rabuñal R, Casariego E, Bal M, Pértega S. Risk factors for delirium tremens in patients with alcohol withdrawal syndrome in a hospital setting. Eur J Intern Med 2009; 20:690-4.
Vale A. The management of alcohol withdrawal. Medicine2006; 34:323-7.
Vale A. Alcohol withdrawal syndrome. The Foundation Years 2008; 4:55-8.
Hendey GW, Dery RA, Barnes RL, Snowden B, Mentler P. A prospective, randomized, trial of phenobarbital versus benzodiazepines for acute alcohol withdrawal. Am J Emerg Med 2011; 29:382-5.
Holbrook AM, Crowther R, Lotter A, Cheng C, King D. Meta-analysis of benzodiazepine use in the treatment of acute alcohol withdrawal. CMAJ1999; 160: 649-55.
Babor TF, Higgins-Biddle JC, Saunders J. AUDIT.The Alcohol Use Disorders Identification Test: Guidelines for Use in Primary Health Care. 2 ed: Geneva: World Health Organization; 2001.
Bostwick JM, Lapid MI. False positives on the clinical institute withdrawal assessment for alcoholrevised: is this scale appropriate for use in the medically ill? Psychosomatics 2004; 45:256-61.
Puz CA, Stokes SJ. Alcohol withdrawal syndrome: assessment and treatment with the use of the clinical institute withdrawal assessment for alcohol-revised. Crit Care Nurs Clin North Am2005; 17:297-304.
Addolorato G, Leggio L, Abenavoli L, Agabio R, Caputo F, Capristo E, et al. Baclofen in the treatment of alcohol withdrawal syndrome: a comparative study vs diazepam. Am J Med 2006; 119:276.e13-8.
Rajmohan V, Sushil K, Mohandas E. A double blind randomised comparison of chlordiazepoxide and lorazepam in alcohol withdrawal. Asian J Psychiatr 2013; 6:401-3.
Ritson B, Chick J. Comparison of two benzodiazepines in the treatment of alcohol withdrawal: effects on symptoms and cognitive recovery. Drug and Alcohol Dependence 1986; 18:329-34.
Rosenson J, Clements C, Simon B, Vieaux J, Graffman S, Vahidnia F, et al. Phenobarbital for acute alcohol withdrawal: a prospective randomized double-blind placebocontrolled study. J Emerg Med 2013; 44:592-8.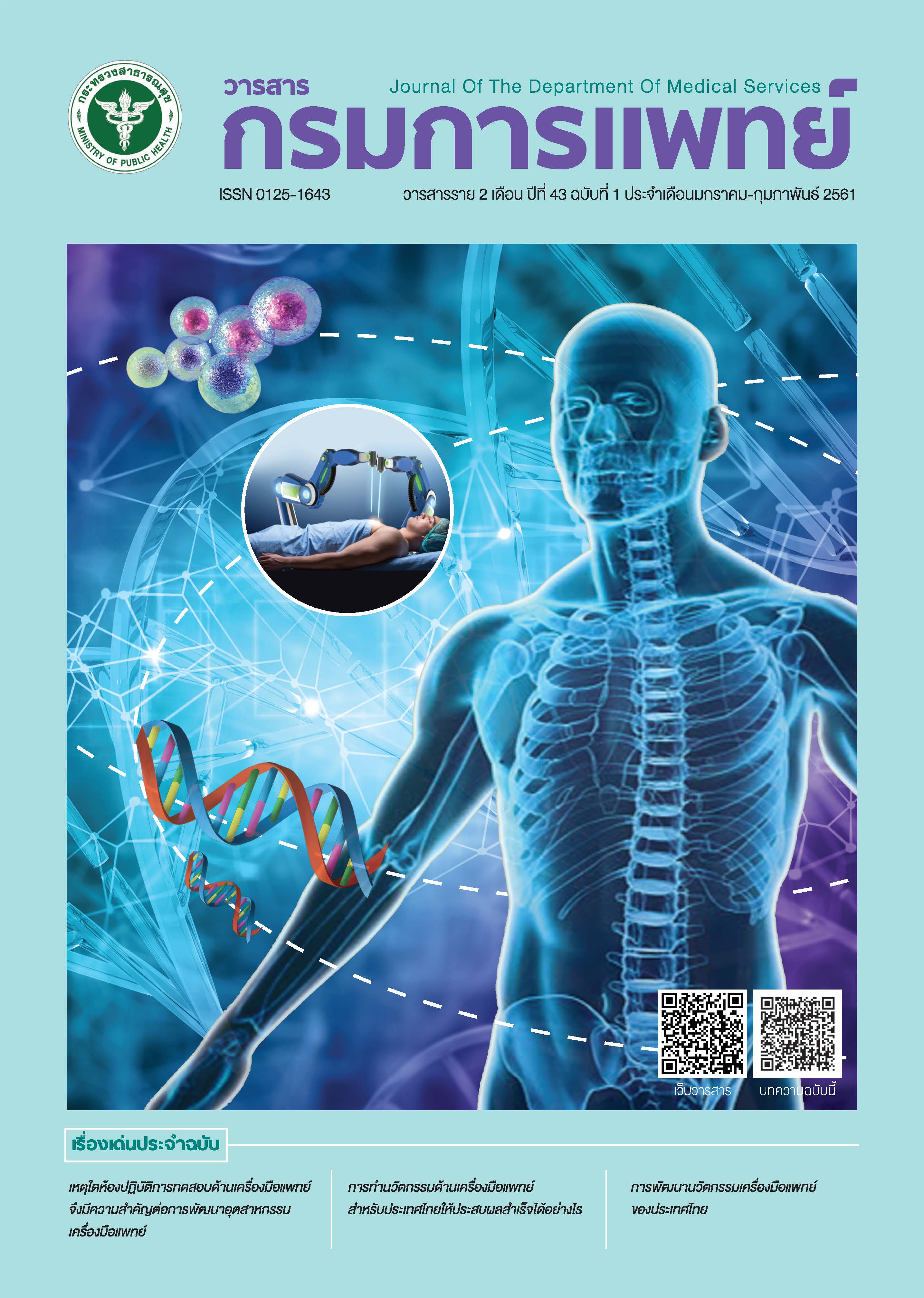 Downloads
How to Cite
1.
Ukranun W, Thongsai Y, Nanfan K. Comparison of the Effectiveness in Treatment Outcomes of Alcohol Withdrawal between Fixed-Schedule Regimen and SymptomTriggered Regimen in Alcohol Dependence Patients. j dept med ser [Internet]. 2018 Feb. 1 [cited 2022 Oct. 4];43(1):138-44. Available from: https://he02.tci-thaijo.org/index.php/JDMS/article/view/248332
License
บทความที่ได้รับการตีพิมพ์เป็นลิขสิทธิ์ของกรมการแพทย์ กระทรวงสาธารณสุข
ข้อความและข้อคิดเห็นต่างๆ เป็นของผู้เขียนบทความ ไม่ใช่ความเห็นของกองบรรณาธิการหรือของวารสารกรมการแพทย์