The Best Static Wrist Position for Orthoses in Patients with Carpal Tunnel Syndrome; Sonographic Evaluation
Keywords:
Carpal tunnel syndrome, Wrist position, Ultrasonography, Orthoses
Downloads
Download data is not yet available.
References
Practice parameter for carpal tunnel syndrome [summary statement]. Report of the Quality Standards Subcommittee of the American Academy of Neurology. Neurology 1993;43:2406-9
Longstaff L, Milner RH, O'Sullivan S, Fawcett P. Carpal tunnel syndrome : the correlation between outcome, symptoms and nerve conduction study findings. J Hand Surg Br 2001;26:475-80.
Banner R, Hudson EW. Case report : acupuncture for carpal tunnel syndrome, Ultrasound assessment of adjunct therapy. Can Fam Physician 2001;47:547-9.
Stevens JC, Sun S, Beard CM, O'Fallon WM, Kurland LT. Carpal tunnel syndrome in Rochester, Minnesota, 1961 to 1980. Neurology1988; 38:134-8.
Bagatur AE, Zorer G. The carpal tunnel syndrome is a bilateral disorder. J Bone Joint Surg Br 2001;83:655-8.
Geoghegan JM, Clark DI, Bainbridge LC, Smith C, Hubbard R. Risk factors in carpal tunnel syndrome. J Hand Surg Br 2004;29:315-20 .
Gulliford MC, Latinovic R, Charlton J, Hughes RA. Increased incidence of carpal tunnel syndrome up to 10 years before diagnosis of diabetes. Diabetes Care 2006; 29:1929-30.
Katz JN, Simmons BP. Clinical practice. Carpal tunnel syndrome. N Engl J Med 2002; 346:1807-12.
Pahlen GS, Gardner WJ, LaLonde AA. Neuropathy of the median nerve due to compression beneath the transverse carpal ligament. J Bone Joint Surg Am 1950;32A:109-12.
Pahlen GS. The carpal - tunnel syndrome. Seventeen years' experience in diagnosis and treatment of six hundred fifty-four hands. J Bone Joint Surg Am1966;48A:211-28.
Rempel D, Evanoff B, Amadio PC, de Krom M, Franklin G, Franzblau A, et al. Consensus criteria for the classification of carpal tunnel syndrome in epidemiologic studies. Am J Public Health 1998; 88:1447-51.
Prime MS, Palmer J, Khan WS, Goddard NJ. Is there Light at the End of the Tunnel? Controversies in the Diagnosis and Management of Carpal Tunnel Syndrome. Hand (N Y) 2010; 5:354-60.
Burke DT, Burke MM, Stewart GW, Cambre A. Splinting for carpal tunnel syndrome: in search of the optimal angle. Arch Phys Med Rehabil 1994; 75:1241-4.
Dawson DM. Entrapment neuropathies of the upper extremities. N Engl J Med 1993; 329:2013-8.
Chang MH, Chiang HT, Lee SS, Ger LP, Lo YK. Oral drug of choice in carpal tunnel syndrome. Neurology 1998; 51:390-3.
Garfinkel MS, Singhal A, Katz WA, Allan DA, Reshetar R, Schumacher HR Jr. Yoga-based intervention for carpal tunnel syndrome: a randomized trial. JAMA 1998; 280:1601-3.
Akalin E, El O, Peker O, Senocak O, Tamci S, Gulbahar S, et al. Treatment of carpal tunnel syndrome with nerve and tendon gliding exercises. Am J Phys Med Rehabil 2002;81:108-13.
Girlanda P, Dattola R, Venuto CL, Mangiapane R, Nicolosi C, Messina C. Local steroid treatment in idiopathic carpal tunnel syndrome: short- and long-term efficacy. J Neurol 1993;240: 187-90.
Gelberman RH, Aronson B, Weisman MH. Carpal-tunnel syndrome. Results of a prospective trial of steroid injection and splinting. J Bone Joint Surg 1980;62:1181-4.
Piazzini DB, Aprile I, Ferrara PE, Bertolini C, Tonali P, Maggi L, et al. A systemic review of conservative treatment of carpal tunnel syndrome. Clin Rehabil 2007;21:299-314.
Braddom RL, Chan L, Harrast MA, et al. Physical medicine & rehabilitation. 4th ed, 1084-1085. Philadelphia, PA:Elsevier; 2011.
Kuo MH, Leong CP, Cheng YF, Chang HW. Static wrist position associated with least median nerve compression : sonographic evaluation. Am J Phys Med Rehabil 2001; 80:256-60.
Gelberman RH, Hergenroeder PT, Hargens AR, Lundborg GN, Akeson WH. The carpal tunnel syndrome. A study of carpal canal pressures. J Bone Joint Surg Am 1981;63:380-3.
Özgen M, Güngen G, Sarsan A, Ardiç F, Çalikan S, Sabir N, et al. Determination of the position on which the median nerve compression is at the lowest in carpal tunnel syndrome and clinical effectiveness of custom splint application. Rheumatol Int 2011;31:1031-6.
Stevens JC. AAEM minimonograph #26 : the electrodiagnosis of carpal tunnel syndrome. American Association of Electrodiagnostic Medicine. Muscle Nerve 1997;20:1477-86.
Pongkanitanon P, Taechaarparkul V, Bunnag Y. Normal value of median nerve at King Chulalongkorn Memorial Hospital. J Thai Rehabil 1994;3:25-9.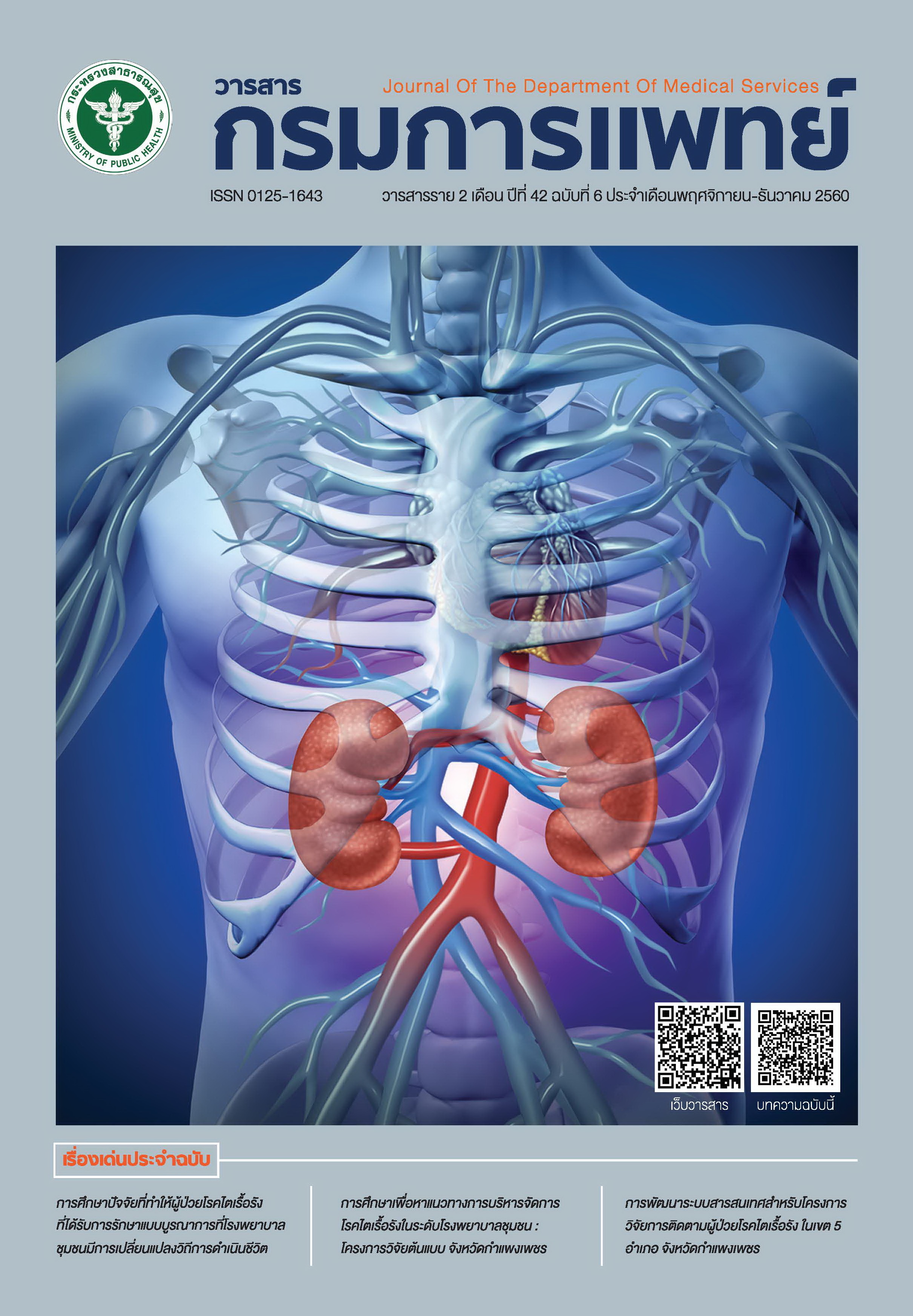 Downloads
How to Cite
1.
ปริย วิมลวัตรเวที พ.บ. เลขา ดีรูป พ.บ. The Best Static Wrist Position for Orthoses in Patients with Carpal Tunnel Syndrome; Sonographic Evaluation. j dept med ser [Internet]. 2017 Dec. 1 [cited 2022 Aug. 8];42(6):46-9. Available from: https://he02.tci-thaijo.org/index.php/JDMS/article/view/248338
License
บทความที่ได้รับการตีพิมพ์เป็นลิขสิทธิ์ของกรมการแพทย์ กระทรวงสาธารณสุข
ข้อความและข้อคิดเห็นต่างๆ เป็นของผู้เขียนบทความ ไม่ใช่ความเห็นของกองบรรณาธิการหรือของวารสารกรมการแพทย์